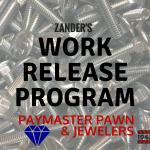 Weekdays on The X, we are now providing end of the workday stress relief with at least an hour and four minutes of REAL ROCK starting at 3:20 p.m. each afternoon.
Just about the time you wanna tell your boss to kiss off!
Be sure to be tuned in and cranked up for the Work Release Program with Zander on 104.9 The X!
The Work Release Program is brought to you by Paymaster Pawn and Jewelers.