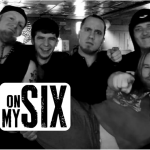 On My Six is an American melodic metal band based out of Rockford, Illinois. They also happen to be the winners of our Big Gig Contest.
There was a lot up for grabs on April 27, 2018 at The Apollo Theatre Ac, where On My Six played the gig of their lives hoping to snatch up the first place spot… to open 104.9 The X's Spring Fling at The BMO Harris Bank Center. On My Six took home the first place prize and will play Spring Fling on May 16th, featuring Halestorm, In This Moment and New Years Day.
But that isn't where On My Six's story begins:
The band formed in late 2012 when Aftermath's former members, Rick Soeprasetyo (Vocals) and Joshua Creviston (Drums), picked up Stu Kuhlman (Bass) and Daniel Adams (Guitar). In November 2012 they added another member Lucas Dwyer (Guitar), thus completing the lineup. In 2017 Mike Lalas joined the band when Dan had to step away.
The bands aggressive melodic guitar riffs are complimented by hard hitting drums and a front man capable of doing screams and cleans. Their live performance is a high energy clash of musicians with a bass player incapable of not hitting the rest of the band with the headstock of his bass. (Something you have to see to believe)
Just take a look at their submission video to our Big Gig Contest, when they made it to The Top 15, their performance skills are fantastic.
In July 2013 On My Six released their first EP, "Embrace the Mirage". With an influx of new material and improving band chemistry On My Six decided to release its first full length album, "Dare to Dream" in July 2014. On My Six released "The Waiting Game" May 13th 2017.
In 2017, On My Six surpassed the 100 show mark, culminating with 2 major U.S Tours.
On My Six has performed countless benefits helping raise over 20,000 dollars for various individuals and charities in need.
We are excited to see them hit the stage at Spring Fling! Get your tickets now: TicketMaster.com
We talked to Rick from On My Six, and he had this to say regarding the opportunity to play for the crowd at The BMO Harris Bank Center:
We are unbelievably honored to be playing at our hometown arena. Never in a million years did we ever expect to play there. "The big orange box" is going to be rockin' and we are going to be a part of it. It truly is a dream come true.
Listeners can expect an energetic performance matched only by its raw passion for being on stage. They can expect a good mix of melodic metalcore with a party atmosphere and a band that leaves it all on the stage.
We look forward to seeing you, and On My Six at the show!
*** To hear local bands on The X, tune into The Revolution, hosted by Rev. TimE – Sunday nights from 11 p.m. – midnight.