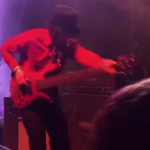 A trip to The BMO Harris Bank Center on May 16th, may result in loud music, good times and many memories made.
While I have absolutely NO idea what will happen during 104.9 The X's Spring Fling, there are a few things I'm willing to place my bets on.
1. Stu Kuhlman's Intense Bass Playing: All eyes will be on Stu from On My Six. He's one incredible bass player, no doubt, but have you ever seen this guy on stage?! It's amazing that his energetic style hasn't caused Josh's drums to topple over, or Rick to drop his microphone and run off the stage.
2. Lzzy Hale Making an Angry Face: She is one of the most beautiful and nicest women in rock and roll, but that doesn't mean she doesn't let the angry face fly.
3. Fan Tributes to New Years Day Lead Singer, Ash Costello: Ash is not only known for fronting New Years Day, but she is also known for her signature half red- half black- super long hair. There is bound to be a fan who will attempt to rock the same look.
4. X Fans Trying to Recreate Photos: I bet I'll see a few of them trying to sneak back stage to recreate the photo of them and In This Moment. If you remember, we sent a group of lucky X winners to meet In This Moment when they performed at The Coronado Performing Arts Center last July.
5. A Lack of Ice at The BMO Harris Bank Center: One thing you wont see at The BMO is ice, unless it's in your drink! You'll be standing on the very floor (?) The Rockford IceHogs skate!
6. These Clowns: You'll probably see these fools running around The BMO, most likely because they can't find their seats. So be nice and buy 'em a beer. No one said you have to be smart to be on the radio.
What else can we expect to see at The BMO Harris Bank Center on May 16th during The Spring Fling? No idea!
But one thing is for certain, you won't want to miss out on a great show.
Halestorm… In This Moment… New Years Day… On My Six… It's going to ROCK!
If you haven't gotten your tickets yet, get them now!