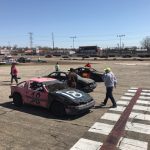 Sunday, April 29th was the rescheduled date for The X200 at The Rockford Speedway. Kev and I were on hand to celebrate, what should have been opening day.
See, The X200 was scheduled for a few weeks before that, but Mother Nature had a different plan. The weather on the original date, April 7th, wasn't conducive to safe racing. Temperatures were low, some below freezing in days leading up to the event, and The Rockford Speedway made the right call in postponing the race. I know I'm glad they did!
On April 29th, it was a warm, beautiful and picture perfect sunny day. I'm pretty sure I only saw one cloud in the sky that day, and that was from the smoke coming out of one of the car's engines.
We gave YOU a chance to sit up in the suites, and our winner, Mike Kinney, had a great time with his family. Kev and I stopped by to chat with him and he told us how exciting it was, on the race track! Yep, they Kinney family had 6 cars out on the track that day. We talked to Brittany, resident badass, who was driving the pink and black 23x car. I asked her what it was like out on the track because I can't comprehend driving so fast, with so many others, without mirrors. She simply said, "it's rough out there."
Rough to say the least! I watched engines catch on fire, a car go airborne, bumpers dragged off cars, bumpers dragged by other cars, a collision on the back stretch, a giant tire go flying and hit the back of a car and that's just the beginning.
Congratulations to Jay Orr, First Place winner of the X200 Enduro. Congratulations goes to Caleb Shultis (2nd Place) and Tyler Griswold (3rd Place) who are also big winners! To see where all racers finished, click here.
Relive the magic of the 2018 X200 yourself! This video is from Misfit Productions, and it really does take me back to The Rockford Speedway on April 29th.