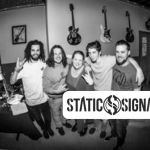 Static Signal is an unsigned hard rock/alternative metal band born in Rockford, IL in October of 2013. You may remember seeing the band play at The Big Gig Contest at The Apollo Theatre on April, 27th.
The current members of the band are:
Bradley Giamalva (vocals)

Nate Guske (guitar/vocals)

Scott Speck (drums)

Bob Sanner (bass)
Over the last 5 years, they have accomplished releasing a full-length album named 'Transient' that is a definite must listen. They also released single, "Running From a Halo" with an accompanying music video which you can see below.
Static Signal are incredible musicians, who strive to bring energy and passion to the stage. They bring hard hitting riffs, powerful vocals and intricate instrumentals. They have had the opportunity to open up for bands such as Nonpoint, Pop Evil, Otherwise, Trapt, Taproot, Tantric, Gemini Syndrome, Shaman's Harvest, Wayland, Royal Bliss, Adelita's Way and many others. They just finished their first tour in the fall of 2017 across the Midwest.  
If you haven't seen Static Signal perform live before, you are absolutely missing out. This video from the Big Gig Contest will give you a tiny taste of how incredible they are on stage:
Thankfully, you can see Static Signal up close and personal for FREE on Wednesday, May 16th. They will be performing for our Spring Fling Pre-Show Block Party at The BMO! Before Halestorm, In This Moment, New Years Day and On My Six hit the stage, Static Signal will be your musical host on Elm Street between Church and Main in downtown Rockford.
There will be food, beer, concert tickets, live broadcast and more. Party starts at 3 p.m., Static Signal will hit the stage at 4 p.m. See you there!
*** To hear local bands on The X, tune into The Revolution, hosted by Rev. TimE – Sunday nights from 11 p.m. – midnight.