So Called Saints is a metal/hardcore band from Rockford, Illinois.
Big Gig Contest Top 15 Finalist, So Called Saints, are no stranger to 104.9 The X. Their music has graced the airwaves on The Revolution, the local music showcase on Sunday nights.
The band consists of:
Alex Johnson-Vocals
Dustin Aughenbaugh- Guitar
Chris Pigue- Bass
Justin Kavva- Drums
I first got to know So Called Saints during The Big Gig Playoff, where the Top 5 performed live at The Apollo Theatre. They were not performing that night, so it wasn't their music I was able to get to know so well, it was the band and the amazing group of guys that they are.
I spent a few moments chatting with Alex, admiring his fantastic beard. After a few moments chatting about the local scene, life and The X, it was easy to tell he is one stand-up guy.
Then, I met Justin, their drummer. He is just a ball of energy, in all the right ways. He introduced me to his beautiful fiance, friends and we talked more about the huge Rockford music scene.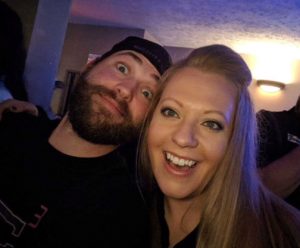 The guys in So Called Saints are great people, that's an understatement. They support the local scene, like a father would support their son at a baseball game, and they love rock and roll.
They've been part of the scene since 2012. They have two albums they have released so far, the 2014 LP 'American Roulette' and the 2016 EP 'Armed to the Teeth'. They are also in the process of recording their next EP, 'Death Keeps the Order,' which they hope to have released by the end of 2018.
If you haven't seen them live yet, it's a must. Here's just a small taste, from their submission video they sent for The Big Gig Contest back in April.
So Called Saints have plenty of shows coming up, you can learn more and see more HERE.
*** To hear local bands on The X, tune into The Revolution, hosted by Rev. TimE – Sunday nights from 11 p.m. – midnight.