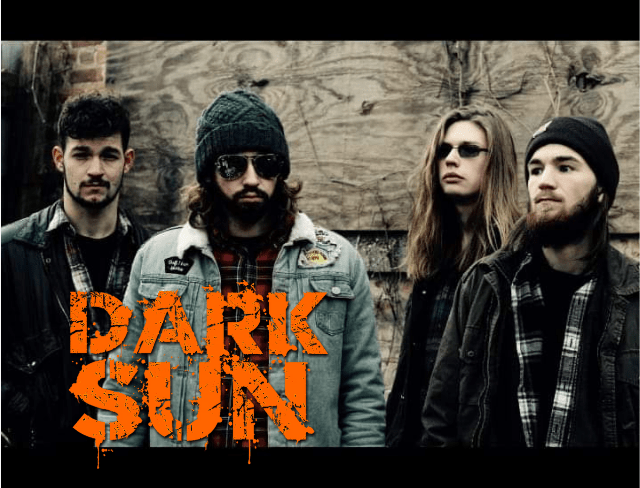 Get to know Poplar Grove band, Dark Sun, who you have the chance to see on April, 19th during the 104.9 The X Presents: The Revolution 5 Years of Local Rock on The X show.
I recently took a drive to a farm in Poplar Grove to visit with a young band who will playing on April 19th at the Apollo and they blew my mind.
Dark Sun:
Tristan Sheedlo – Guitar/Vocals
Aaron Dennis – Bass
Luke Sheedlo – Drums
Cole Fisher – Guitar
Though this band has only been in existence since October of 2017, they have established quite a reputation in this region of rock.
I first became aware of them during The Big Gig contest last year. They were very close to being in the top 5 out of 15 semifinalists. Dark Sun has shared the stage with some pretty big local and nationally known names since then.
Frontman Tristan Sheedlo picked up the guitar about 10 years ago. His younger brother, Luke, began to jam with him on the drums. Soon, their friend Aaron came in on bass. The three of them jammed for a bit and after a frustrating search for a singer, Tristan decided to take a stab at singing. They found out he had a remarkable voice.
His style is very much like the late great Layne Staley. When I asked if the name Dark Sun was sort of an homage they responded
"Are you trying to say we sound like Alice In Chains?" …I'm sure they get that a lot. A few songs into the practice/interview, they played a nearly flawless rendition of 'JunkHead.'
Cole is the newest member of the band, they are recording some great songs together with the help of Madison based band Growing. Their songs, The Devils Back, Paralyzed and The Reaper have been heard on the Revolution.
You do not want to miss this band!! 4/19/19 at The Apollo ~ Rev. Time
Get tickets to this one amazing night of local music for just $5, HERE.