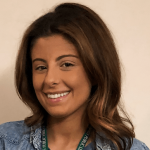 Two of Rockford Lutheran's most prominent sports will be under new leadership next school year, as the school announced the hiring of Tony Ambrogio as new football coach and Alyssa Schmidt as new cheerleading coach.
Ambrogio, who saw success with Christian Life, had served as head coach at Jefferson the past two seasons.
"I am extremely excited to announce the hiring of Tony Ambrogio as the next head football coach," said Lutheran athletic director Josh Sternquist. "Coach Ambrogio has been a head coach in the stateline area in the private and public arena and has many connections and ties to Rockford Lutheran.
"The interview process to get to this point was very extensive. He has had the opportunity to meet with our football committee, players, and staff. He impressed us all. We are excited for him to take the reins and get to work."
Ambrogio spent four seasons as head coach at Christian Life, where he went 26-14 with three playoff appearances. After that, he joined the staff at Jefferson as offensive coordinator, but had to take over at the last minute prior to the 2017 season when the school led Ken Dubose go. In his two seasons as head coach with the J-Hawks, the team went 1-17.
"Working as a head football coach and athletic director at a faith based private school and a head football coach and student athletic coordinator at a large public school has prepared me for the opportunity at Rockford Lutheran," Ambrogio said. "I'm very excited to be a part of the Rockford Lutheran community. We will build our program upon a strong Christian foundation and mold our young men into outstanding community members; teaching life lessons through the game of football."
Ambrogio replaces Chuck Leonard, who stepped down this past offseason after going 3-15 the past two seasons at Lutheran.
Schmidt replaces Billie Makeever, who led the Crusaders to the Small School state championship in 2018 after placing fourth in 2017. Lutheran is coming off a ninth-place finish this past season.
Schmidt is a former student-athlete at Lutheran who participated in cheer and returned to the program as an assistant.
"Alyssa knows what it takes and has grown up under the tutelage of Coach Billie Makeever," Sternquist said. "I want to thank Billie for her assistance in the selection process."
"As a Rockford Lutheran alum, I am excited to be a part of the Lutheran family again," Schmidt said. "I have worked alongside Coach Makeever for many years. She was a wonderful mentor to me, and I am excited to continue the legacy she has built for the program."
Schmidt is already getting ready for tryouts for the 2019-20 school year. They are scheduled for May 15-16. She is also preparing for the annual Cheer Sports Camp scheduled for June 25-27.