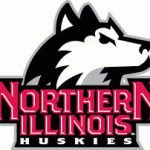 Season tickets for the 2019 Northern Illinois University football season are now on sale to the general public.
Coming off its fourth Mid-American Conference Championship in the last eight seasons, the 2019 Huskies return 16 starters, including seven on both offense and defense, under the guidance of former Huskie great Tommy Hammock, who enters his first season as head coach replacing the departed Rod Carey.
NIU has a five-game home schedule that begins Aug. 31 against in-state foe Illinois State. After heading out on the road for a challenging September non-conference schedule at Utah, Nebraska and Vanderbilt, the Huskies play Ball State on Saturday, Oct. 5 in the annual Battle for the Bronze Stalk, and face Akron at home on Oct. 26 in the 113th Homecoming game.  NIU closes out the regular season, and its home schedule, with back-to-back MACtion home games versus Eastern Michigan (Nov. 19) and Western Michigan (Nov. 26), with both games slated for national television broadcasts.
NIU football season tickets starting at $60 for an East Side (general admission) seat.  Purchase four tickets for family or a group of friends on either the East or West Side for as little as $55 or $75 per person, depending on seat location.  For groups of less than four, reserved seats on the West Side are priced at either $125 (sections C, D, E) or $110 (sections A, B, F, G) each, while senior citizens (62+), NIU Faculty and Staff, members of the NIU Alumni Association or the NIU Varsity Club can purchase a ticket in any West Side section for $110.
Benchback and chairback seating is also available in the best seats in Huskie Stadium for $125, plus an additional per-seat donation to the Huskie Athletic Fund of $100 (benchback) or $150 (chairback).
You can purchase tickets through these three links:
Football Premium Areas Information
For information on additional premium seating options, including the Sky Club, Sky Box and Coaches Club, go to HuskieAthleticFund.com.
 Tickets are also available by calling 815-753-PACK (7225), emailing huskiestickets@niu.edu or stopping by the NIU Athletics Ticket Office in the Convocation Center which is open Monday through Friday from 8 a.m. to 5 p.m.