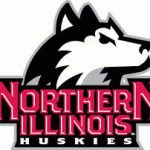 Northern Illinois football is not one to back away from a challenging football schedule, as evidenced by the list of big names the Huskies will take on in coming year.
The university announced that NIU's future games include road trips to Notre Dame (2024) and Kentucky (2022). Those formidable foes are part of a list that also includes Michigan (Sept. 18, 2021) and Iowa (Sept. 13, 2025). The games at Notre Dame (Sept. 7, 2024) and Kentucky (Sept. 24, 2022) are the first between NIU and those teams.
NIU and UMass will play a home-and-home series in 2024 (Oct. 5 in DeKalb) and 2025 (Sept. 27 in Amherst), with home games versus Eastern Illinois (Sept. 3, 2022), Southern Illinois (Sept. 9, 2023) and Illinois State (Sept. 5, 2026) also set. The Huskies will play host to Maine on Sept. 25, 2021.
The Huskies' complete 2020 non-conference schedule begins with a visit from Rhode Island on Sept. 5, games at Maryland (Sept. 12) and Iowa (Sept. 26), along with a visit to Huskie Stadium by BYU (Oct. 24).