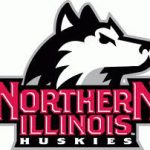 Northern Illinois University will kick off the Thomas Hammock era at home in Huskie Stadium on Saturday, Aug. 31 at 6 p.m. versus Illinois State, as nine of the Huskies' 2019 kickoff times, along with broadcast information for the season's first three weeks, were released by the Mid-American Conference on Thursday
The Huskies' season opener will mark the head coaching debut of NIU alumnus Hammock, who was named the 23rd head coach in NIU history in January.  The game will be the 57th all-time between NIU and Illinois State as the Huskies have played the Redbirds more than any other opponent.  However, the 2019 game will be the first between the teams since 2000.
Illinois State will have a very local flavor to the Rock River Valley, as Rockford East graduate Brock Spack enters his 11th season as head coach. And his Cardinals roster includes running back James Robinson out of Rockford Lutheran High School, linebacker Zeke Vandenburgh of Freeport High, defensive back Julian Haynie from Guilford and lineman Peyton Asche of Eastland-Pearl City.
Robinson, a senior, led ISU in rushing last season with 1,333 yards on 205 carries (6.3 per carry) with 12 touchdowns. He also caught 21 passes for 164 yards and another score.
Vandenburgh, a sophomore, played in all 11 games in 2018, collecting 22 tackles including 3.5 for losses, while Haynie, a redshirt freshman, played in four games and recorded one tackle.
NIU's 113th Homecoming game versus Akron on Saturday, Oct. 26 will kick off at 2:30 p.m. The Huskies will close out the regular season with a pair of home #MACtion games. On Tuesday, Nov. 19, NIU will play host to Eastern Michigan at 6:30 p.m. in a nationally televised game on ESPN2 or ESPNU.
One week later, on Tuesday, Nov. 26, NIU will kick off pre-Thanksgiving festivities with a 6 p.m. Senior Night match-up versus MAC West opponent Western Michigan on an ESPN platform.
In addition to the home games, game times and television networks for NIU's contests at Utah (Sept. 7) and at Nebraska (Sept. 14) were announced Thursday. The second half of the Huskies' home and home series with the Utes will kick off at noon on Pac-12 Networks, while the Huskies and Huskers renew their series with a 7 p.m. game at Memorial Stadium in Lincoln on FS1.
NIU's games at MAC East opponents Ohio (Oct. 12) and Miami (Oct. 19) will kick off at 2:30 p.m  and 1:30 p.m., respectively with broadcast information to be determined. The Huskies' game at Toledo on Wednesday, Nov. 13, annually one of the top-rated #MACtion midweek broadcasts, will once again air on ESPN2 or ESPNU with kick off at 7 p.m. (CT).
Kickoff times and broadcast information for NIU's three remaining games, including the home contest versus Ball State on Saturday, October 5, are scheduled to be announced 12 days prior to each game.
Sportsfan 1330 is your local home for all NIU football broadcasts.