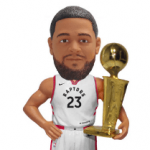 Rockford native Fred VanVleet is an NBA champion. And what better way to celebrate that then with a bobblehead?
In what has become an annual tradition that has taken place for over 15 years, the 2019 NBA Champion Toronto Raptors are having limited edition bobbleheads made in their likeness, and Fred VanVleet is included in the series. The bobbleheads feature each player holding a replica of the Larry O'Brien Championship Trophy.
The National Bobblehead Hall of Fame and Museum in Milwaukee, co-founded and run by Guilford graduates Phil Sklar and Brad Novak, has the complete line of officially licensed Toronto Raptors 2019 bobbleheads available for pre-order at the museum's online store. The bobbleheads are being produced by FOCO.
VanVleet played a pivotal role in the Raptors' championship, and he is the first Rockford native to be honored with a championship bobblehead for any sport. To order a VanVleet bobblehead, click here.
A bobblehead is also being produced of NBA Finals MVP Kawhi Leonard holding the Bill Russell NBA Finals Most Valuable Player Award Trophy. A mini set of three bobbleheads featuring Leonard, Kyle Lowry, and Pascal Siakam in action poses is also available. Three-foot tall bobbleheads of The Raptor and Kawhi Leonard are being produced as well.
The championship bobbleheads are $40, the mini set of 3 is $50, the MVP is $45, and the 3-foot bobbleheads are $900. Fans can order the complete set of regular sized and mini bobbleheads for $400. Shipping to the U.S. is a flat rate of $8 regardless of the number of bobbleheads purchased while shipping to Canada is based on the order amount. The bobbleheads are going into immediate production and are expected to ship in October.
For more about the Bobblehead Hall of Fame and Museum, go to www.bobbleheadhall.com.