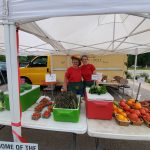 Friday afternoons, from 9 a.m. – 1 p.m., Heartland Farmers Market offer's fresh fruits, vegetables, essential oils and more!
If you've never been to Heartland Farmers Market, you are missing out.
It's right off Newburg and Alpine in Rockford, by Heartland Community Church. It's every Friday afternoon!
Here's a sneak peek of what we saw when we strolled the Market.
Heartland Farmers Market