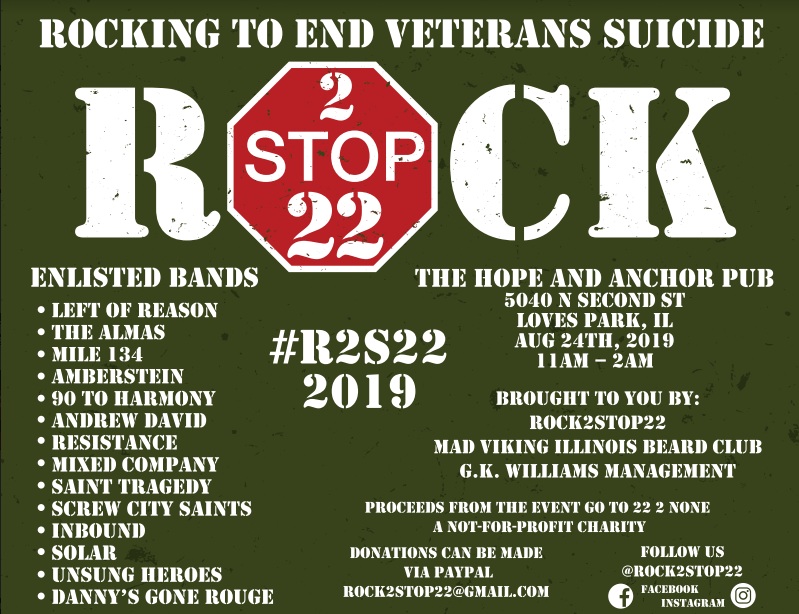 Rock2Stop22 brings a day of music with the goal of bringing awareness to and ending veteran suicide.
In 2010, the VA released a statistic that showed 21.6 veterans commit suicide each day. Let that sink in for just a moment. This number has fluctuated and most likely is higher due to how each state reports the numbers.
I spoke with Dan Fessler of Rock2Stop22 and he shared the history on how this organization came about and the reason why.
In 2017 a group I work with called Mad Viking Illinois was looking for charity events to hold in the area. I had previously worked with other veterans organizations and brought up having a music festival to bring awareness to the mental health issues they are facing. In 2017 we had 2 bands and it was successful. In 2018, we met Gary Korbel who manages Left of Reason, a rock band out of Broadhead, Wi. Gary is a vet and jumped on board, booking 9 bands. We also established the name of the event Rock2Stop22. We raised over $3200 for our sister organization 222None.

We are dedicated to bringing awareness to and ending veteran suicide. Our goal is to bridge the gap between the veteran and civilian community, bring awareness to the issues facing veterans, and start breaking the stigma of discussing mental health issues. Through our charity partners, we look to provide a stop-gap between when a veteran needs help and being able to have access to the Veterans Affairs.

In partnering, we can provide "boots on the ground" to aid distressed veterans and get them to needed services in their community.  Together we can stop the stigma of discussing mental health and end the epidemic of 22 veterans committing suicide each day.  All the money raised goes directly to helping vets, from providing meals, lodging, transportation to doctors appointments both with the VA and private, and our team just being a shoulder to lean on.
How can you help? It's easy!
On August 24, 2019 at Hope and Anchor in Loves Park, Rock2Stop22 will be bringing 14 bands to the main stage. Doors open at 11 a.m. and the music continues until 1 a.m. There is not a set cover at the door, but instead, donations will be accepted in lieu of a cover charge.
The bands playing are:
Left of Reason
The Almas
Mile 134
Amberstein
90 to Harmony
Andrew David
Resistance
Mixed Company
Saint Tragedy
Screw City Saints
Inbound
Solar
Unsung Heroes
Danny's Gone Rouge
In addition to an entire day of music, there will be drinks and food available for purchase. There will be Rock2Stop22 merchandise, raffles and did we mention the music?
To learn more about Rock2Stop22 or the event, visit here.