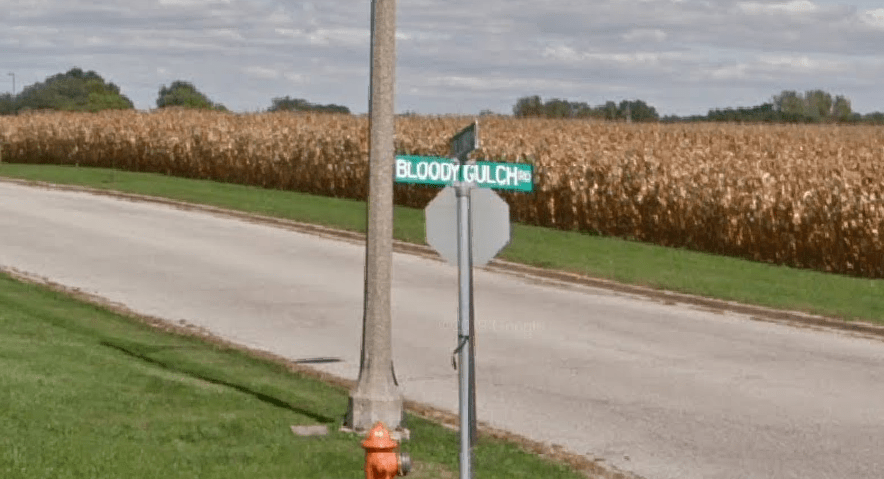 The creepy legend on how Bloody Gulch Road in Dixon, IL got it's name involves a pocket watch, a murder and the Bible.
Last night, I was thumbing through YouTube and came across a video from a Ghost Metal band in Dixon who's name is, you guessed it, Blood Gulch. I instantly thought, well, I know where they got their name from! BUT, where did Bloody Gulch Road get it's name?
The legend behind Bloody has been shared so many times, that it has almost become a game of Telephone. The message isn't as clear as when it started. So, I did a bit of research and was able to dig up the story from John Thiel, who's great-uncle, Frank Charles Theil, inspired the naming of Bloody Gulch Road.
According to SaukValley.com, Frank Charles Thiel was a 17-year-old Bible salesman from Elgin. On September 18, 1885, his body was found near a stream at the bottom of a gulch.
His throat had been slit, his head had several gashes and his arms had wounds that led authorities to believe he was trying to defend himself. According to WQAD, it was said that he had been murdered with a club and a knife.
Traveling salesmen were targets for highwaymen, and finding the murderer was not easy. This is 1885 for crying out loud! The lead suspect, who was then charged, didn't speak much English, a lot of the evidence was circumstantial and another Bible salesman was murdered 2 weeks later. A jacket he wore had stains on it that they thought were human blood, but again, it's 1885 and there wasn't technology to test it. It could have been something from the farm.
The man who is said to have murdered him was a French-Canadian, Joseph Mosse, who was working as a farmhand not far from where the body was found. He was tried and sentenced to life in prison. But, he left Joliet Penitentiary in 1911 on Christmas Day, when he was released after saving a guard's life when an inmate attacked him with a shoe knife.
When Frank Thiel, the murdered Bible salesman, was buried in his hometown, Elgin, 1,200 mourners turned out. It was the largest funeral in the city in 150 years. It was a murder that rocked the town, and inspired the naming of Bloody Gulch Road in Dixon.
If you'd like to learn even more about the legend of the Bloody Gulch Murder, you can read a book called Death of a Colporteur – The Story of the Murder at Bloody Gulch Road, written by John C. Thiel. It has fantastic information about the murder, the trial, and will haunt your dreams forever.