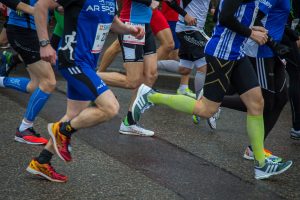 And you can join them…
Here at The X we are all about doing some good with the least amount of physical exertion.  After all, what radio station is it that throws the St. Patrick's Day .1K each year, hmm??
YouthBuild Rockford is hosting its inaugural fundraiser; The Downtown Dawdler Dash .5K. That's just about 500 yards or 1,684 feet.  Overachievers.
If you don't really like to run, but are more than willing to help a worthy cause, this is a great way to do it. You'll get to carb-load before the "race" with bagels, donuts, and coffee at registration. Participants will a t-shirt, bumper sticker, medal, and an after party at Prairie Street Brewing Company.
The Downtown Dawdler Dash will be held on Saturday, November 9th. Registration begins at 10:00 a.m. at the Lombardi Club parking lot. The "race" will begin at 11:00 a.m. and runners will dawdle down the sidewalk to Prairie Street Brewing Company. The after party will be in the Bottling House and includes pizza, beer, and live music.
The cost is $25 per "runner." All proceeds benefit YouthBuild Rockford, which has been serving the Rockford community for twenty four years.
Learn More About YouthBuild Rockford