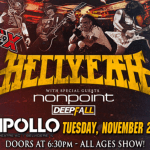 HELLYEAH will be at the Apollo Theatre on Tuesday, November 26th. Here's your chance to meet the band before the show.
You'll pick up a pair of tickets and the opportunity to meet HELLYEAH at The Apollo Theatre! It's an all ages show, doors open at 6:30 p.m.
Winner will be notified on Monday, November 25th. Good Luck!
Tickets are on sale now —-> here.