For me, sometimes it's just hard to get in the Christmas Spirit. When I just can't quite get my "Santa" on …. I refer to my go to list of Christmas movies that I just can't live without.
In my house, it just isn't Christmas until I've watched A Christmas Story (1983) starring Peter Billingsley, Melinda Dillon and Darren McGavin. This movie has all the elements of a Christmas seen through the eyes of a child and boy can I relate! Once I've heard the trumpet of the Bumpas dogs as they trash the kitchen and heard the staff at the Chinese restaurant sing their rendition of deck the halls… then I know it's Christmas and I can safely put up my tree!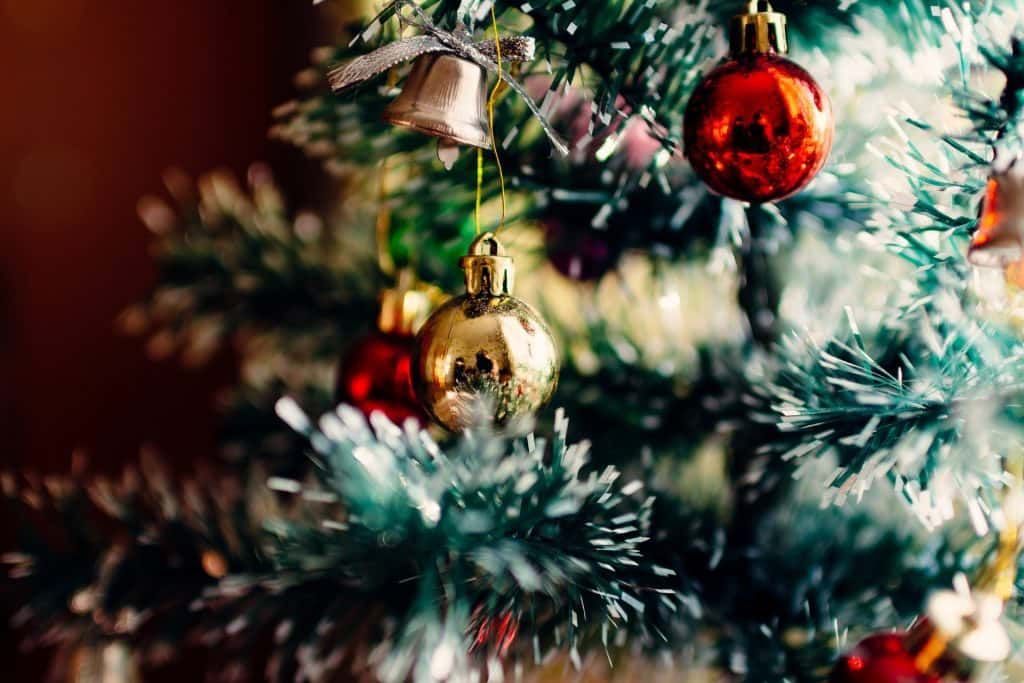 But Ralphie, Randy, Mom and the Old Man aren't the only holiday family I invite into my home at Christmas time. Once I've got my tree up, I can settle down each night to enjoy one of my favorite holiday movies; some old, some new and some that most people wouldn't even call Christmas movies. Although they might not all "technically" be labeled as Christmas movies, they all have a Christmas theme or element to them, and that's why over the years, they've been added to my list. So here they are, oldest to newest.

HOLIDAY INN – 1942 Starring: Bing Crosby and Fred Astaire: In this Irving Berlin musical, Jim (Crosby) and Lila are members of a performing trio who plan to quit and run a country hotel. When Lila says she has fallen in love with the dancer in the act, Ted (Astaire), Jim leaves town with a broken heart. After turning the inn into a holidays-only live entertainment venue, Jim winds up booking — and falling for — a woman named Linda. But when Ted shows up at the place after being dumped by Lila, he too sets his sights on beautiful Linda and the drama ensues. An oldie but a goodie that the entire family will enjoy. 
MIRACLE ON 34TH STREET – 1947 – Starring: Edmund Gwenn, Natalie Wood, Maureen O'Hara & John Payne: One of my ALL TIME favorite Christmas movies! Set in New York city, O'Hara is in charge of the Macy's Thanksgiving Parade and the Santa they've hired is intoxicated. In a last ditch effort to save the parade, she hires Gwenn to fill in. He does such a great job as Santa, that they hire him for the season at the store. As the story progresses, it becomes obvious that Gwenn is, of course, the REAL Santa Claus. John Payne must defend Santa in court and prove once and for all that he is indeed Santa Claus. This is a wonderful holiday movie that the entire family will enjoy year after year!
WHITE CHRISTMAS – 1954 – Starring: Bing Crosby & Danny Kay: Singers Bob Wallace (Crosby) and Phil Davis (Kaye) join sister act Betty and Judy Haynes to perform a Christmas show in rural Vermont. There, they run into Gen. Waverly, the boys' commander in World War II, who, they learn, is having financial difficulties; his quaint country inn is failing. So what's the foursome to do but plan a yuletide miracle: a fun-filled musical extravaganza that's sure to put Waverly and his business back in business! The costumes, music and dancing are out-of-this-world! A great movie for the entire family.
RUDOLPH THE RED-NOSED REINDEER – 1964 – Stop-Motion Animation – Rankin / Bass: Everyone in America knows this movie. One of the first Christmas movies that most of us remember from our childhood; we are now sharing this movie with our kids and grand kids. Rudolph is a reindeer at the North Pole born with a bright red nose! He feels like a misfit and ends up meeting an elf named Hermie who doesn't want to make toys, but instead, wants to be a dentist. The two of them run away from home and embark on a dangerous adventure where they face the abominable snow man! This classic film is fun for kids of all ages.
A CHARLIE BROWN CHRISTMAS – 1965 – Animation – CBS Studio Productions: Charlie Brown and all of his friends celebrate the meaning of Christmas in this classic animated film. The pinnacle is Charlie Brown's tree which is so pathetic, it can't even hold up one ornament. But with the help of his friends, it becomes a beautiful tree that everyone can be proud of. Another classic movie that all ages can enjoy.
DR. SEUSS' HOW THE GRINCH STOLE CHRISTMAS – 1966 – Animation by Chuck Jones – Voices of Boris Karloff & June Foray: The ORIGINAL Grinch movie! This original holiday cartoon by Chuck Jones is a Christmas classic! I've watched the other versions over the years, but they just don't compare somehow to the original. If you haven't seen it, check it out! ~ Warning! You'll be singing along with the entire movie!
FROSTY THE SNOWMAN – 1969 – Animation – Voices of Jimmy Durante, Jackie Vernon, Billy De Wolfe & June Foray: In this classic cartoon, a bunch of children build a snowman and once they adorn him with button eyes, a corn cob pipe and a magic hat he comes to life! A great movie for all ages to enjoy.
SANTA CLAUS IS COMIN' TO TOWN – 1970 – Stop-Motion Animation – Voices of Fred Astaire & Mickey Rooney: This is the story of how Santa Claus and Mrs. Claus came to be. It's a classic story with good guys, bad guys, a penguin and of course the Christmas elves. Another classic family movie for the holiday season.
THE YEAR WITHOUT A SANTA CLAUSE – 1974 – Stop-Motion Animation – Voices of Mickey Rooney & Shirley Booth: Mickey Rooney returns as the voice of Santa. This time, Santa feels like everyone is losing the Christmas spirit and that he isn't needed anymore. Jingle and Jangle (two of Santa's elves) go into the city to find some Christmas spirit and convince Santa that he is needed. Along the way, Jingle, Jangle, Mrs. Claus and a few of the reindeer get mixed up in an adventure where they are faced with Mother Nature and her two sons Heat Miser and Snow Miser. A fantastic holiday movie for everyone! ~ Again, you'll be singing along with all of the great songs in this film.
EMMET OTTER'S JUGBAND CHRISTMAS – 1977 – Jim Henson's Muppets: Another of my favorite holiday movies. The creative genius of Jim Henson sets the story of Emmet Otter, his mom and his group of friends that live in the little town of Frogtown Hollow. Emmet does odd jobs and his mom does laundry, sews and bakes things to try and make enough money to put food on the table. They find out about a local talent contest that is giving away $50 for the top prize and both decide to try and win the money so that they can afford to buy a nice Christmas gift for the other person. This heart-warming story will have you singing along in no time. A fantastic Christmas adventure for the whole family.
NESTOR THE LONG-EARED CHRISTMAS DONKEY – 1977 – Stop-Motion Animation – Rankin / Bass Productions: This is the beautiful story of a donkey with exceptionally long ears that is outcast from his home and meets an angel named Tilly. Tilly tells Nestor that he is special because his hears can hear what no other creature can. Nestor follows Tilly toward the town of Bethlehem where he is bought by Mary and Joseph. Protecting Mary through a horrible sandstorm, Nestor gets Mary safely to a stable where she gives birth to Jesus and he returns home a hero. This one is a two Kleenex box movie ~ you've been warned. Great for the whole family.
A CHRISTMAS STORY – 1983 – Starring: Peter Billingsley, Melinda Dillon & Darren McGavin: As I said in my introduction, this is the one movie that I think of when I think of Christmas. Ralphie is a little boy growing up in Indiana in the 1940's and all he wants for Christmas is an Official Red Ryder Carbon Action 200 Shot Range Model Air Rifle. All the adults keep telling him is that he'll shoot his eye out. This is a hilarious roller-coaster ride in the pursuit of his Christmas dreams. Enjoyable for the whole family!!
THE BEST CHRISTMAS PAGEANT EVER – Made for TV Special – Starring: Loretta Switt: I've only been able to find this one on You Tube; but this made-for-TV Christmas special is an adaptation of the play of the same name. Six children known as the Herdmans are feared by everyone at school. When the local Sunday school teacher breaks her leg, Loretta Switt has to step in and run the church's Christmas pageant. The Herdmans are under the impression that you can get free cake, ice cream and cookies if you go to church, so they show up and decide that they want to be in the show. This heart-warming story of the true meaning of Christmas will have you reaching for the tissues. This movie is appropriate for all age groups.
PLANES, TRAINS & AUTOMOBILES – 1987 – Starring: Steve Martin, John Candy and an All-Star Cast: Neal Page (Martin) is just trying to get home for Thanksgiving when his flight is re-routed to an obscure location no where near his home in Chicago. While at the airport, he meets Del (Candy); a traveling salesman with a big heart but an annoying habit of talking about absolutely nothing. Their adventure to try and get home before the holiday involves nothing but disaster upon disaster and somehow, the two end up becoming friends. This hilarious movie is definitely for the whole family to enjoy!
LETHAL WEAPON – 1987 – Starring: Mel Gibson & Danny Glover: Ok, so it's not exactly a "Christmas" movie. But it is set during the holiday season. And, it's got guns, things blowing up and a whole bunch of really cool "Christmas Inspired" parts to it, so I added it to my list. Besides, who doesn't love Mel Gibson with long hair?
DIE HARD – 1988 – Starring: Bruce Willis, Bonnie Bedilia, William Atherton & Alan Rickman: Another movie that has a divided following. Half of us say it IS a Christmas movie and the other half say, "no way". I think it IS a Christmas movie because the whole premise behind the movie is that John McClain's ex-wife is held captive at her company Christmas party! We all know the rest, John takes out the bad guys one by one and saves the day. Family members 10 and up I think would enjoy this one.
SCROOGED – 1988 – Starring: Bill Murray, Karen Allen, Carol Kane and An All Star Cast (Including 3 more Murray Brothers!): The greatest version ever of Charles Dickens' immortal classic. An all star cast puts together some of the funniest and most heartfelt scenes trying to turn a ba-humbuging Bill Murray into a loving guy who believes in his fellow man and opens his heart to others. Frank Cross is a television executive that cares only about one thing…the almighty dollar. He is visited by three ghosts that show him the past, present and future in an attempt to not only change his heart, but remind him of a love that he squandered away with Claire. A fantastic version of the classic story that the entire family will enjoy.
NATIONAL LAMPOON'S CHRISTMAS VACATION – 1989 – Starring: Chevy Chase, Beverly D'Angelo, Randy Quaid, Johnny Galecki & Juliette Lewis: Clark Griswold always tries to set unattainable standards for everything he does. Birthdays, anniversaries, parties, you name it. He always tries to go above and beyond the norm to make an event the best that has ever existed….ever. Unfortunately, his "good old fashioned" Griswold family Christmas goes over like a lead balloon. Between falling from the roof while putting up 25,000 twinkle lights on the house, to the oversized tree in his living room, to a surprise visit from Cousins Katherine and Eddie; this hilarious roller coaster ride of a movie is fun for the entire family!
THE SANTA CLAUSE – 1994 – Starring: Tim Allen, Wendy Crewson, Judge Reinhold & David Krumholtz: Scott Calvin is an ad executive that has custody of his son Charlie for Christmas. Christmas eve, Santa arrives and falls off the roof! At the spot of the accident, Charlie and Scott find a business card that tells Scott to put on the suit and the reindeer will take care of the rest. Charlie and Scott arrive at the North Pole and are told that since Scott put on the suit; he is now SANTA CLAUS! This adorable story is a great one to add to your list for holiday movies. There are three films in the series in total. Fun for everyone.
THE REF – 1994 – Starring: Dennis Leary, Judy Davis & Kevin Spacey: Another "not-so-Christmas" movie that I love to watch at Christmas time. Gus (Leary) is a cat burglar that is on the lamb trying to escape being caught by the cops and ends up at the home of Lloyd and Caroline Chasseur (18th Century French Huguenot) ~ you'll get it if you've seen the film ~ who absolutely hate one another. While Gus tries to find a way out, everyone in town stops by, including the cops and the Chasseur extended family for Christmas dinner. This hilarious movie hits all the high points of a truly dysfunctional family. Recommended for teen through adults.
THE LONG KISS GOODNIGHT – 1994 – Starring: Geena Davis & Samuel L. Jackson: This action-packed movie full of spies, guns and things going boom! is set during Christmas. Samantha Cain (Davis) is a school teacher with amnesia who; with the help of a private investigator Mitch Hennessey (Jackson) discovers that she's really a spy named Charly Baltimore for the US government. A non-stop action packed movie. Recommended for teen to adult.
BAD SANTA – 2003 – Starring: Billy Bob Thornton & Tony Cox: As the name implies this is definitely a movie for grown ups only. Billy Bob and Tony are a Santa and his helper that set up and rob malls during the holiday season every year. Thornton is a drunken mall Santa with a filthy mouth, a bad attitude and a knack for safe-cracking. This movie is hilarious, but again, watch it after the kids go to bed.
ELF – 2003 – Starring: Will Ferrel, Zoe Deschanel, James Caan & An All Star Cast: This is a great movie for the whole family! Will Ferrell is Buddy, the elf from the North Pole who travels to New York to find his dad (Caan). Having been raised at the North Pole, Buddy really doesn't know much of anything when it comes to the real world. This heart-warming Christmas movie is great for kids and adults alike. Get ready to laugh out loud!
FOUR CHRISTMASES – 2008 – Starring Reese Witherspoon & Vince Vaughn: A young married couple tries to forgo the usual family Christmases and instead decides to take an exotic vacation. In order to do so, they've lied to their families and told them that they can't make it this year because they are volunteering for charitable works. Unfortunately for them, their plans are ruined when a television crew shows up at the airport doing a piece on alternative holiday plans. The hilarious events that take place during their travels to visit their four family Christmases will have you holding your side. I recommend this movie for adults and older kids. A lot of the comedy will definitely not play to a younger crowd.
DADDY'S HOME 2- 2017 – Starring Mark Wahlberg, Will Ferrell, John Lithgow & Mel Gibson: I just discovered this one this year. Another fun-filled movie for the entire family! You should probably watch the first movie, just to get a feel for the dynamic taking place between Wahlberg and Ferrell for this second movie in the series. Mel Gibson is the bad-boy father of Wahlberg and Lithgow is the very affectionate father of Ferrell. It's a great come-together-despite-your-differences type of film and that's why I've added it to my list.
Do you have a movie that didn't make it on the list? Let us know in the comments below. Have a very Merry Christmas!
12/16/19 – I almost forgot a very special movie that is totally Christmas themed that I didn't put on the list above; but definitely deserves an honorable mention.
BETTER OFF DEAD – 1985 – Starring John Cusack & Curtis Armstrong – Lane Meyer (Cusack) is obsessed with his girlfriend Beth. Unfortunately, she breaks up with him and the only thing he can think of is ending it all. With the help of his best friend Charles Demar, he tries his best to get over her and in the meantime meets a French foreign exchange student named Monique who is living with the weirdos next door…the Smiths. It's Christmas time of course, and Monique and Lane form a friendship that turns into a budding romance. This is a hilarious movie that the whole family will enjoy so I just had to add it.