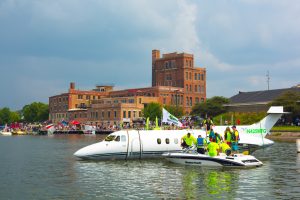 Event details were announced for the fifth annual Rock River Anything That Floats Race (RRATFR). 
ABOUT THE RACE:
It will take place on Sunday, August 16, 2020 (with a rain date pending on 8/23).  The RRATFR is 1.65 miles toward the finish line at Prairie Street Brewing Co.  It begins on Illinois Street, near the old Coast Guard Station.
Awards will be handed out for participants in three categories – speed, People's Choice, and The Frank Scheir Design and Creativity Judges' Choice.
TYPES OF RAFTS PERMITTED:
Anything that floats.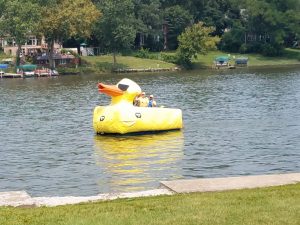 WHO CAN PARTICIPATE:
Virtually anyone.  Local area businesses, clubs, student groups, other organizations, and groups of individuals are encouraged to "get their ship together" and take part in this unique Rockford tradition.
REGISTRATION:
Participants can register at RRATFR.com for the 2020 race.  The deadline is August 9, 2020, or before all entry slots are filled (limit 100 rafts).
ENTRY FEE:
$100 per team, with or without hulls.  You are allowed up to 10 crew members.
RACE DAY SCHEDULE:
10:00 am – Sign-in
10:00 am – Live radio remote, entertainment, food, and drinks will be made available at the start line on Illinois Street
12:00 pm – Race begins at the Auburn Street Bridge
12:00 pm – The Gilligans will be performing live on a barge patrolling the river (to 1:30)
3:00 pm – After-party begins at Prairie Street Brewing Company, featuring local band Blind Date (to 6:00)
3:30 pm – Chuck-a-Duck drop off the Whitman Street Bridge
4:30 pm – Awards ceremony at Prairie Street Brewing Company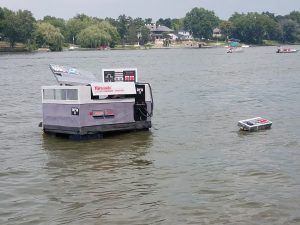 BACKSTORY:
It's the fifth year after relaunching the popular race, which originally began in 1976.  Recently, The Rock River Raft Race NFP board announced a successful 2019 raft race, resulting in significant donations raised to benefit three local efforts – the Rockford 4th of July Committee, Ski Broncs, and the Rockford Park District Forest City Queen Fund.  Last year's race featured more than 40 rafts and 200 participants.  Collectively, they generated more than $9,000 in net proceeds for donations.
Join 104.9 The X in making this year the most successful one yet!