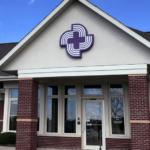 SwedishAmerican's Immediate Care will move to a new location on North Mulford Road in Rockford this week.
Beginning Wednesday, September 23 at 8 a.m., Immediate Care will be located at 3775 North Mulford Road. Immediate Care provides medical care to infants, children and adults and is open seven days a week for minor injuries and illnesses. No appointment is needed.
The North Mulford location has also served as SwedishAmerican's drive-up COVID-19 testing center for the past five months. The testing location will remain at the site but be relocated to the east side of the building.
The old Immediate Care location at 2473 McFarland Road will close its doors on Tuesday, September 22 at 5 p.m. The Woodward Health Center – a clinic exclusive to Woodward's employees and their dependents – remains at the site.