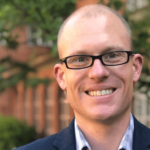 The search is over. The Harlem Board of Education approved a contract with Dr. Michael Flanagan to fill the role of Superintendent beginning July 1, 2021.  Dr. Flanagan will replace Dr. Julie Morris, who is retiring at the end of June 2021.
"I am excited and humbled to be able to call the Harlem community my home in that it is where I live and now professionally serve.  My wife and I are originally from the Stateline area and three of our four children currently attend Harlem schools.  Personally, that makes this opportunity quite special.  We have a fantastic community that cares deeply about our students and the future of Harlem, and I look forward to the great work ahead of us as I take on this new role".
Dr. Flanagan will begin his tenure in the Harlem School District starting on January 4, 2021. Learn more here.