All Goodwill Northern Illinois retail stores and donation centers are now open! Why wait until spring to start decluttering your home of stuff you don't want or need anymore? Get a head start!
For individual store and donation center hours click HERE
All stores are following CDC safety guidelines for re-opening. For an overview of safety protocols, click HERE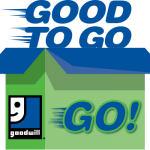 Visit Goodwill's "Good to Go Box" Online Store!
You'll find lots of items, lots of brands and LOTS of savings!