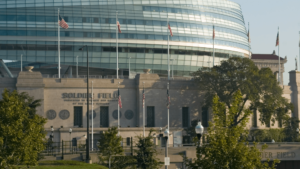 Reports started circulating over the weekend that the Chicago Bears were one of
a couple of teams interested in acquiring QB Carson Wentz from the Philadelphia
Eagles. Wentz struggled mightily last year and really has not been the same since
returning from an Achilles injury a couple years ago. Much like the Deshaun
Watson situation in Houston the relationship between Wentz and the Eagles has
deteriorated quickly. The question is what will it take for the Bears to get him and
is he that much of an upgrade over Mitch Trubisky?
What it will take to get Wentz according to current reports would be QB Nick
Foles, an additional offensive player, and the Bears first round pick in this year's
draft. The inclusion of the first round pick is where the deal falls apart for me.
Getting Foles out of Chicago is fine as things haven't really worked out for him
here thus far. An additional offensive player that is fine as well even if it is Tariq
Cohen. Cohen while explosive was out all last season and the Bears did okay
without him. The first round pick however is important because the Bears are
more than just a QB away from a Super Bowl title and if the Super Bowl this year
taught us anything a strong offensive and defensive line is the foundation of a
winner.
Is Wentz that much of an upgrade over Trubisky, yes and no. Yes in the fact that
he has a better ability to discern coverages quickly and no in that he isn't that
much more accurate as a passer and may in fact be less athletic than Trubisky.
Rest assured Mitch's time in Chicago is all but over but is giving up that many
assets to get a slightly better more often injured version of Mitch really worth it?
The answer if you're a Bears fan should be a resounding no.