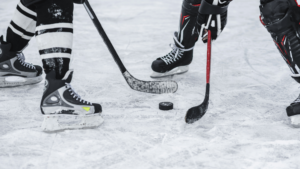 Believe it or not with Tuesday night's 2-1 OT victory over the Dallas Stars the Chicago Blackhawks have reached the ¼ poll of the NHL season and things are going much better than most people and fans expected. The Hawks opened the season by getting domed 3 straight games; in fact they didn't pick up their first win of the season until game #5. Since then however they have managed to get at least a point in 11 straight games and are currently riding a 3 game winning streak.
The biggest reason for the Hawks success thus far has been the play of rookie netminder Kevin Lankinen. Lankinen burst onto the hockey landscape when it backstopped Finland to the World Championships in 2019. Lankinen played out of his mind in that tourney that featured more than its fair share of NHL players. The Hawks then signed Lankinen to a deal and last year he played in Rockford where he was named an AHL All Star. The Hawks started the season with 3 goalies vying for the starting position, once Lankinen got a chance he has put a strangle hold on the starter's spot. Lankinen is 5-1-3 on the season with a 2.17 GAA and a .933 Save %. Backup Malcolm Subban has had a couple pretty good starts in net for the Hawks as well. Another key to the Hawks success thus far this season has been balanced scoring. Here are the goal scoring leaders for the Hawks thus far this season: Patrick Kane and Alex DeBrincat with 6, Mattias Janmark and Pius Suter with 5, Philipp Kurashev and Dylan Strome with 4 apiece. Suter and Kurashev are both rookies and are among the rookie leaders in scoring in the NHL. When a team is this balanced it makes it harder for teams to focus on stopping just one line.
The Hawks special teams have been pretty darn good thus far as well. The Hawks powerplay in fact has been the best it has been in years as it is currently in the top 3 in the league. The Penalty Kill started out shaky but the Hawks have killed off 20
of their past 21 penalties. The Hawks are doing all of this without their top 2 centers in Kirby Dach and Captain Jonathan Toews. The question is, is it all sustainable? The answer is maybe. This is a sprint of a 56 game regular season so the rookie grind that may have been there over an 82 game season may not rear its ugly head over a 56 game one. While the Hawks are still a questionable playoff team at best the fact that this team has taken the steps it has thus far this fast is quite the promising
development.