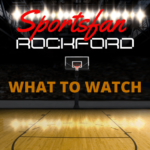 Welcome to the first weekend without NFL football. Despite the lack of NFL there
are still plenty of sports to enjoy this weekend.
College basketball on Saturday features a couple of matchups between ranked
teams as at noon on Saturday 12th ranked Oklahoma travels to take on 14 th ranked
West Virginia. At 4p Saturday 5th ranked Villanova is at 19 th ranked Creighton.
Sunday sees a big time matchup in the Big Ten as 3rd ranked Michigan gets back on
the court in Madison as they take on the 21 st ranked Wisconsin Badgers. Tip off
for that game is scheduled for noon on Sunday
NHL action this weekend includes the Chicago Blackhawks hosting the Columbus
Blue Jackets at the United Center on Saturday night. Puck drop is scheduled for 7p
CT. The St. Louis Blues are also in action on Saturday night as they will be taking
on the Arizona Coyotes for the 6 th straight time. This game will take place in
Arizona with a puck drop at 8p CT.
NBA action, the primetime showdown on Saturday night will feature Steph Curry
and the Golden State Warriors taking on his former teammate Kevin Durant and
the New Jersey Nets. Tip-off is scheduled for a 7:30p CT.
NASCAR's 2021 season gets underway on Sunday with the Daytona 500. The race
is scheduled to get underway at 1:30p CT on Sunday.