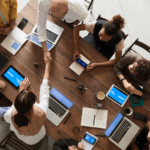 Business Studio: Emotional Intelligence in The Workplace: Why It's Important
Wed, February 24 @ 12 PM CST via Zoom
Cost: Free
The Greater Beloit Chamber of Commerce invites you to join Dr. Leverenz in this fast-paced, fun hour of exploring Emotional Intelligence (EI) concepts. We utilize Emotional Intelligence skills to navigate our daily lives with the people and situations we encounter. Some of us are more adept than others, and the good news is that EI can be learned and improved. Understanding one's own emotions, the emotions of others, and then responding appropriately is the foundation of EI. You'll quickly agree that EI is a much-needed skill in today's society and workplaces.
Areas of exploration:
Emotional Intelligence (EI) is a top employability skill
Components of Emotional Intelligence that guide our thinking and actions
Emotions and the brain…what is really going on?
Why low Emotional Quotient (EQ) is a problem and why leaders love employees with high EQ
Improve relationships and conversations in the workplace maximizing positive emotions
Cindy brings over 35 years of workplace training, leadership, and experiences to her leadership workshops offered through Blackhawk Technical College's Workforce and Community Development (WCD) division.