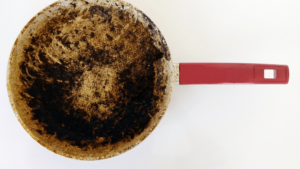 When the bottoms of your pots and pans get all  burned up that's the end right? Wrong! Here's yet another TikTok hack to get those pots and pans looking like new again.
Just sprinkle some salt and baking soda on there.  Then add dish soap, and scrub it just a little bit with steel wool to mix everything together. Then you cover it up with some paper towels . . . pour white vinegar on until they're soaked . . . and wait a little bit.
Does it work? Only one way to find out!