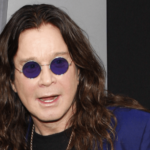 Ozzy Osbourne has shared a new version of 'Hellraiser' featuring a duet with late Motörhead frontman Lemmy Kilmister. The track is featured on the expanded 30th anniversary reissue of Osbourne's 'No More Tears' album, due out this Friday, September 17th. In addition to the original 'No More Tears' album, hits such as 'I Don't Want To Change The World', 'Mama, I'm Coming Home', 'Road To Nowhere', and the title track will all appear on the expanded edition as live recordings from Osbourne's 'No More Tours' tour in 1992.
Lemmy, who passed away in 2015, co-wrote 'Hellraiser' with Osbourne for the latter's 1991 album. Motörhead later recorded their own version of the song and released it as a single from their 1992 album 'March Ör Die'. Ozzy said in a press release that the new version was made in memory of his friend. "I hope everyone enjoys the song. This is just a small way to honor my friend Lemmy. Sharon and I talk a lot about how much we miss him.".
Take a listen to the "Hellraiser" featuring Ozzy Osbourne and Lemmy – here.
Editorial credit: Tinseltown / Shutterstock.com