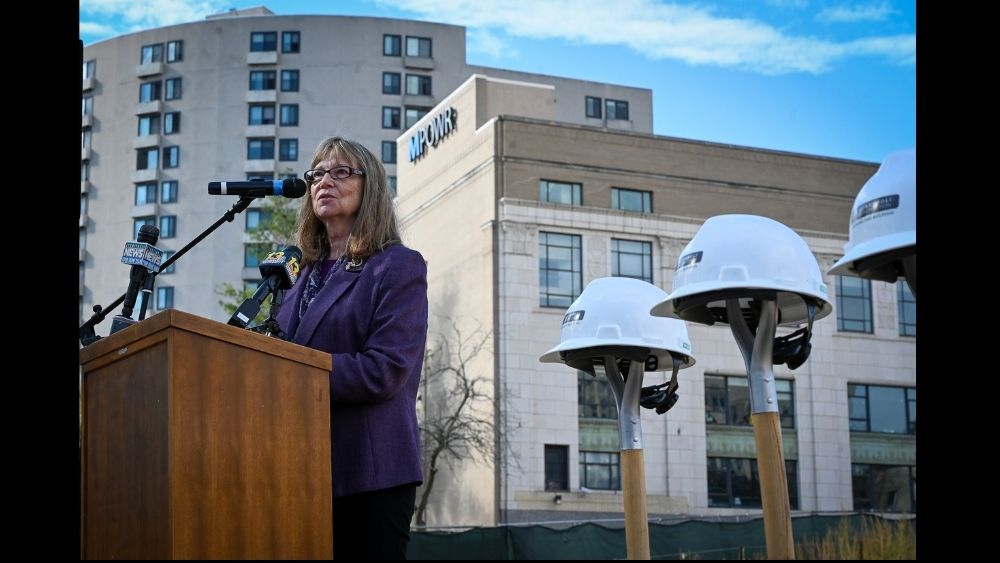 ROCKFORD — It was years ago when Paul Logli first heard the suggestion to demolish the Rockford Public Library's signature facility on the banks of the Rock River.
"My first reaction was: You can't tear down the library, nobody tears down libraries," Logli said Wednesday as he stood on a flat patch of gravel inside a construction site where that building once stood.
"Well, here we are."
The former main branch was torn down so that ComEd could conduct environmental cleanup work needed because of the site's history as a gas plant in the late 1800s. ComEd paid for the cleanup and is funding the anticipated $33 million project to build a new 68,000-square-foot, three-story library on the same North Wyman Street site were the old branch stood.
City, county and library officials gathered Wednesday to celebrate the groundbreaking for the new library, which is expected to open in 2023.
"This new building will be a dramatic presence on the river," said Logli, the president of the library's board of trustees. "The setting will be second to none in this state."
Rockford Public Library was founded in 1872 as the second library in Illinois, "and we will soon have the newest state-of-the art structure," Logli said.
The library existed in various locations until a grant from industrialist Andrew Carnegie funded the first iteration of the main branch.
"This is actually the second time we have been to this very site for a groundbreaking," Mayor Tom McNamara said at the ceremony. "The last time was awhile back, in 1901."
The new library will have multifunctional spaces for traveling exhibits, interactive play structures, multipurpose rooms, maker spaces and, of course, books and movies. It features large glass windows that will let in plenty of natural light and provide views of the Rock River.
"In our increasingly digital world, the role of the city's public library as a community and cultural center must not be undervalued," McNamara said. "Rockford library services that focus on building community interaction, inspiring and educating citizens through art, through literature, through music and helping patrons engage in civil discourse, which is definitely needed, are more important than ever right now."
(story continues below photos)
The second floor will include a quiet reading room with a fireplace overlooking the river. The third floor will be home to a local history room, expanded genealogy services, multipurpose rooms that open to outdoor terraces and a board meeting room.
The library will connect to the river via terraced landscaping and pollinator gardens designed with the help of Severson Dells Nature Center.
The library's design team consists of Studio GWA, Engberg Anderson Architects, IMEG Corp. and Fehr Graham, and the construction manager is Scandroli Construction.
The process of building the new library started in 2010 when ComEd contacted officials about doing soil boring to test for contaminants. It was ultimately determined that demolition would be needed to fully clean the site. The old main branch closed Nov. 25, 2017, and the Hart Interim Library, 214 N. Church St., opened on Dec. 2, 2017, to temporarily fill the void until the new structure is built.
"It has taken a long time since 2010 to get to this point," Logli said. But the end result will be a state-of-the-art structure that will serve people of all ages and walks of life on their quest for all forms of knowledge, he said.
"Libraries are not just about books anymore. It's about film and dance and performances and discussions and forums and classes and maker spaces: knowledge in all its forms," Logli said. "We believe we lead the state in making that available."
Rockford Public Library | At a glance
Here's a quick look at what's planned for each floor of the new library
First floor:
Multifunctional spaces for traveling exhibits
Friends of the Library store
Books, movies and more
Children's area with interactive play structures and dynamic learning spaces
Second floor:
Quiet reading room with a fireplace overlooking the river
Teen room for conversation and interaction
Maker spaces for hands on learning
Adult reading collection
Third floor:
Local history room
Multipurpose rooms that open to outdoor terraces
Board meeting room
This article is by Kevin Haas. Email him at khaas@rockrivercurrent.com or follow him on Twitter at @KevinMHaas.