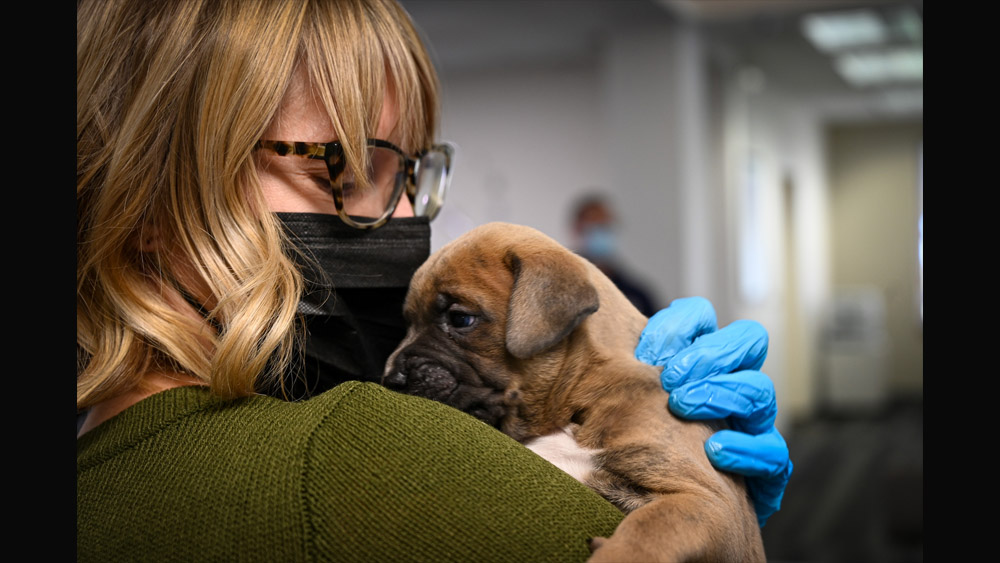 LOVES PARK — Rock Valley Credit Union kicked off a campaign to donate $20,000 to 10 local nonprofits on Thursday by presenting a check to Noah's Ark Animal Sanctuary.
Representatives of Noah's Ark, a no-kill shelter located at 111 N. First St. in Rockford, visited the credit union's Loves Park location with a handful of five-week old puppies they're caring for before the young pit bulls are available for adoption.
"There is nothing better than the endorphins of puppies," said Stephanie Lauer, executive director of Noah's Ark. "It sets up your whole day for success."
The $2,000 gift will go toward the nonprofit's efforts to feed, shelter and spay and neuter animals. The puppies that joined workers on Thursday were part of an accidental litter. They will be available for adoption in about three weeks, and the mother will be returned to the owners after being fixed.
(story continues below photo gallery)
The donation is part of the credit union's 12 Days of Giving. Each of the 10 nonprofits it selects will receive $2,000.
"It's beautiful to be able to give back to an amazing organization," said Ana Montoya, director of community outreach at Rock Valley Credit Union. "That's what we're all about as a credit union is helping out our community, all the way down to our furry friends."
Noah's Ark is now caring for about 20 dogs and 55 cats at its Rockford shelter.
"For us as well as for all nonprofits it's been a tough time, and the community is the only way we survive," Lauer said. "It is always heartwarming to know that whenever we need to call on our community, they are there tenfold. They never cease to surprise me and amaze me."
This article is by Kevin Haas. Email him at khaas@rockrivercurrent.com or follow him on Twitter at @KevinMHaas.