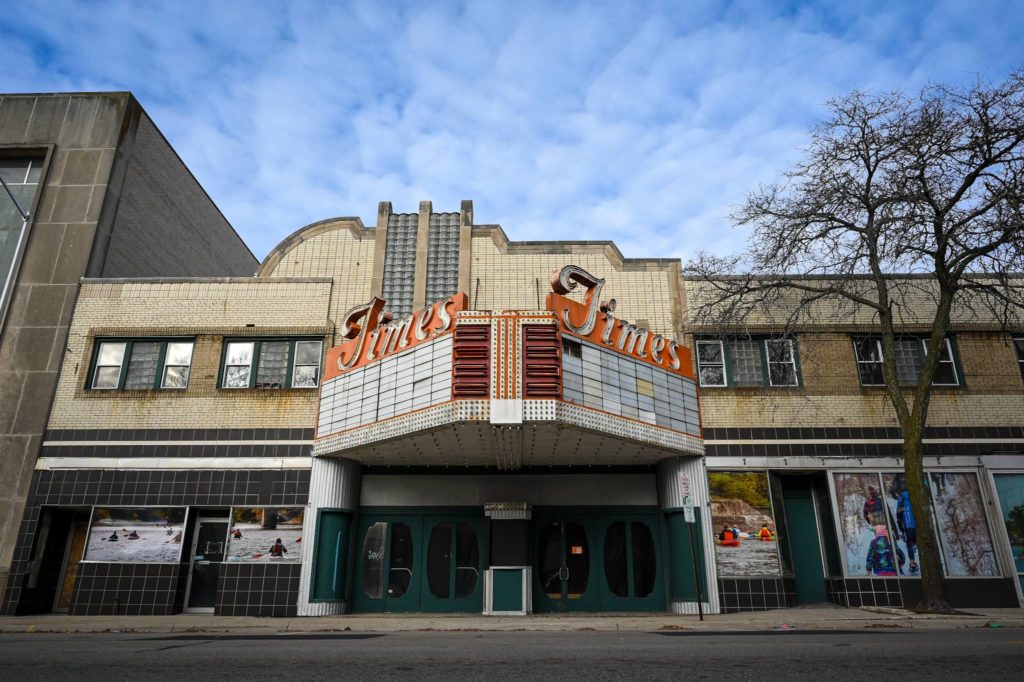 ROCKFORD — John Waite's prepandemic appearance here quickly filled all the seats at the downtown Nordlof Center. Then, it sold out of extra seats set up on the stage.
There was more demand to see the English musician, who is best known for the 1984 hit "Missing You," even after all 350 seats that could be squeezed into the J.R. Sullivan Theater inside the center were sold.
"We did chairs on the stage because we started selling out, so we had another 50 people on the stage," said Vince Chiarelli, a musician and owner of Vincent Records & Productions, who booked the January 2020 show. "That was sold out with people coming to the door trying to get in."
To Chiarelli, the show wasn't just a successful booking. It was a sign that downtown has a missing piece to its arts and music scene: a mid-sized venue that can host acts that outsize boutique theaters but couldn't fill the thousands of seats at the BMO Harris Bank Center arena or Coronado Performing Arts Center.
He thinks the Times Theater could fill that void. The 84-year-old former one-screen movie theater is envisioned as a multiuse entertainment venue by Joseph James Partners, a Rockford-based real estate development group run by SupplyCore President and CEO Peter Provenzano.
Last week, Chiarelli, Provenzano and a host of local government leaders kicked off a public campaign to garner support for plans to revive the former theater. So far, more than 1,000 people have signed a Change.org petition in support of redeveloping the space that's sat vacant for roughly two decades.
It's a roughly $15 million rehabilitation that is short approximately $4.1 million on the funding needed to make it happen, Provenzano said. Joseph James Partners hopes a $3 million grant from the Illinois Department of Commerce and Economic Opportunity's Rebuild Downtowns and Main Streets program can help fill some of that gap. It plans to submit a grant application in early January after soliciting public support.
The redevelopment would create a venue that could host 650 to 900 people downtown.
"This is kind of that sweet spot of 600 to 900 folks," Provenzano said. "We think a facility like this is necessary in the community and will drive additional visitation and dining at restaurants, etcetera."
The new Hard Rock Casino resort to be built along the interstate in east Rockford will also have a music venue. While those plans aren't finalized yet, it would be on the larger end with roughly 2,000 seats, casino officials said.
Who would play Times Theater?
For an idea of who might one day perform at the Times, look to some of the shows Chiarelli, who works as a project management consultant for Joseph James, was booking in the months before the onset of the pandemic.
Aside from Waite, there was also a November 2019 sold out show of Grammy winners Peter Asher and Albert Lee at Spring Creek United Church of Christ. And The Purple Madness, a Prince tribute band, filled about half of the Coronado's roughly 2,300 seats in February 2020.
Singer Carla Cook, the daughter of pioneering soul musician Sam Cooke, was booked for March 2020 until the show was postponed indefinitely due to the pandemic.
Nostalgic acts like those seem fitting for a theater built in 1938, and Chiarelli said bands from the 60s, 70s, 80s and 90s would be a big part of the bill. But they also hope to book new bands, local acts, comedy and cabaret. The flexible floor space could be set up with seating for a movie or musical act, or it could be arranged to look like a "New York comedy club" with high tables for two or four people, Chiarelli said.
"My band travels around the country, and I've played a lot of venues like this," Chiarelli said. "A lot of old movie theaters are getting restored into multiuse venues like this."
The space would be renovated to add green rooms and backstage space, as well as two elevators – one for passengers and one that could serve both freight and passengers. The company also plans to add a balcony that would hold about 150 seats.
Provenzano, whose nonprofit Rock River Development Partnership is behind the Rockford City Market, said the goal would be to have a couple shows each week so that residents know there is regular entertainment to seek out downtown.
"We learned with the City Market, if we can create weekly rituals – in this case having one to two shows a week that's predictable – people come down for that," Provenzano said.
How to help
About: Joseph James Partners is gathering signatures on a Change.org petition titled "Bringing Back the Good Times – Times Theater Restoration" as it tries to show its plans to restore the Times Theater has community support. The more support from residents, the more likely the company is to win state grant funding, the company feels.
Sign the petition: Go here
Learn more: restorethetimes.com
This article is by Kevin Haas. Email him at khaas@rockrivercurrent.com or follow him on Twitter at @KevinMHaas.