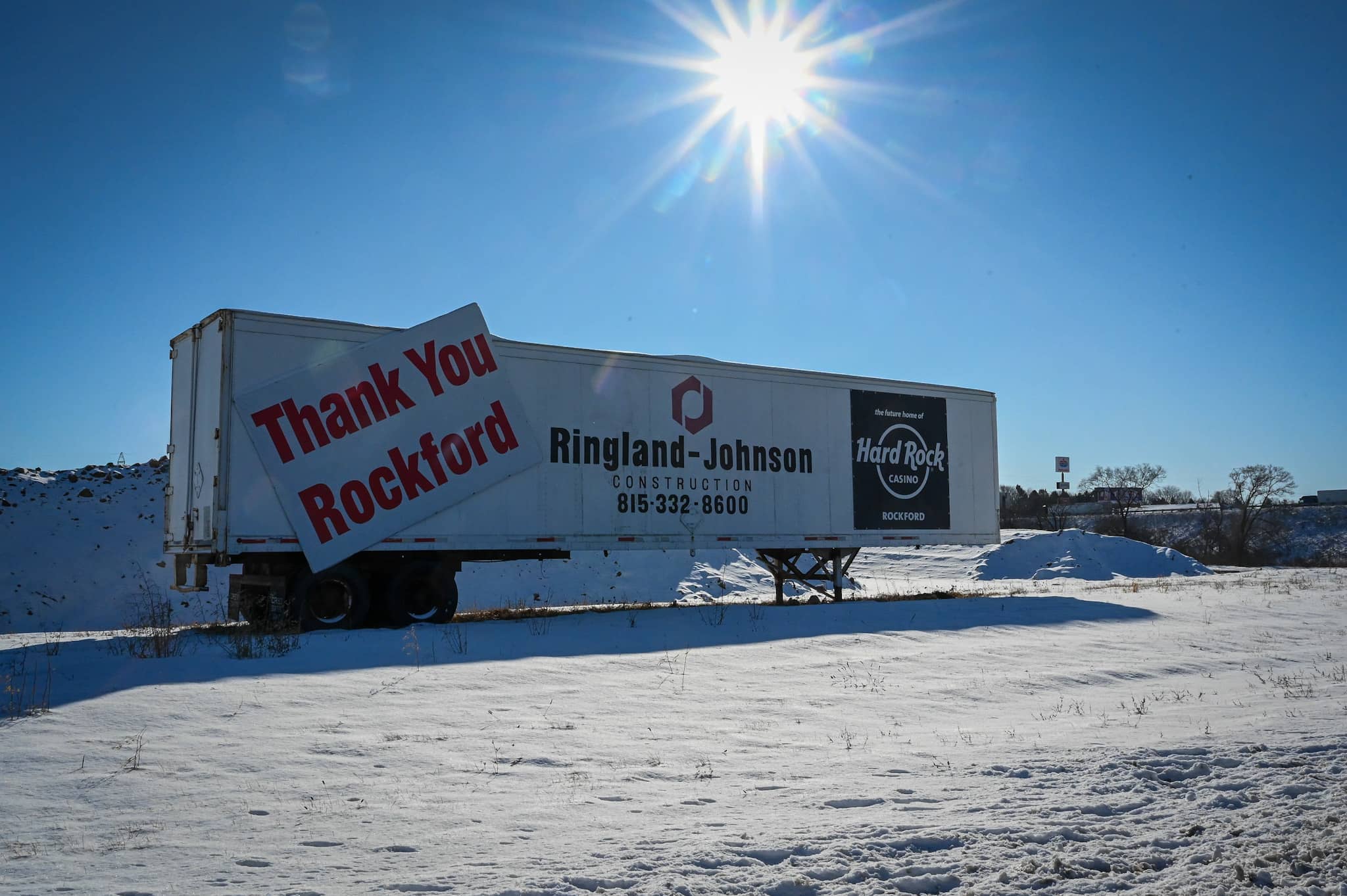 ROCKFORD — Hard Rock is targeting a spring groundbreaking for its full casino resort at the Interstate 90 entrance to the city.
The casino has said its goal was to start construction in the spring since opening its temporary casino on Nov. 10 at 610 N. Bell School Road, inside the former Giovanni's Restaurant & Convention Center. It reiterated that goal this week.
On Thursday, the Illinois Gaming Board will consider final licensure of Hard Rock Casino Rockford.
Geno Iafrate, president of the Rockford Casino, said on This Week in the Stateline that "when's the Hard Rock opening?" is a common question after the interim casino debuted about 100 days after receiving state approval.
"You give them this one in a hundred days and now they're like, hey, when's the next one coming," Iafrate said on the show.
The casino will be located on the former Clock Tower resort grounds. The Clock Tower resort, which opened in 1968 and was run for years by Rockford industrialist Seth Atwood, was demolished in 2018. Hard Rock expects construction to last 18-24 months.
"We are diligently working toward a spring 2022 groundbreaking," Iafrate said in an email following the radio interview. "A project of this scale is a complex process with many stakeholders. We have and will continue to work openly and closely with the (Illinois Gaming Board) and all regulatory bodies to ensure that the new Hard Rock Casino meets and exceeds all requirements and expectations."
The 65,000-square-foot casino will include a Hard Rock Cafe, a live concert venue, restaurants and retail stores. A hotel would be added later, although no schedule for that has been announced.
Final designs and programming is in the latter stages, Iafrate said. Once that work is complete, the casino plans to quickly move to secure contractors and begin construction.
"It's going to be very similar to the early renderings that we've released and everyone has seen," Iafrate said on the show. "There's always nuance within the building — should that restaurant be right there, should it move over here — so there's some internal programming that's still being developed and manipulated and edited."
For five decades the 100-foot tall Clock Tower stood over the city's east entrance. A new landmark will stand in its place once Hard Rock is complete. This time, it will be a 100-foot guitar modeled after one from Rock-and-Roll Hall-of-Famer Rick Nielsen's collection. Nielsen is an investor in the casino.
While tweaks will be made to the casino design. That will stay, Iafrate said.
"You know for a fact we got to have Rick's guitar out front," Iafrate said. "Changing that's a non-starter."
This article is by Kevin Haas. Email him at khaas@rockrivercurrent.com or follow him on Twitter at @KevinMHaas .