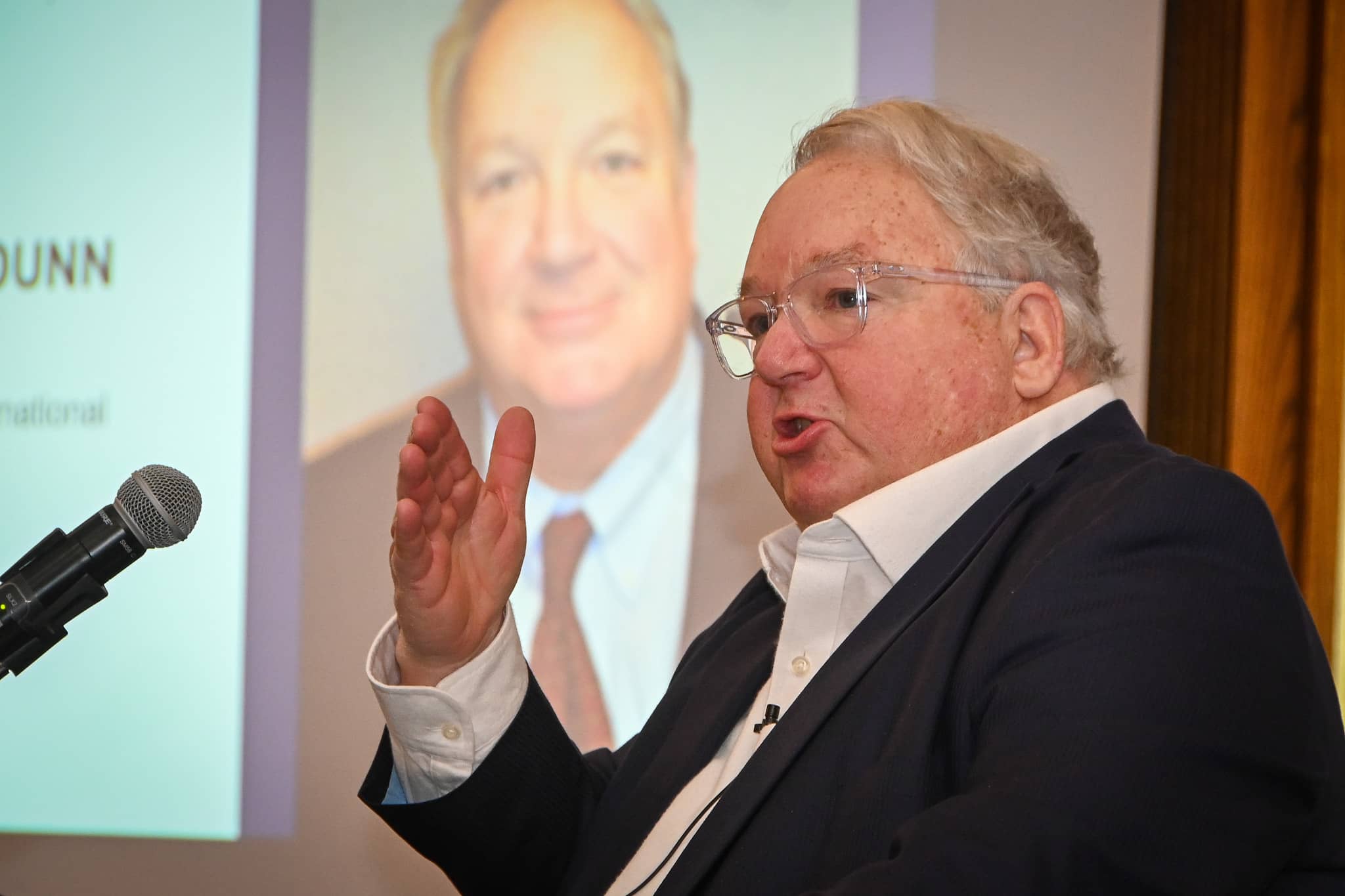 LOVES PARK — The Chicago Rockford International Airport is working to land new passenger destinations to expand its offering of nonstop flights to seven cities.
Airport Director Mike Dunn said that Wednesday during a state of the airport address given as part of The Parks Chamber of Commerce's new legislative series of events. Dunn was the first of 10 people who will speak during the monthly series.
He said that Zack Oakley, the airport's deputy director of operations and planning, was in San Antonio, Texas, this week for the three-day Routes Americas conference, which connects airlines and airport leaders to discuss potential partnerships and more.
But, Dunn cautioned, bringing a new airline or destination city here is an uphill battle.
"By the way these passenger airlines, they are in demand," Dunn told the audience of about 160 people at Forest Hills Country Club. "It is really, really, really hard to attract an airline to an airport in the U.S. right now."
He said after the speech that Oakley is talking to six different airlines to potentially add service to RFD, but he wouldn't name the airlines or cities targeted for expansion.
For years, the Rockford airport has been making its mark as a premier hub for cargo activity. It posted back-to-back record breaking years for cargo activity and was ranked as the 17th largest airport in the country for cargo operations in 2020. A year earlier, it was named the fastest-growing cargo airport in the world.
"Today we're almost running out of ramp space now with the current amount of business we have," Dunn said.
But while cargo may be the airport's key contribution to the region's economy, it still aims to serve passengers with flights to more cities, Dunn said.
"Passenger service is not something that we have given up on, I'm quite often asked that question, and we certainly have not given up on the passenger service," Dunn said.
The airport is served by Allegiant Air, which flies nonstop to seven destinations: Las Vegas, Nevada, Phoenix, Arizona, and five locations in Florida: Orlando, Tampa, Destin, Fort Myers and Sarasota.
He said RFD is ranked third in the country for Allegiant's operations in terms of passenger traffic. He also credited the airline for improving its operations with new airplanes and other changes.
"When they first came to Rockford they were servicing about 14 cities in the U.S.," he said. "They're now flying into 168 cities in the U.S. So they are remarkably fast-growing airlines."
The passenger terminal at the airport recently underwent a $25 million facelift that Dunn says shows its commitment to passenger service.
"We didn't spend $25 million on the terminal to give up on it," Dunn said.
More than 103,000 passengers flew out of RFD in 2021, a 22% increase from 2020, according to airport statistics. There were roughly 116,000 passengers moving through the gates in 2019, before the pandemic slowed travel the following year.
Cargo expansion vs. prairie preservation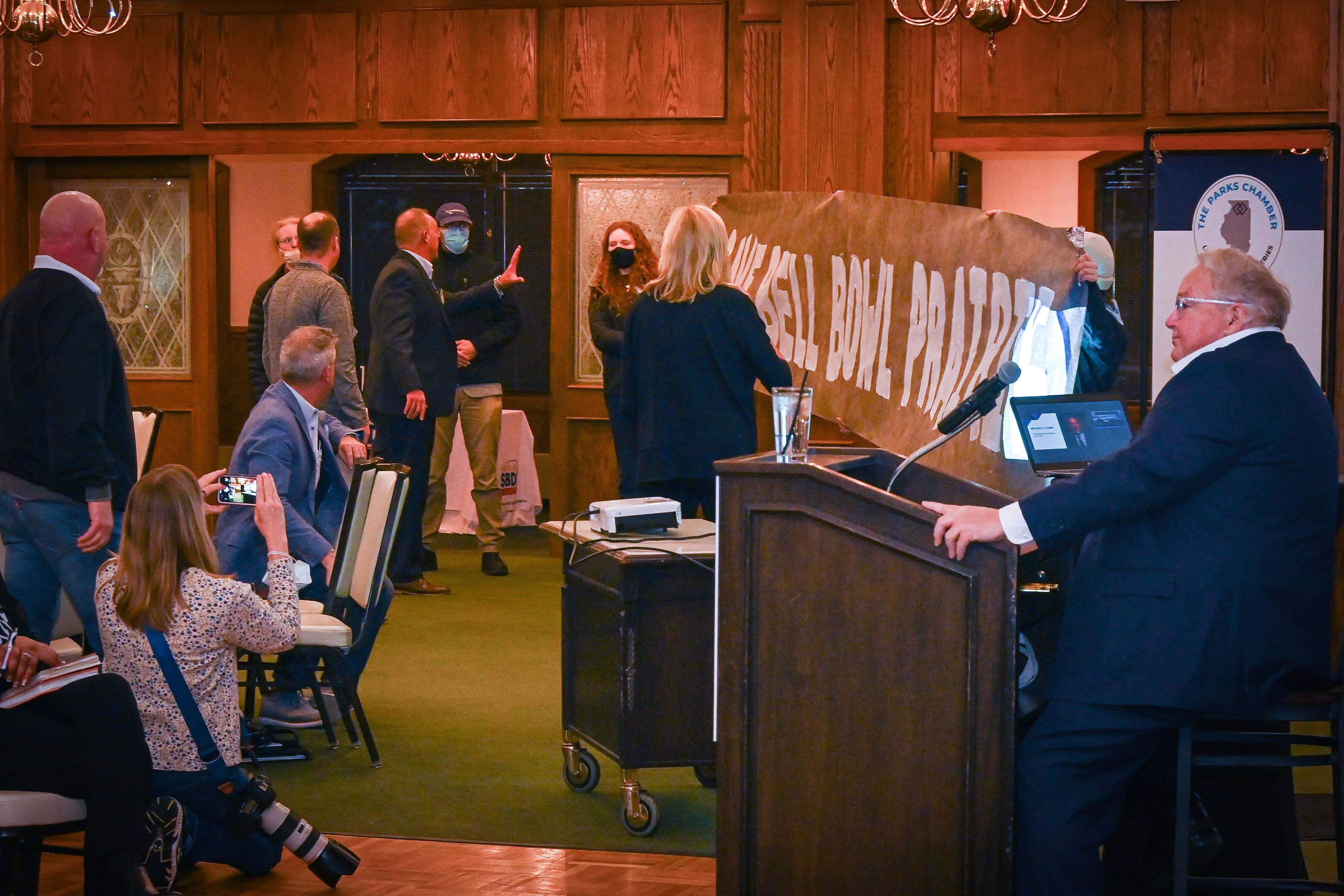 Dunn's speech was briefly interrupted by supporters of an effort to Save Bell Bowl Prairie from being razed as part of the airport's $50 million cargo expansion.
"Why are tax dollars being spent to fund extinction," one of the demonstrators said as a group of supporters unveiled a massive Save Bell Bowl Prairie sign, halting Dunn's speech.
After intervention from some attendees, including Loves Park Mayor Greg Jury, the group was escorted out of the building. They staged a display of signs outside Forest Hills Road as attendees left the event.
The group has been pushing for about six months to attempt to convince or force the airport to redesign its expansion so that it can coexist with the rare native prairie, where an endangered rusty patched bumblebee was discovered in August.
Dunn didn't address the Bell Bowl Prairie concerns during his speech, with the exception of one brief quip while referencing a power point slide of the proposed expansion that "this whole area that my friends were chirping about is called the South International Cargo Operation."
The airport agreed to halt construction until March 1 and reopen consultation with the Federal Aviation Administration about the potential environmental impact on the prairie. Dunn said after the speech that he had no plans to redesign the expansion, and he expects it to move forward March 1 after the FAA completes its second environmental evaluation.
"The FAA is our main audience. They are the ones that we need to make happy," Dunn said after the speech. "As long as they're giving us the green light then we proceed ahead."
Jobs, economic growth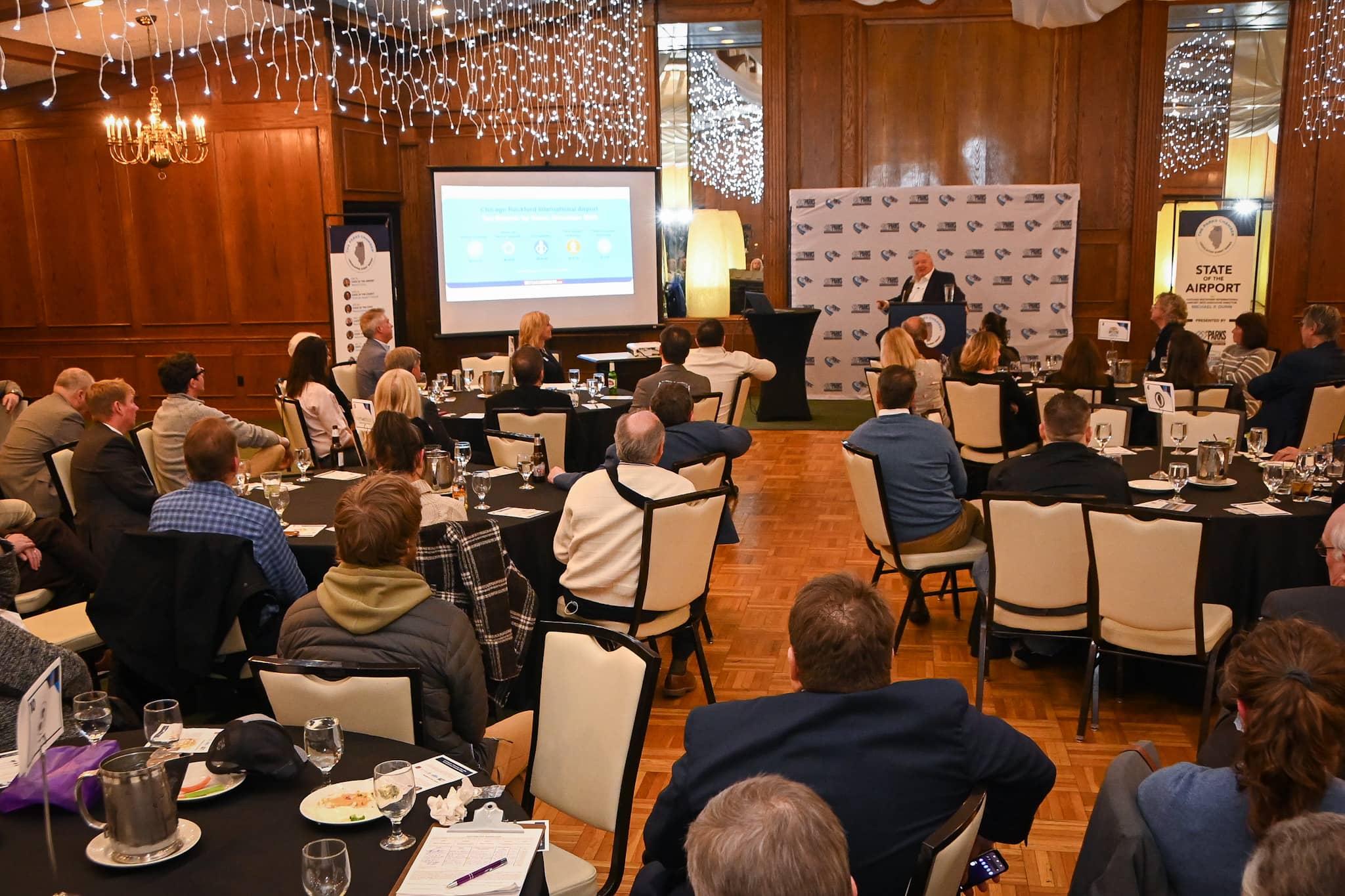 He said the first two phases of the cargo expansion will create 600 jobs. "Jobs, jobs, jobs" was a mantra throughout his speech on Wednesday.
The airport has been a key driver of economic activity in Rockford, largely because of its massive cargo operation that includes Amazon Air and UPS. Proponents of an effort to save Bell Bowl Prairie have said they understand the importance of the airport's role in the economy, but that they want a design that takes the environment into account with the expansion.
Dunn said the airport's mission is all about jobs, growth, economic opportunity and investment in the community. After the speech, he said he hopes that was the key takeaway for the business leaders and others in attendance.
"I really want Joe Citizen in Rockford to understand how important this airport is to this region in terms of economic opportunity and jobs," he said. "It's huge."
This article is by Kevin Haas. Email him at khaas@rockrivercurrent.com or follow him on Twitter at @KevinMHaas.