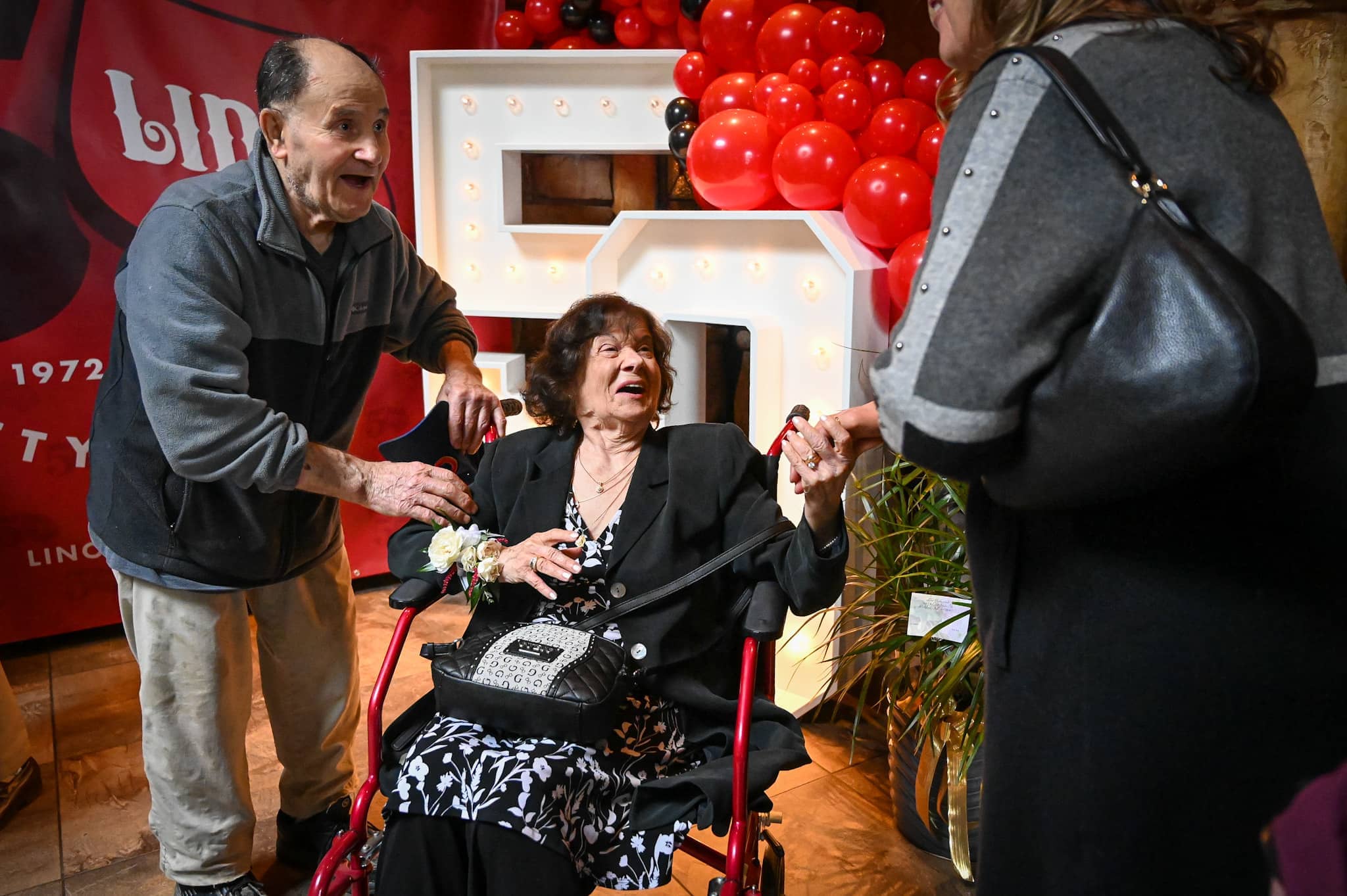 ROCKFORD — Sitting down to dine at Lino's Restaurant can spark feelings of nostalgia for some of its long-time customers.
Guests will often tell Charlie Schweinler, part of the third generation of family running the restaurant, about their memories dining at Lino's to mark a baptism, birthday, celebration of life or other special occasion. Some will tell him about eating there in the early 1970s, before the expansions and renovations.
Those stories are a testament to Lino's longevity and its ability to bring customers back generation after generation. The Rockford staple, located at 5611 E. State St., will mark 50 years in business this fall. On Tuesday dozens of local dignitaries joined the three generations of family ownership to kick off a yearlong celebration.
"We are so humbled to think back on all the families we got to be a part of and all the milestones we got to be a part of as well," Schweinler said. "Rockford has trusted us with these memories and traditions and we're forever grateful."
The restaurant was founded in 1972 by Michelino, or Lino, and Pasqua Battista. Their children and grandchildren have continued the restaurant's legacy for five decades.
"This is really a landmark here in Rockford, and your entire family has made that the case," Mayor Tom McNamara told the family Tuesday. "We couldn't be more proud to be Lino's home."
Joe and Jim Battista, the two sons of the founders, started running the business in 1990 and led it through the first of several expansions. Schweinler married Celeste Battista, Joe's daughter, and the two are the third generation of family management.
"It's been a family business, but you've brought so many other families together," McNamara said. "If it's for an anniversary, a special occasion, a birthday party – you're bringing people together – and people just love coming here."
(story continues below photos)
The family has also had some long-time employees work by their side for decades. On Tuesday, Schweinler recognized long-time employees including 10 who have been with Lino's for more than 30 years and five who worked at the restaurant for more than four decades. The longest tenured were Vince Grisanzio with 48 years and Cindy Swan with 44.
"Without our employees that have been part of our family, became our family, nothing would be what it is today," Joe Battista said.
Dozens of local dignitaries – from aldermen to mayors, state representatives and senators, aldermen and more – attended Tuesday's event to congratulate Lino's on the milestone.
"A lot of those guys are not just our representatives, they're also our customers, they're also our friends," Schweinler said. "They've been bringing their families and their traditions to us for a long time."
The restaurant opened in October 1972, but the family couldn't pinpoint the precise date. For five decades families entrusted the restaurant with life's greatest milestones and their weekly routines, Schweinler said.
"We're not just a story about us, it's a story about Rockford," Charlie said.
This article is by Kevin Haas. Email him at khaas@rockrivercurrent.com or follow him on Twitter at @KevinMHaas.
---
Pasqua Mercato
Pasqua Mercato, an outdoor Italian market featuring wine, beer, cheese, meats, bread, produce, desserts and more, will start its 2022 season on Sunday, June 5. It's located outside Lino's at 5611 E. State St. See the list of vendors here.
---
Lino's long-time employees
Vince Grisanzio: 48 years
Cindy Swan: 44 years
Duane Cash: 40 years
Tom Rimkus: 40 years
Jeff Dulian: 40 years
Dom Grisanzio: 37 years
Linda Jennings: 37 years
Judi Tammen: 34 years
Jose Garcia: 34 years
Laura Nanni: 34 years
Luis Aguirre: 27 years
Laurie Nielsen: 25 years
Ele Larson: 24 years
Juan Torres: 24 years
Jessica Cacciapaglia: 21 years
Kelley Morton: 21 years
Oscar Sanchez: 20 years
April Holmes: 18 years
Jordan Calgaro: 14 years
Korissa Steger: 8 years