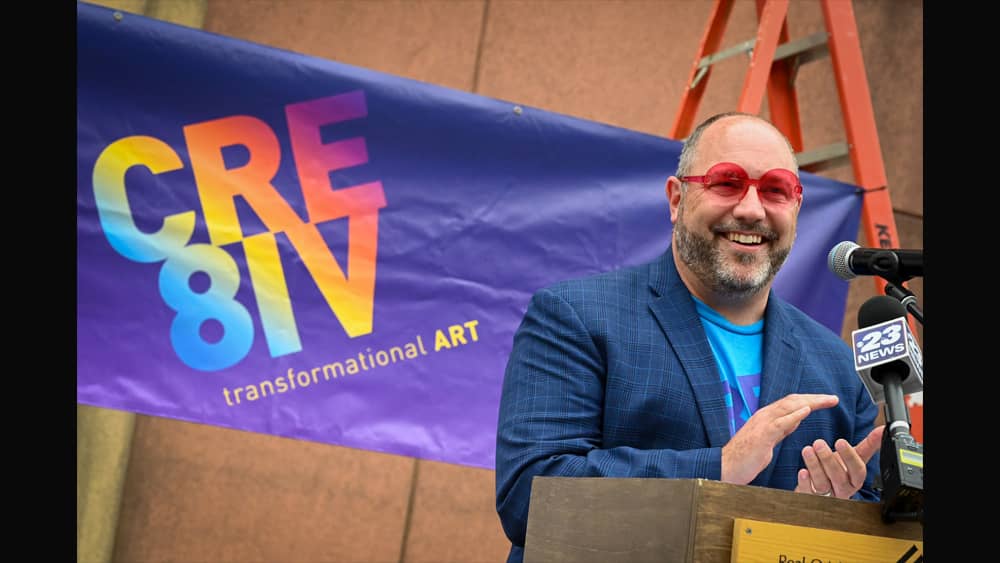 ROCKFORD — A public art project that has delivered two-dozen murals to blank slabs of concrete across the region returns next week.
This summer, 10 artists will lead teams of painters to create a dozen large-scale murals at 10 locations in the region. Many will start their work on June 1.
"Public art transforms spaces, brings vibrancy to neighborhoods, lifts our spirts, helps lift us up, and as we physically look at new spaces and new ideas on big walls, I think it helps us envision the future," said John Groh, president and CEO of the Rockford Area Convention & Visitors Bureau, which leads the public art project.
This is the third year of CRE8V: transformational Art, which launched in 2019 and took a one-year hiatus amid the pandemic. It initially focused on brightening spaces in downtown Rockford but has expanded each year. This year, it will move into Roscoe for the first time.
The new murals will feature imagery of Rockford landmarks, natural beauty, Midwestern history and be tied to themes of hope, belonging, peace and love.
"We are really, truly committed to making sure that these murals speak to all, are welcoming to all, and let all people in our community know that they are welcome and wanted and included here," Groh said.
There will be a total 36 murals in Rockford, Loves Park, Roscoe, Rockton and Pecatonica at the end of this year's project.
Groh, along with other sponsors and partners in CRE8IV, announced the project's return Thursday outside of Comprehensive Community Solutions on South Main Street, where Chicago artist Anthony Lewellen will create a youth-focused and aerospace-influenced mural.
Alderwoman Gabrielle Torina, who represents the 5th Ward in south Rockford, said residents in her ward have long asked for more beautification efforts and public art.
"South Rockford and its residents have often felt left behind from resources and opportunities that other parts of our city have received, and we want you to know that you don't have to be the wealthiest side of town or the wealthiest people to desire beautiful things to look at," Torina said as painters from Painters Union District 30, Local 607 primed the wall behind her. "We love art, too."
(story continues below photos)
The project costs about $200,000, which is funded by sponsors and donations.
There were more than 90 artists who submitted applications to participate in the mural project. A local curatorial review committee led the process of selecting the artists, some whom are local residents and others from across the country.
"The artists truly enjoy the sense of belonging, overwhelming support and genuine hospitality they receive from residents and business owners," said Kristen Paul, director of destination development for the visitors bureau. "They have said time and time again that Rockford is like no place they've worked because everyone they meet is truly amazing."
About | 2022 CRE8IV murals
South Main St.
1. Where: Comprehensive Community Solutions, 917 S. Main St., Rockford (both the north- and south-facing walls)
Artist: Anthony Lewellen of Chicago
Concept: "Hope" for a bright future — youth focused and aerospace influenced
Sponsor: Collins Aerospace
North End
2. Where: 1444 Myott Ave., Rockford
Artist: OhYa Studio — Ray Mawst and Brian Kehoe of Madison, Wisconsin
Concept: Tiled style patchwork highlighting Rockford attractions
Sponsor: Brubaker Charitable Foundation
3. Where: 1402 N. Main St., Rockford
Artist: Jenny Mathews of Rockford
Concept: Geometric shapes cascading across the wall using vibrant colors
Sponsor: Rockford Area Arts Council
Midtown
4. Where: 206 Seventh St. and 298 Seventh St., Rockford
Artists: Jenny Ustick and Atatlie Gagnet of Cincinnati and Toledo, Ohio
Concept: Rockford Peaches with a Welcome to Midtown message
Sponsor: Kjellstrom Family Foundation and William Charles
Downtown
5. Where: 815 E. State St., Rockford
Artists: Jenny Ustick and Atatlie Gagnet
Concept: Inclusiveness with a Rockford focus
Sponsor: Workplace
6. Where: 707 W. Jefferson St., Rockford
Artists: Murals & More — Michael Cooper of Franklin, Tennessee
Concept: Window boxes with native flowers
Sponsor: Bill Doran & Co.
7. Where: 311 Elm St., Rockford
Artists: Brett Whitacre of Rockford
Concept: Restoration of existing mural
Sponsor: City of Rockford
Roscoe
8. Where: 10536 Main St., Roscoe
Artist: Thomas Agran of Iowa City, Iowa
Concept: Cityscape using broad brush strokes and vivid color
Sponsor: Village of ROscoe
Loves Park
9. Where: 5316 N. Second St., Loves Park
Artist: Dustin Eckhardt of Loves Park
Concept: A colorful character immersed in a playful environment of Illinois flora and species with an emphasis on native pollinators.
Sponsor: City of Loves Park
10. Where: 5545 N. Second St., Loves Park
Artist: Brett Whitacre of Rockford
Concept: Color and compassion for the "City with a Heart."
Sponsor: City of Loves Park
This article is by Kevin Haas. Email him at khaas@rockrivercurrent.com or follow him on Twitter at @KevinMHaas.