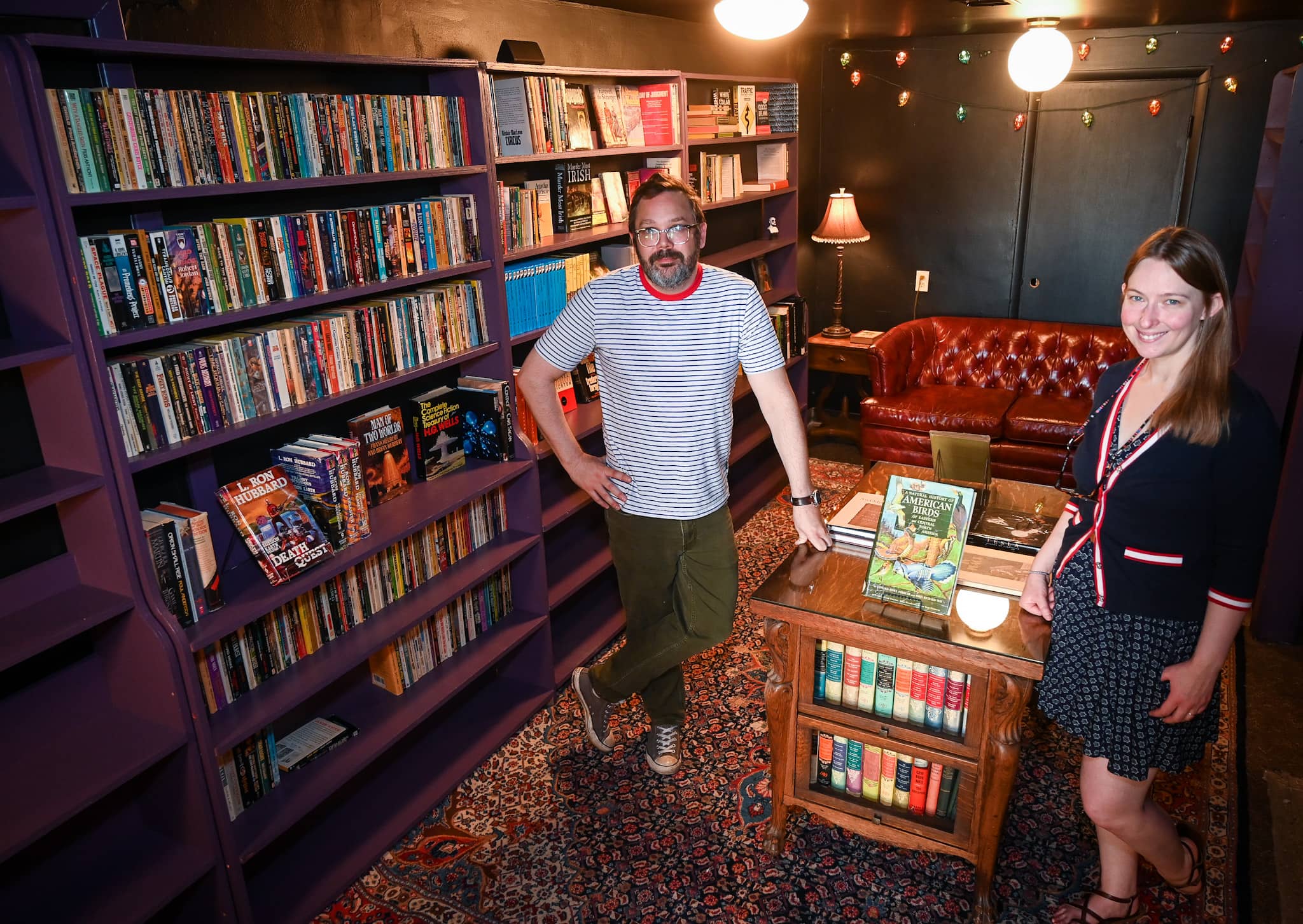 ROCKFORD — At downtown's newest independent book store, you're welcome to judge a book by its cover.
That's part of the charm of browsing Maze Books' collection of used, vintage and first-edition titles. Take for example a line of gothic romance novels that all seem to be illustrated with cover artwork depicting a woman stranded in front of a castle or ramshackle mansion. Covers like those can be intriguing, amusing and serve as a time capsule of sorts to the era the book was written.
"I get lost. I have to remember that I'm on a time crunch," Dave Pedersen, the shop's owner, said of perusing his collection. "There's so many things that are amazing about these covers and the artwork."
Of course there's more to learn inside the covers, with titles that can entertain, educate and showcase history in literature.
The store, located at 117 S. Third St., opens its doors at noon on Friday after several months of planning and about a month and a half of renovations.
Now, its shelves are stocked with used and hard-to-find titles covering everything from geography and literature to science, mystery, Black voices, horror, western, old pulps, previously banned books, science fiction, conspiracy, film, classics and more.
Maze Books has more than 10,000 titles in its rotation, although not all are shelved at any one time.
"We don't want people to come and see the same books over and over and over," Pedersen said. "We're just putting out small selections and then rotating them."
(story continues below photo)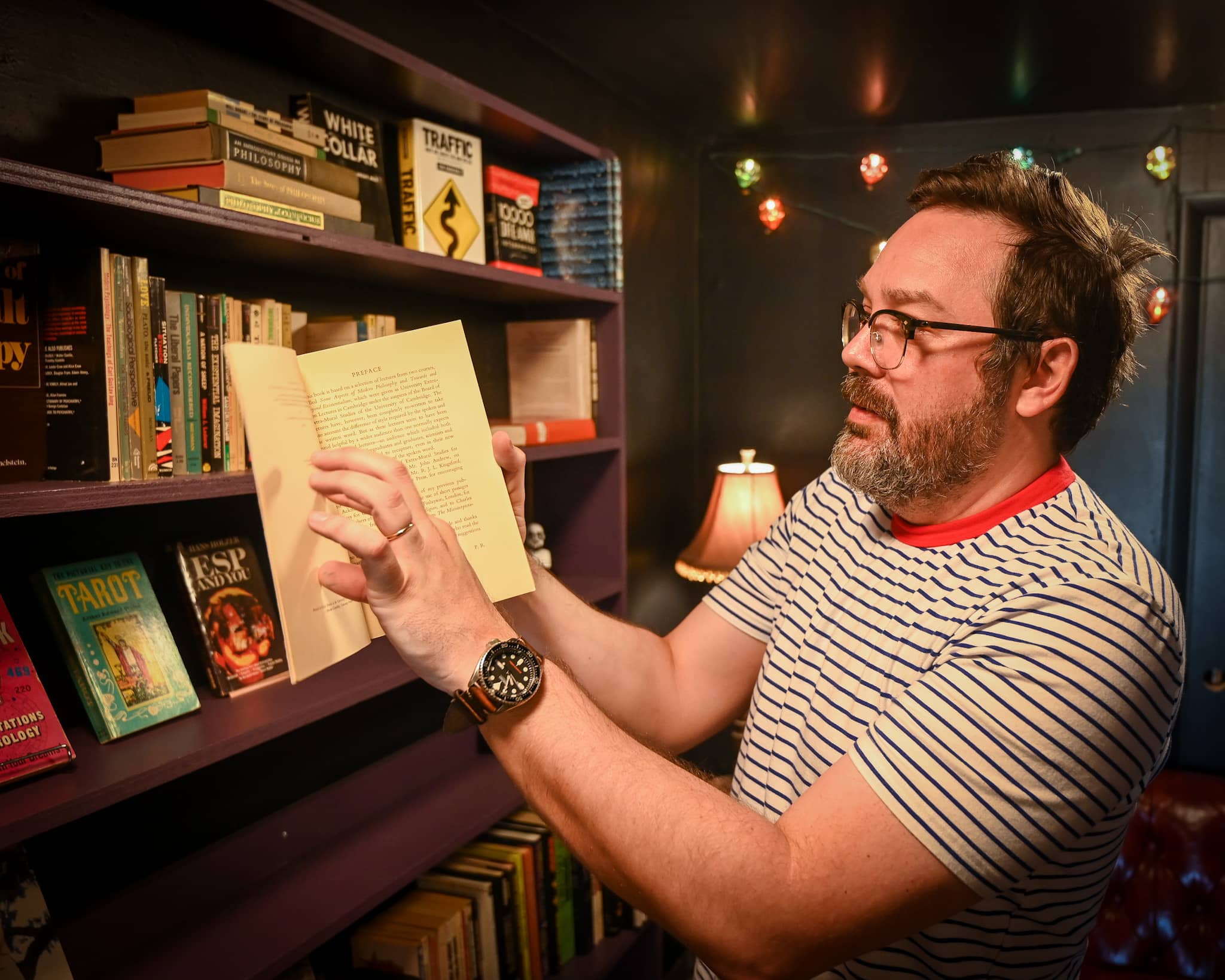 The small, multi-room bookstore gives off the vibe of a library you might find in a historic mansion. It is outfitted with decorative rugs, vintage lamps and string lighting and red leather sofa seating and vinyl love chairs to relax and read. It's not the type of used bookstore where you have to shuffle through dusty bookshelves to find what you want.
"I clean every book," Pedersen said. "A lot of these when you pick them up they look like they're brand new."
Most titles are priced at $3-$5, although there are some first-edition and rare copies that go for more.
"Some of the books we have here: Our copies are better than the reference copies online, and they're up for sale," Pedersen said.
Pedersen doesn't give away all the places he finds books for his collection, comparing it to a fisherman giving away his secret spots. But he said he has shopped estate sales and accepts donations from the public.
The author and Army veteran returned to his hometown of Rockford in mid-March after about 10 years away from the city. He leased the space for the store, which is next to Luna's Datura's Curious Gifts in the building owned by Brio Properties, in April.
Pedersen said he'll work with other used book stores — Toad Hall, Katie's Cup, Drewelow's House of Books, to name a few — to make sure shoppers know about other options in town. He said Toad Hall's owners even dropped off a large donation as he was preparing to open, a sign of support from other used booksellers.
Pedersen goes through many of the titles on his shelves, often finding strange notes and other items left behind, including old hall passes from the '50s and '60s, addresses to nudist colonies and personal inscriptions.
Those finds can be as intriguing as the literature itself, or for some the store may be a place to find a collectible, keepsake or something to showcase because of the unique cover art.
"I don't care why people buy them," Pedersen said. "I love the artwork, too."
Know Before You Go | Maze Books
What: Maze Books
Where: 117 S. Third St., Rockford
Hours: noon to 9 p.m. Thursday and Friday; 10 a.m. to 9 p.m. Saturday; 10 a.m. to 6 p.m. Sunday
On the web: facebook.com/MazeBookstore
Contact: mazebookshop@gmail.com
This article is by Kevin Haas. Email him at khaas@rockrivercurrent.com or follow him on Twitter at @KevinMHaas or Instagram @thekevinhaas.