ROCKFORD — Olivia Gaumond started the process of transforming into a mermaid about 8 a.m. Saturday.
A little more than four hours later she was covered with marine-colored makeup and squeezed into a custom-made costume complete with a dazzling dragon-scale silicone tail with different shades of purple and teal.
Now, with her legs bound by the fin, it was time to be carted into the downtown streets for the finishing, living touch to a one-day public art installation that was months in the making.
"You should be whimsical everyday. Life's too short to not be magical," said Gaumond, a 25-year-old dog groomer who is also building a career as a professional mermaid a la the famed Weeki Wachee Springs State Park actors in Florida.
"If you want to be a fairy or a mermaid or a werewolf, whatever you want to be, you should be it," she said.
Gaumond helped add life to a monthslong aquatic-themed project by the team at 317 Art Collective, a downtown art studio that put on the one-day Arts Happening Downtown block party.
The happening is the brainchild of Laura Gomel, director and owner of 317 Art Collective. It started last year, as the world was slowly returning to normal after the worst of the coronavirus pandemic, as a way to allow the community to get together and celebrate life, music and art.
"When everything was going crazy two years ago it was the artists that stepped up and helped people get through the hard time," Gomel said. "Artists and musicians take us through our hard periods and they celebrate with us during our good periods."
There were eight themed art installations at the festival, ranging from interactive pieces where artists like Rodrigo Ceballos asked you to add your own touches, to the living display with Gaumond as mermaid by 317 and Lindsey Nelson's Cruisin' for An Oozin', which allowed the artist to pour paint through gold-colored mannequin-style heads to leave a multicolored stream that resembled a dripping rainbow.
(story continues below photo)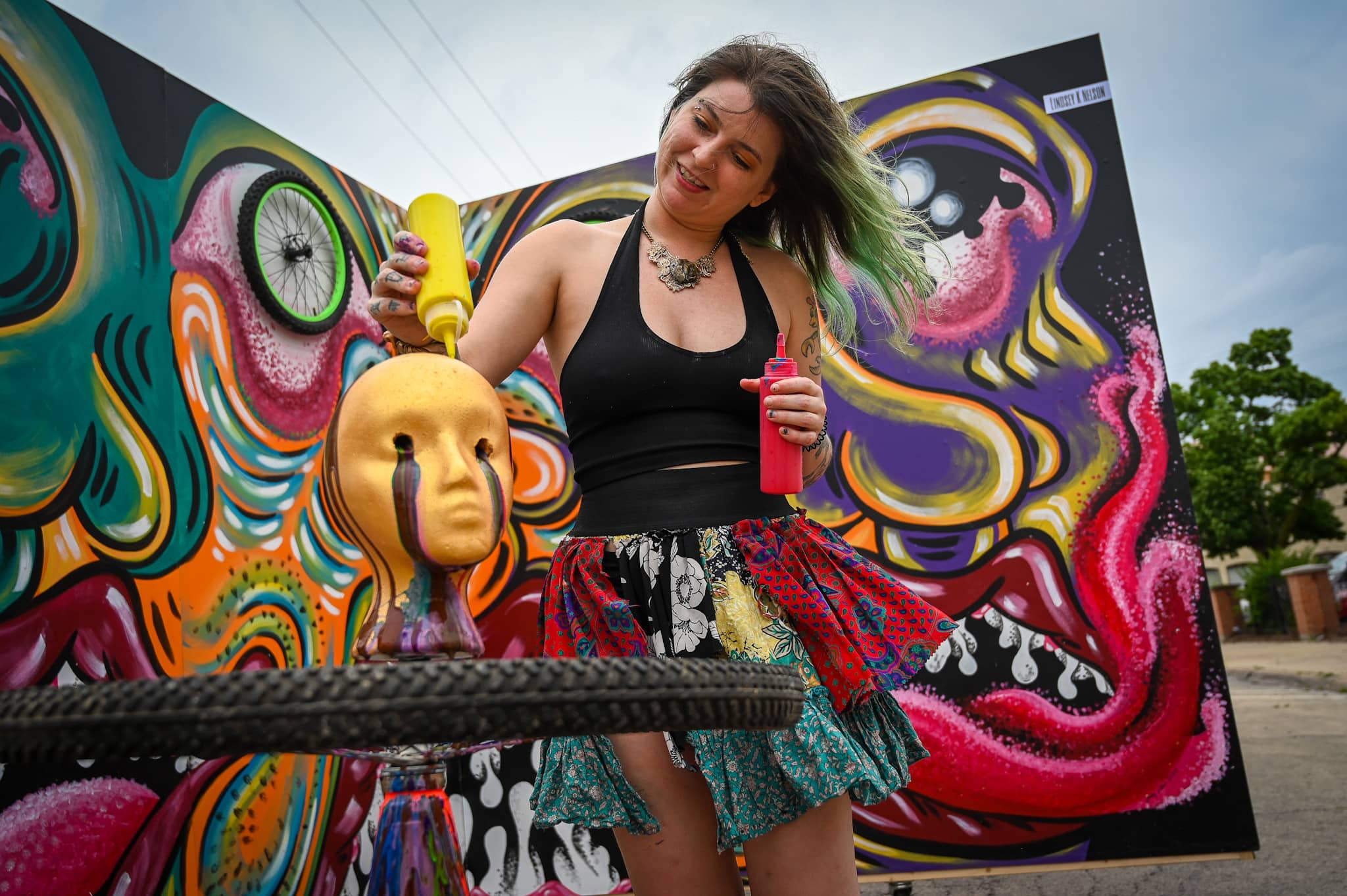 The pieces were meant to be interacted with, whether you're sitting in a throne for a selfie or adding your contribution to a stop-motion animation.
The art installations were set against backdrops that were, essentially, an 8-by-16 foot mural. The other contributors were HLGN, Mainfraim, New Genres Art Space, Melinda Cook and Eamonn James.
"It is a huge labor of love. Us at 317 have been working on this for six months," Gomel said. "This is a really huge gift, essentially, that we're giving to the community."
There were also nine bands that performed live, food trucks and other vendors such as Culture Shock, Prairie Street Brewhouse and ACS Plus Hemp Dispensary. One thing you couldn't buy was art itself.
"When you have a pricetag put on art it changes your perception of it," Gomel said.
(story continues below video)
Gomel hopes the event encourages people to attend future exhibits to purchase art or otherwise support the arts community. But this event was about exposure, not sales.
"It's not about purchasing art. It's not about purchasing goods or stuff. It's actually about experiencing the arts," said Mary McNamara Bernsten, executive director at the Rockford Area Arts Council. "Laura isn't expecting people to purchase art. She's expecting people to experience it."
In between dodging raindrops, that's exactly what happened for both attendees and those like Gaumond who participated in the displays.
"I love the freedom of expression. I'm seeing so many cool people out here and you can just do whatever you want and be yourself," she said. "I think it's really cool to see how Rockford expresses themselves."
---
This article is by Kevin Haas. Email him at khaas@rockrivercurrent.com or follow him on Twitter at @KevinMHaas.