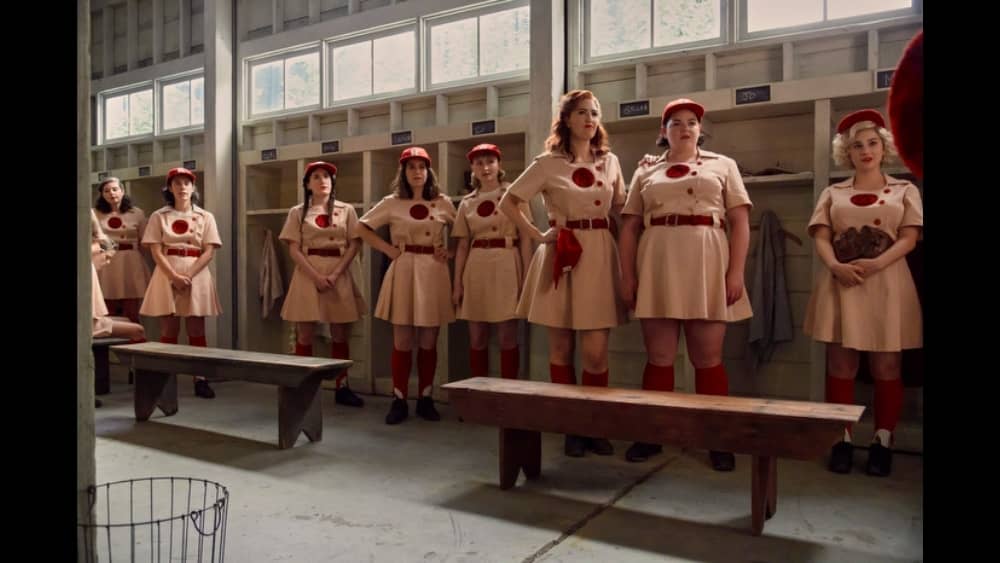 ROCKFORD — The stars and producers of Amazon Prime's new series centered around the Rockford Peaches are coming to the city this weekend for the premier at the Coronado Performing Arts Center.
The city and Prime Video announced the appearances today ahead of the early screening of "A League of Their Own" on Saturday at the Coronado.
Abbi Jacobson, the "Broad City" star who is co-creator and executive producer of the new show about the Peaches, and executive producers Will Graham and Desta Tedros Reff will walk the green turf carpet on Saturday before the screening. Cast members Chanté Adams, who plays Max, and D'Arcy Carden, who plays Greta, will also be there.
"Rockford loves the Peaches, so we absolutely expect the Coronado to be full to the top of the balcony," John Groh, president and CEO of the Rockford Area Convention & Visitors Bureau, said in a message to the Rock River Current. "We are all excited to welcome the producers and talent to Rockford and look forward to extending a warm welcome, expressing our collective enthusiasm for their new series. While they are here, we hope they can discover the city the Rockford Peaches loved and that loved the Peaches right back."
After the premier, an on-stage Q&A session with the cast and producers will be moderated by actress Megan Cavanagh, who played Marla Hooch in 1992 film version of "A League of Their Own." Maybelle Blair, an original player in the All-American Girls Professional Baseball League, will also participate in the discussion.
The show is premiering here as the culmination to a weekend full of activities celebrating the Rockford Peaches and the 30th anniversary of the July 1, 1992, release of the movie.
The show hits Amazon Prime on Aug. 12.
Groh said he hopes the visit here from the cast and producers is another opportunity to show them the potential for filming in Rockford. The first season was primarily filmed in Pittsburgh.
"Illinois and Rockford are great locations for the film industry, so we hope their visit will help them get to know our capabilities more and potentially facilitate future filming opportunities," he said.
Know before you go | See 'A League of Their Own' in Rockford
When: Saturday, July 2
6–7:30 p.m.: Street fair outside of Coronado Performing Arts Center
7:30–8 p.m.: Check-in and seating screening
8 p.m.: Special advance screening of "A League of Their Own" original series begins
9 p.m.: Panel discussion with cast, filmmakers, and All-American Professional Baseball League legend Maybelle Blair
Where: Coronado Performing Arts Center, 314 N. Main St., Rockford
How to get free tickets: Limited screening tickets remain, you can claim them HERE.
---