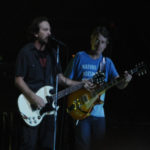 Pearl Jam has announced a 'Tour Edition' for its latest album, Gigaton. Pearl Jam returned to the stage last year in support of Gigaton, which reached No. 1 on the Billboard Top Rock Albums Chart and made the Top 10 on the Billboard Top 200 chart.
Gigaton (Tour Edition) will be available on Friday, July 8th, featuring 11 live songs recorded during the band's return to the road in 2021. It will be made available at all DSPs and as in limited edition LP/CD combo only in independent record stores across the country. Members of the Pearl Jam Ten Club may order it as a standalone CD, beginning July 8th.
After completing the first sold out leg of The Gigaton Tour this spring, Pearl Jam returns to the road this fall in North America, following summer dates in Europe during June and July.
Editorial credit: Dana Gardner / Shutterstock.com