ROCKFORD — Breakdancers took over Levings Park on Sunday in a showcase of rhythm, quick thinking and athleticism to decide who has the best b-boy skills.
The Battle at Levings, a one-on-one elimination-style invitational competition, drew a few hundred spectators to the park at 1420 S. Pierpont Ave. on the southwest side. It featured dancers from Chicago, Rockford and the surrounding area facing off before a panel of judges to showcase their breakdance skills such as uprock, floorwork and power moves.
Competitors also interact with and respond to their opponent in the one-on-one competition. Think of it like the back-and-forth words exchanged in a rap battle, but your feet do the talking.
"It's honestly a display of wittiness, cleverness, outsmarting your opponent. Outdoing your opponent artistically and also in physical strength," said Vic Rivera, a DJ and artist who organized the event. "Although this is a friendly sport, only one can come out on top."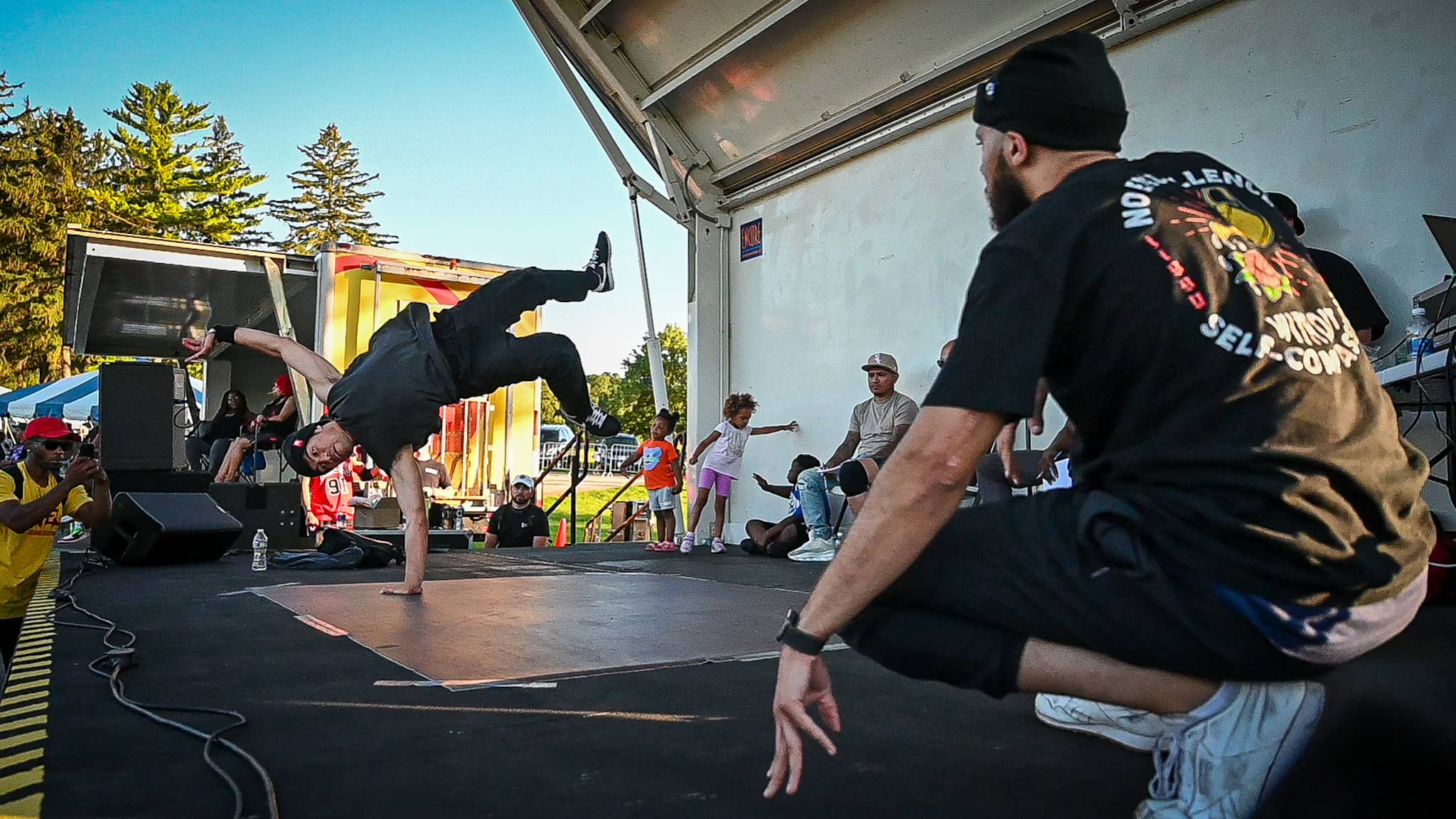 The man who came out on top Sunday was Joshua Craddock, who goes by the name Phu and dances with the Chicago Tribe crew. The runner up was Jann Rene, aka jeren, who is from the same dance crew.
They performed in front of a crowd of all ages, and there were even a few children who took to the vinyl dance floor.
"It's been awhile since I've been to a battle. It's been about three years, since before COVID," Craddock said. "To come back out and actually see families, it's pretty awesome."
Winning came with a $300 grand prize and a gold-colored trophy that resembles the kind of spray-paint can that is used in graffiti art. There was also a custom-made Battle at Levings rug and a few other prizes for the winner.
Rivera, who built the event as part of the Live at Levings music series, has been involved in breakdancing for about two decades and studied its history. He said breaking has been in Rockford since 1984, with its popularity coming and going in waves. He hopes events like this can spur more interest and help build a stronger local scene.
"It s a different medium for those who haven't found their niche yet," Rivera said. "It's the combination of dance and art and physical ability."
This was the first Battle at Levings, but both Rivera and Harlan Jefferson, who organizes the Live at Levings series, said they hope it becomes an annual event.
---
This article is by Kevin Haas. Email him at khaas@rockrivercurrent.com or follow him on Twitter at @KevinMHaas or Instagram @thekevinhaas.