ROCKFORD — The Rockford Area Arts Council is hosting an event in partnership with Fatherless Print Posse to raise funds for grants and art programs.
The event, called Artourage, will take place from 5-10 p.m. Friday at the Fatherless studio, at 727 First Ave., in Midtown.
Artourage will include a cash bar, food trucks and exclusive prints available for donation.
The collective's artists will be present at the event to answer questions and tour guests around the space.
"We've created a new, exclusive body of work for this event, and will be on hand for discussion and shop tours," said Greg Lang, a member of Fatherless Print Posse. "There will be sounds by local DJs Artista and Slick Vick, as well as food trucks and a cash bar. Come enjoy an evening in our shop and celebrate Rockford's local art with us."
Fatherless Print Posse was founded in 2010, and was awarded the 2022 Distinguished Artist of the Year at the Rockford Area Arts Awards.
Know before you go | Artourage
Where: Fatherless Print Posse studio, 727 First Ave., Rockford
When: 5-10 p.m. on Friday, July 29
More information: For additional information visit artsforeveryone.com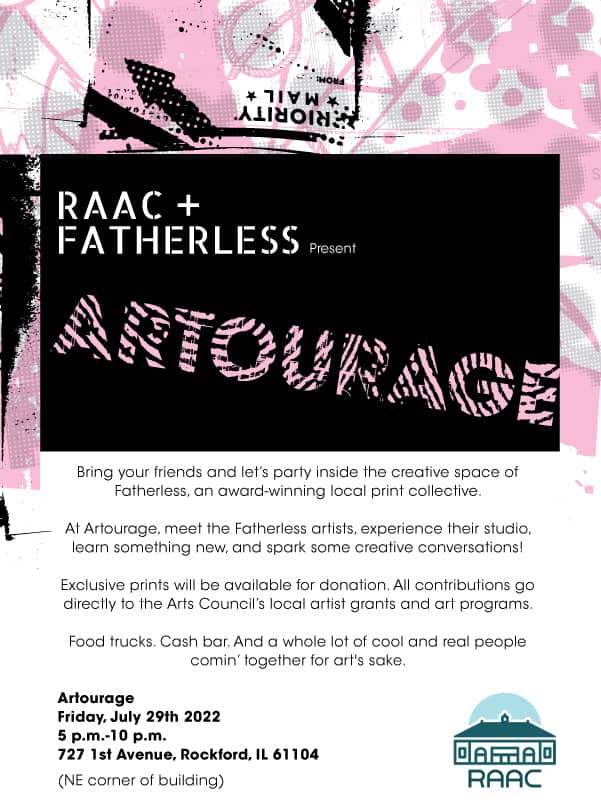 ---
This article is by Mary Sisk. Email her at msisk@rockrivercurrent.com or follow her on Instagram at @maryrrcurrent