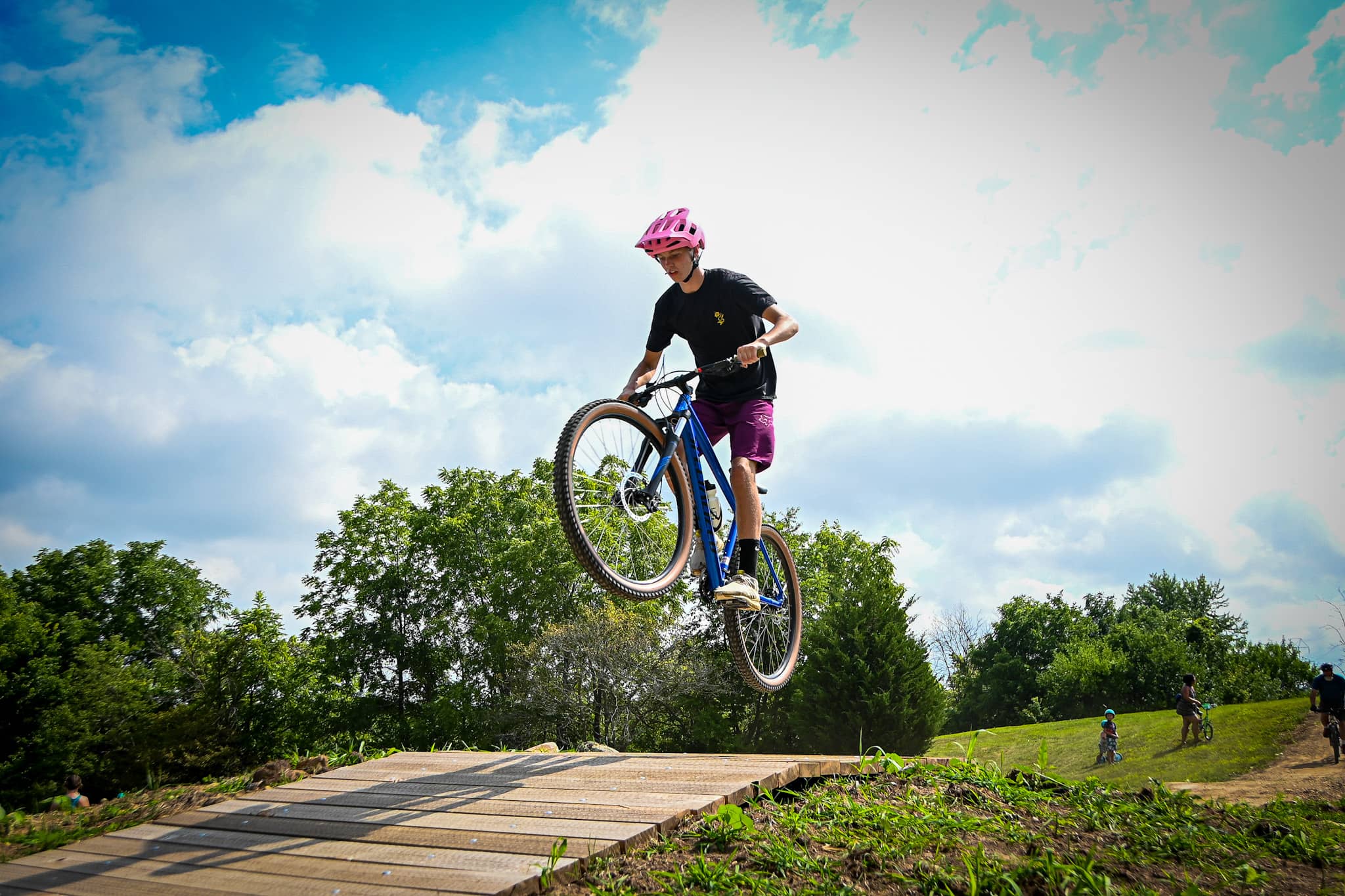 ROCKFORD — The first twists down the city's newest freestyle mountain bike course are packed with features such as a wooden A-frame, a table-top jump and banks.
For 14-year-old Miles Groh, the course offers the perfect variety to let riders challenge themselves at their own pace.
"You can get some air on some of these jumps, but it's not too hard where it's hard for beginners," Groh said. "It's the perfect level."
Groh was among dozens of mountain bike riders who sailed through the new 1.2-mile course at Alpine Hills Adventure Park, 4402 Larson Ave., on Saturday after its official ribbon-cutting.
The trails wind throughout the park, and can also be used for hiking, running or walking. But the 3- to 4-foot wide dirt path is specifically designed for beginner riders to build their skills and progress to more difficult features or higher speeds.
"The progression is what we really are keying in on with this park," said Steve Forss, trail and maintenance coordinator for the Rockford Park District. "The idea is to have people of beginner abilities come out and be able to progress and develop their skills along the way, and then hopefully take that to our other trail systems around the area, some that require a little more skill like Atwood (Park) and Rock Cut (State Park)."
The trail has three loops called The Rock, Freestyle Skills Loop and Magic Carpet.
"All these rollers and jumps are all very skill-level friendly," said Reid Ticknor, 14, of Rockford. "If you have more skill you can get air on them, but if you're a kid or just getting into riding you can easily roll over them and have a good time."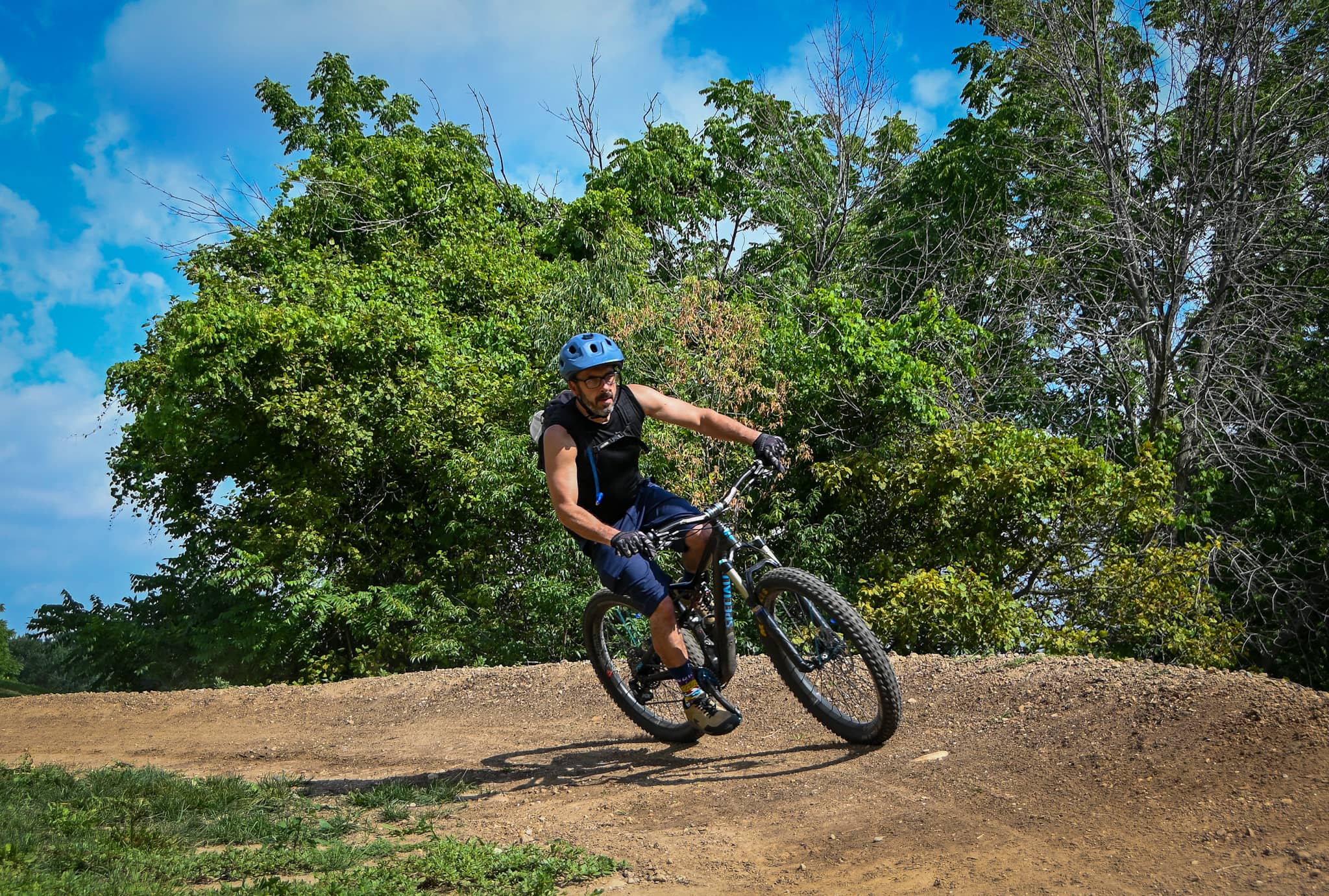 Bike traffic is intended to move clockwise down the trail, while any foot traffic goes counterclockwise so that riders and hikers can see each other approach. Riders are asked to yield the right-of-way to pedestrians.
There is an additional section of trail on the opposite side of a creek in the park, but that is still closed because of the construction to remove towers after the closure of Zip Rockford, Forss said.
Aside from the A-frame and table-top jump, the freestyle loop also has a 90-degree wooden turn and various rollers and banks.
"Everywhere there's a feature: a roller, wooden feature or berm," Forss said. "This freestyle loop is where all the fun is."
Parker Karvelius, 14, said the new trail separates itself from other mountain bike trails in the area because there are fewer uphill climbs and more features at Alpine Hills.
"Some places like Atwood you have to climb a lot," Karvelius  said. "Here it's almost all downhill, or mostly downhill, and it's really flowy."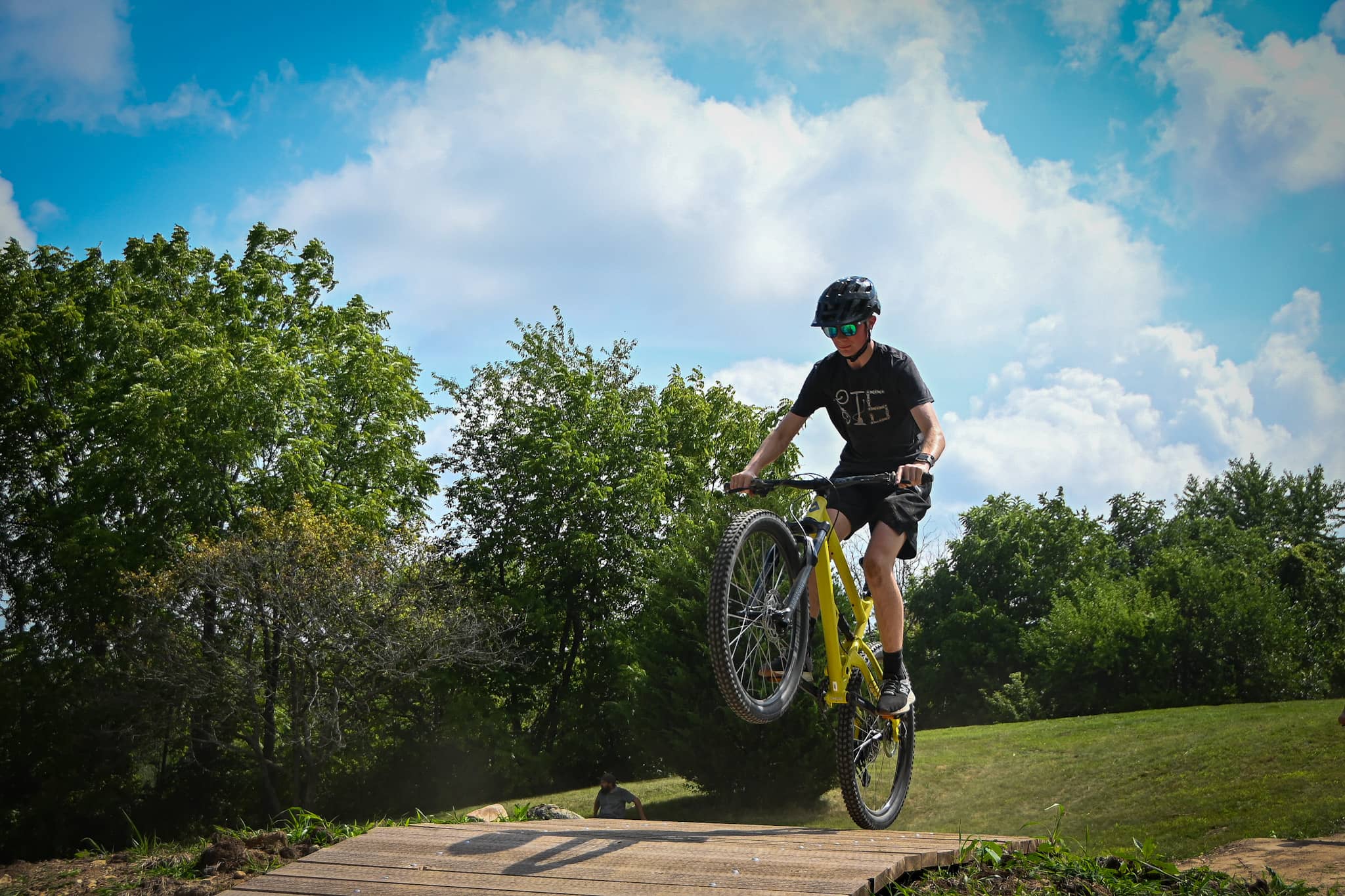 Karvelius sent his first jump of the day too far, and crashed over his handlebars. But he brushed off the dirt and was right back up moments later.
He and friends Groh and Ticknor said the course has another benefit for them, too. They can ride through neighborhood streets to get to it rather than load their bikes on a car rack and drive to another location.The convenience of the trail was also touted by Paula Olson, executive director of Miracle Mile Rockford, a nonprofit that advocates for businesses in the stretch of the city that includes Alpine Hills.
"We're right in the heart of Rockford," Olson said. "You don't have to drive 15 or 20 minutes to go to Rock Cut (State Park) to ride the trails out there. They're right here, right in your backyard."
The Rockford Park District worked with Global Action Sports Solutions on the design and construction of the trails. A $68,600 grant from the Illinois Department of Natural Resources helped pay for the $105,000 in construction costs associated with building the first phase of trails.
The opening of the mountain bike trail brings the Park District a step closer to its vision of creating a year-round destination for thrill-seekers. The 52-acre former golf course was donated to the park district's foundation by the Hansberger family in 2011, and the district has been working on plans for year-round activities ever since.
When the weather turns colder this winter, Alpine Hills will again open for tubing and snowboarding. The Nature Quest day camp also takes place during the summer months for those ages 5-12.
---
This article is by Kevin Haas. Email him at khaas@rockrivercurrent.com or follow him on Twitter at @KevinMHaas or Instagram @thekevinhaas.