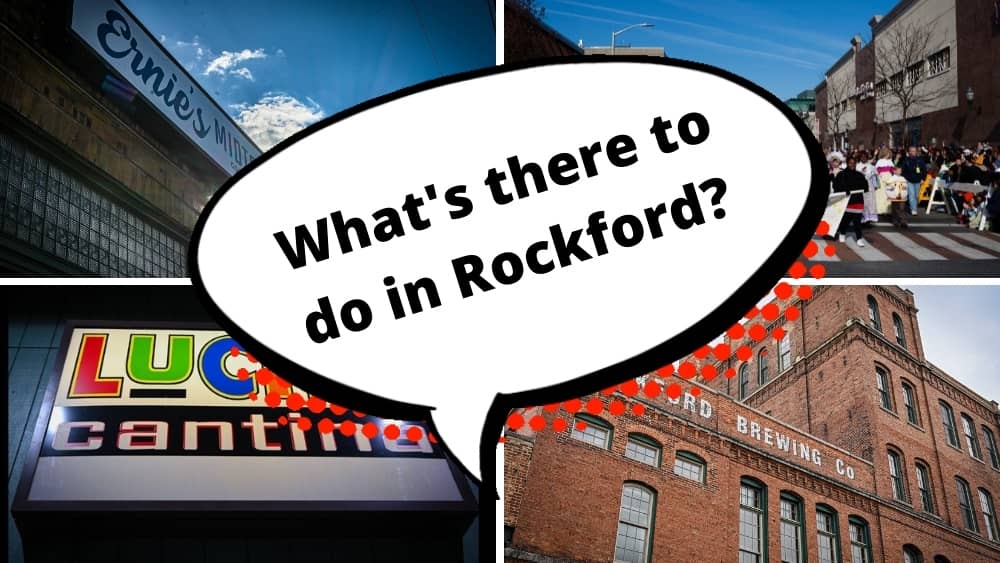 ROCKFORD — Stop laboring and start relaxing because a three-day weekend is nearly here.
We've got 11 ideas for things to do over the Labor Day weekend in the Rockford area, but there's even more to check out in our events calendar.
Here are a few fast options for you to choose from, including some things for those who want to get a jump start on the long weekend on Thursday night.
Watch Rockford's Labor Day Parade
The Rockford United Labor AFL-CIO parade steps off at 10 a.m. Monday at Seventh Street and Sixth Avenue in Midtown.
The parade then moves north to East State Street, west to Wyman Street and then south toward Davis Park, where it ends.
This is the first Labor Day Parade since 2019 after the past two years were called off because of the coronavirus pandemic.
Grab your 90s gear and celebrate Ernie's first year
Ernie's Midtown Pub, 1025 Fifth Ave. in Rockford, is celebrating its one-year anniversary with a 90s-themed house party on Saturday.
The event runs from 5 p.m. to midnight and features music from DJ Vic Monsta. There are also awards for the best dressed and other giveaways. The person with the flyest 90s gear will get $100 cash, while second and third place will get $50 and $20 in Ernie's gift cards.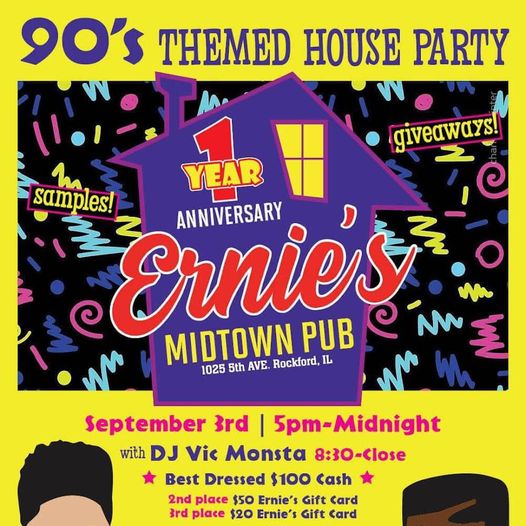 Reminisce about On the Waterfront with live music
The On The Waterfront Reunion on Sunday features four local bands — The Missing Links, Three Good Men, Dirty Fishnet Stockings and Band of the Lost — whose members all have extensive history with the defunct music festival.
The event will also feature On the Water Waterfront, Stars and Guitars and Groovewalk memorabilia, some of which will be available in a silent auction.
Tickets start at $20 and include $5 worth of food and drink tickets.
Proceeds from the event benefit the Rockford Area Music Industry's scholarship programs.
Tickets are available at ramiawards.com.
Free belly laughs in Beloit
Comedian Marcos Lara hosts comedy night Thursday at Captain Jack Hanson's Bar and Grill, 615 E. Cranston Road in Beloit, Wisconsin.
The free show starts at 7 p.m. and the headline comedian is St. James Jackson.
Close out the season for Dinner on the Dock
The finale for this year's Dinner on the Dock music series at Prairie Street Brewing Co. features up-and-coming country artist Gavin Arnold Music.
The doors open at 5 p.m. and the music starts at 6 p.m. Thursday at Prairie Street Brewing Co., 200 Prairie St. in downtown Rockford.
Drink wine, support teachers
Enjoy sampling 24 wines while supporting Golden Apple Foundation of Rockford during this event from 5:30 p.m. to 8 p.m. Friday at Artale Wine Co., 6876 Spring Creek Road.
All proceeds from the event support the nonprofit's programs, which include classroom grants and the Golden Apple teacher recognition.
Tickets cost $15.
Have a laugh at Lucha Cantina
Comedian Vince Carone headlines Lucha Cantina's comedy night at 7 p.m. Friday at the restaurant, 1641 N. Alpine Road. Tickets cost $7. The show's main feature is Jack Baker.
Call Lucha Cantina at 815-977-4319 during business hours or e-mail owner Josh Binning at joshua@lucharockford.com to reserve a table.
Have some fast-paced fun at the Rockford Speedway
It's fan photo night Saturday at the Rockford Speedway, 9572 Forest Hills Road in Loves Park. The "Summer's Last Stand" event features Bandits, Sixers, Powder Puff and the Bandit Figure 8 Championship.
Gates open at 5 p.m. and racing starts at 7:07 p.m.
Have a cookout with cars and coffee
Cars and Coffee and a Cookout runs from 9 a.m to 3 p.m. Saturday at the Rockford Public Schools administration building, 501 Seventh St.
Sheriff Gary Caruana will fire up the grill during the cruise-in car show. Cranked Inc. Car Club is this month's featured car club.
The event benefits Katie's Cup, 502 Seventh St.
For more information visit carsandcoffeerockford.com.
Enjoy comedy on the patio at Windsor Pizza Parlor
Mike Kobin and Will Krolowitz co-headline this free comedy show at 8 p.m. Saturday at Windsor Pizza Parlor, 1034 Windsor Road in Loves Park.
Enjoy BBQ and listen to the blues
The Rockton Police Association will host Blues & BBQ from noon to 3 p.m. Sunday at Settler's Park, 100 Hawick St., Rockton.
There will be live music by Mix Tape and food and beverages from FIBS, Dairyhaus and The Mix. There will also be a K-9 demonstration, bean bag tournament, emergency and military vehicle display, silent auction, raffle, children's bounce house and face-painting.
---
This article is by Kevin Haas. Email him at khaas@rockrivercurrent.com or follow him on Twitter at @KevinMHaas or Instagram @thekevinhaas.