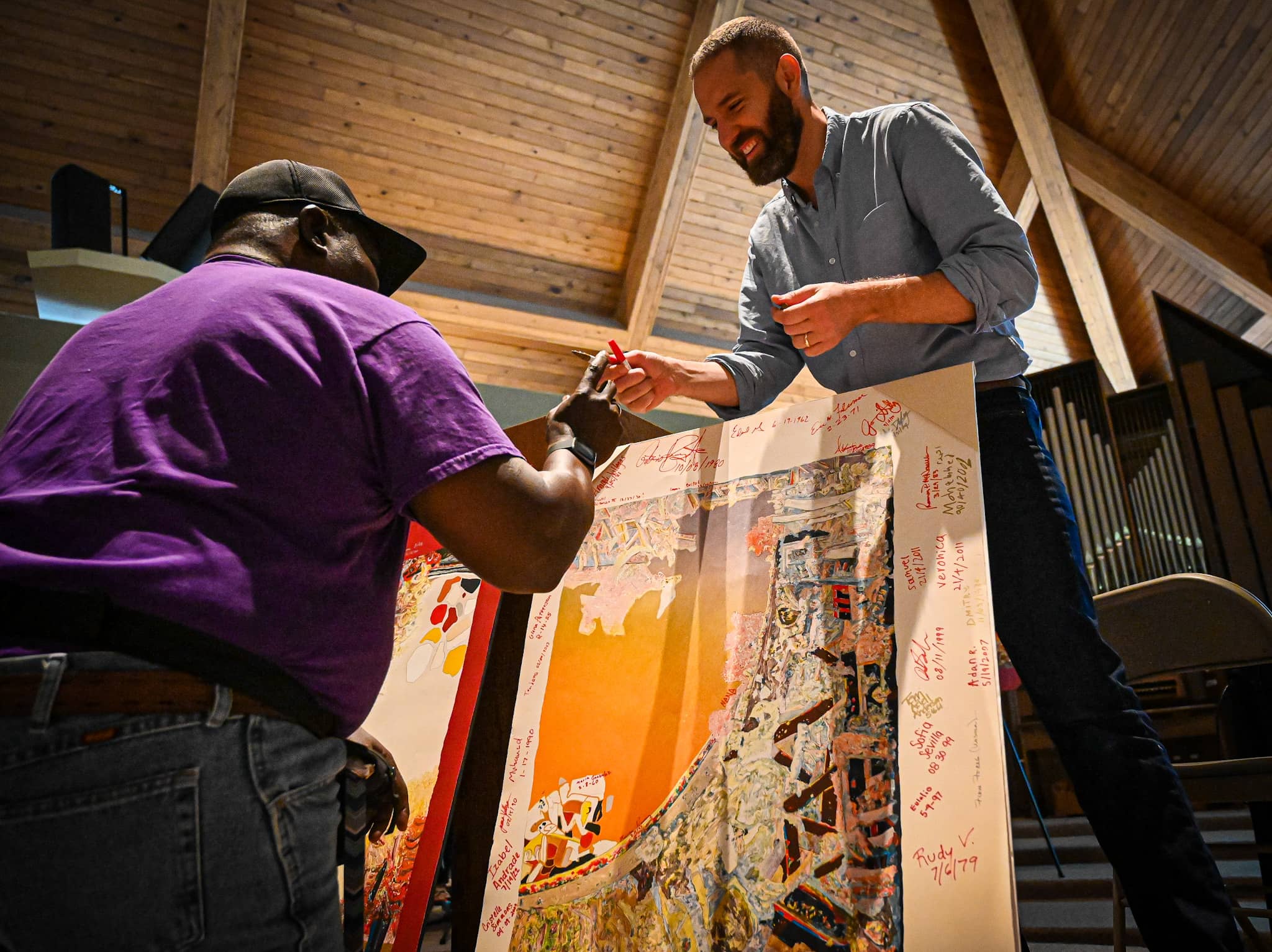 ROCKFORD — Artist Roland Poska had often referred to Bob Schlehuber as "the stupidest man in the world."
It was Poska's highest form of flattery.
For Poska, a world-renowned artist from Rockford who was a pioneer in the medium of papermaking, only stupid people could change the world. Smart people would say such a goal was impossible.
Poska died in 2017 still chasing his self-professed "stupid" goal to create a world without racism, prejudice or poverty. Now Schlehuber is carrying on the legacy, and in doing so he's bringing Poska's art from Rockford to cities across the world to have people of all walks of life add their signature to the work.
"Poska is dead but the art lives," Schlehuber said Thursday after delivering a presentation about Poska and the art of peacebuilding at Rockford University.
For the past eight years, Schlehuber has brought one of Poska's unique lithographic prints from his Declarations of Interdependence series with him any time he travels. The 15 declarations were made in the late 80s and early 90s, and each depicts a colorful vision meant to evoke feelings of interconnectedness between race, culture and nature.
Poska, who often stationed himself with one of the pieces inside Rockford City Hall before City Council meetings, would challenge people to sign the declarations if they were committed "to end violence, end prejudice and achieve respect for all."
"He had this vision that these pieces would travel around the world, but when I met him he was at a point in his age where he wasn't going to travel around the world," said Schlehuber, who is the executive director of Peacebuilding Connections.
Now, anytime Schlebuber travels for any reason, he rolls up one of Poska's prints in a tube, gathers some paint markers and asks people to sign with their name and birthday if they're committed to ending violence and prejudice.
"These pieces aren't just static pieces that were made in the 1980s and they were done and put behind glass," Schlehuber said. "These are living, breathing pieces that serve to continue to connect people and to spread that message of interconnectedness."
So far, Schlehuber has gathered signatures in 55 cities in 12 countries. Each of the pieces has been signed in multiple states. Several in multiple countries. Someone from London or Tanzania, for example, could sign their name next to someone from Rockford. That act alone can help illustrate a global sense of connectedness, he said.
"We're so focused and conditioned around seeing how we are different than others. The first thing you think about somebody in Tanzania or London and Rockford is how they're different," Schlehuber said. "I think we overlook how we're still interdependent on one another. It's one planet. We breathe the same air."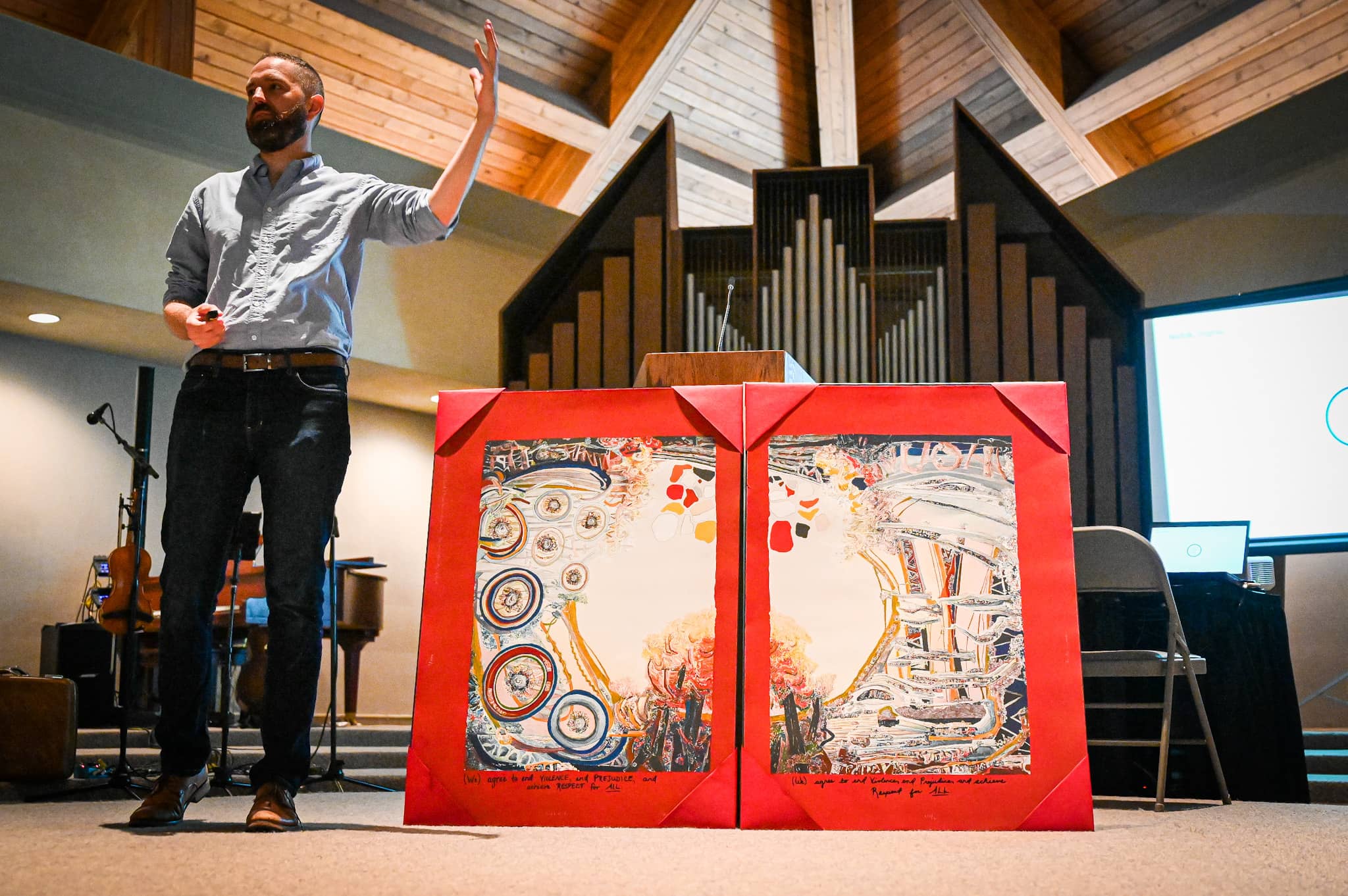 A few dozen students, faculty members and other guests signed the prints on Thursday, which was the International Day of Peace, after Schlehuber's presentation at Rockford University.
Among them was Mary McNamara Bernsten, executive director of the Rockford Area Arts Council. She said other artists who have seen Poska's work, or met him or his widow, Louise, "feel a deep connection almost immediately."
"When creatives view his work for the first time it is a very personal and very intimate and very emotional experience because of his use of color and texture and form," she said.
Schlehuber, who met Poask in 2011, said he fell in love with the work immediately. He will continue to bring the declarations across the globe with plans for the pieces to return to Rockford in one year's time. He will also host local signing events around town to give more Rockfordians the chance to participate. You may have already seen him at places like Rockford City Market.
His work collecting signatures will culminate in a showing at Rockford University on Sept. 21, 2023, which is International Peace Day.
"What I love about these pieces is they're not confined to any given audience," he said. "They're meant to be for all people and for all people to show how connected they are, equal to one another they are."
---
Sign the digital declaration
You can go to peacebuildingconnections.org/projects/doi to sign the digital declaration.
You can get tickets to next year's showing on Eventbrite.
Or you can get more information on the project, or request to host a signing event, by visiting here.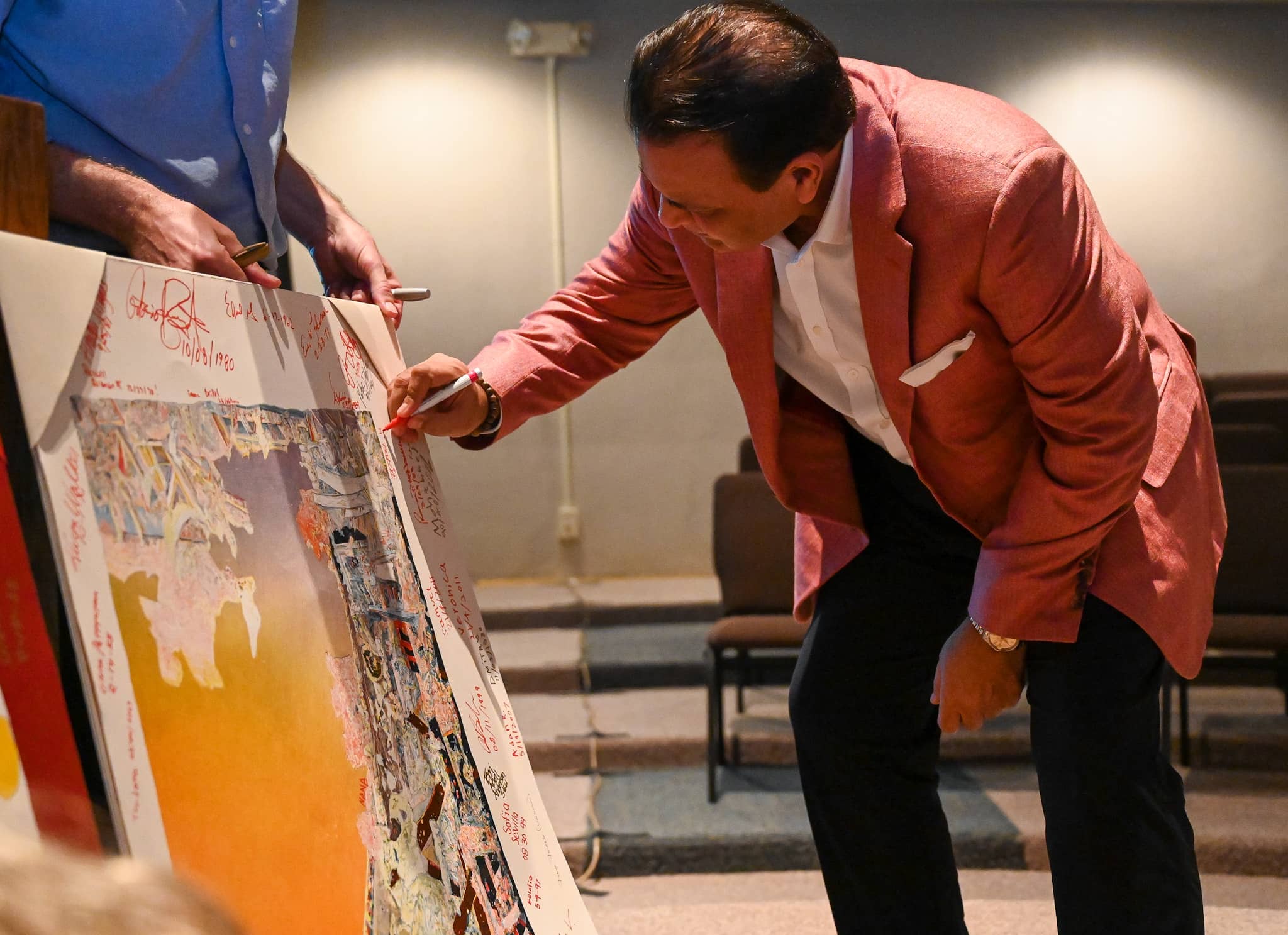 ---
This article is by Kevin Haas. Email him at khaas@rockrivercurrent.com or follow him on Twitter at @KevinMHaas or Instagram @thekevinhaas.