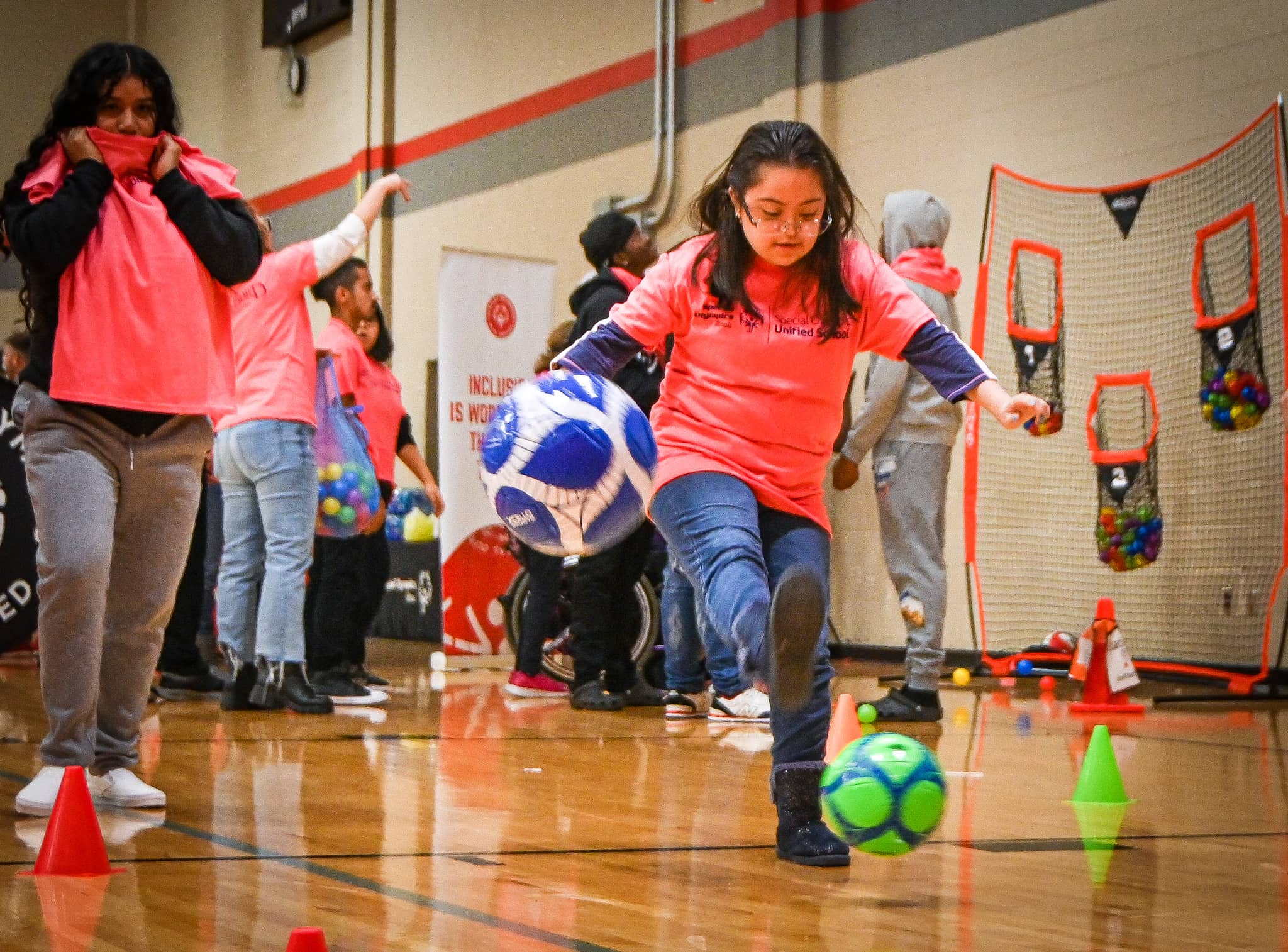 ROCKFORD — High school basketball in the city will be both competitive and inclusive this winter as students with and without intellectual disabilities compete on the same team for the first time.
Rockford Public Schools and Special Olympics Illinois have forged a new partnership to bring unified sports teams to the district. It starts with basketball at all four high schools this winter, but the goal is to expand it to 18 competitive sports at all district schools in the coming years.
The Special Olympics Unified Champion Schools partnership was announced Thursday at Jefferson High School, where city, school and Special Olympics officials gathered with student-athletes to celebrate the new program.
"Our goal is to create a school climate that fosters understanding and respect for all and will influence how students think and act within and beyond the classroom," said Kim Riddering, chief operating officer of Special Olympics Illinois.
Students will get to compete against other high schools in the district and the region. Just like their peers on the varsity basketball squads, they can chase a state title.
Basketball attracts "the more higher-level athlete with an intellectual disability, and even an athlete without an intellectual disability on that team," said Jennifer Kelso, senior director of unified initiatives for Special Olympics Illinois. "But we do offer additional unified sports to ensure that everybody has an opportunity to be able to participate."
Special Olympics was started in 1968 by Eunice Kennedy Shriver. The idea of permitting those with mental disabilities to compete was revolutionary at the time, Riddering said.
"Long-held biases prevented people with special needs from physical activity or the opportunity to compete," Riddering said. "Ms. Shriver state that Special Olympics proved a very important fact: exceptional children with mental disabilities can be exceptional athletes."
She said that unified sports help foster a more inclusive and respectful school environment. About 92% of schools with unified sports reported less bullying, teasing and offensive language, Riddering said.
"Individuals with intellectual disabilities are put to the side very often, put in their own special education self-contained classroom," Kelso said. "This type of initiative really provides opportunities for that social inclusion to happen."
The Unified Champion Schools strategy also includes youth leadership programs and activities that promote whole school engagement. The program here is funded by a grant money from the U.S. Department of Education's Office of Special Education Programs.
In Illinois, there are roughly 325 schools that participate in the Unified Champion Schools strategy.
"Students get to be on their high school basketball team, or their high school track team and they get to play a sport just like anybody else," Kelso said. "The impact that it has on those with intellectual disabilities is amazing, but it might be even greater for those without."
---
This article is by Kevin Haas. Email him at khaas@rockrivercurrent.com or follow him on Twitter at @KevinMHaas or Instagram @thekevinhaas.