City of Rockford snow plows filled with salt are parked at City Yards on Thursday, Nov. 17, 2022, on South Central Avenue in Rockford. (Photo by Kevin Haas/Rock River Current)
ROCKFORD — You may be struck with a flurry of questions when snowflakes start flying in the region.
How long will it take to plow the roads? When will my street be cleared? Who can I call if it isn't?
We've tried to lay out the answers to commonly asked questions about snow removal here, from where you can learn about plowing progress to how much the city spends scraping snow off the streets.
How much snowfall does Rockford usually get?
The city typically sees about 37 inches of snow during the winter season, according to National Weather Service records going back to 1905.
Last winter, 21.7 inches of snow fell across the city and it was 36.5 inches the season before that, according to the weather service.
The snowiest winter on record in Rockford was 74.5 inches in 1978-79.
How can I learn when my road will be cleared?
The city has a Snow and Ice app that provides updates on snow emergency declarations, and it has a real time map to show what routes are completed or in progress. To download the app, go to https://rockfordsnow.glideapp.io.
You can also call the Snow Hotline at 779-348-7260 or check the city's Facebook and Twitter pages for the latest information.
How long does snow removal take?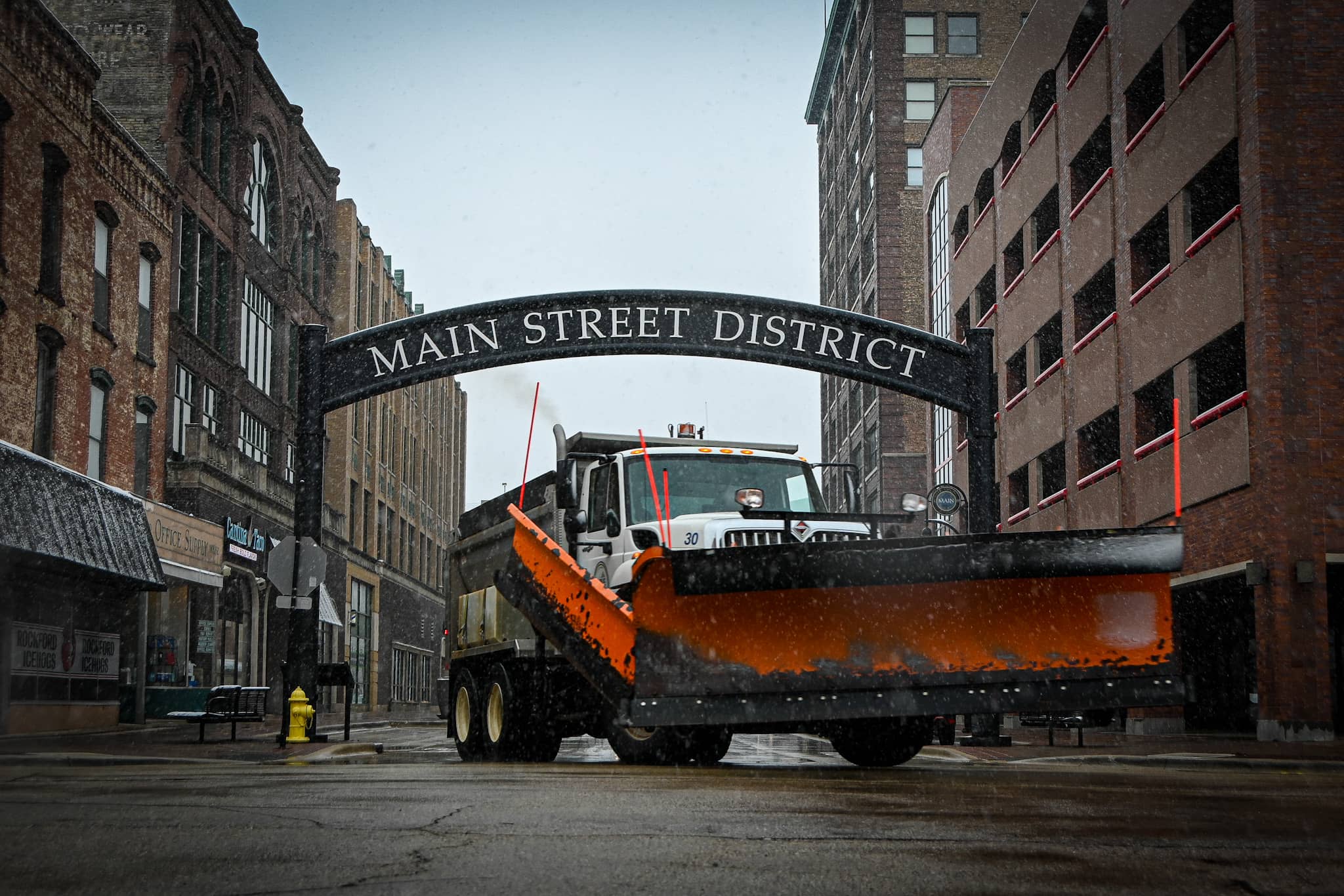 How long it takes to clear the roads can vary based on the snowfall, said Kyle Saunders, the city's director of public works.
In some big storms it can take 12 to 14 hours, and then another wave of snowfall rolls in that keeps city plows and contractors out on the streets.
"It's never done fast enough," Saunders said. "Everybody desires and expects that as soon as the snow stops the streets are clean and life can go back to normal."
"Everybody wants it done as quickly as possible."
Who can I call if my road isn't cleared of snow?
Call the city's Snow Hotline at 799-348-7260 if you think there's an inordinate delay in plowing.
"Don't call 20 minutes after it stops snowing to wonder where we're at: we're coming," Saunders said. "But if it's been hours and you haven't seen anyone and you're inquiring, we have staff here ready to respond and answer that question."
Why is a pile of snow left at the end of my driveway?
A common source of complaints for the city's Public Works Department is the snow that gets plowed back onto the end of driveways after a storm.
Saunders said it's an unavoidable consequence.
"We probably have north of 60,000 curb cuts in Rockford," he said. "So if you can imagine it takes 12 to 14 hours to clean the streets, if we had to clean out every single curb cut it's just cost prohibitive."
He said contractors and city workers who run the plows go home at the end of the night and remove that row of snow from their own driveways.
"We're in the same predicament our residents are," he said. "It's frustrating, it sucks, but it's kind of a necessary evil."
What is a snow emergency?
A snow emergency is declared after heavy snowfall and it puts the city's odd/even parking ordinance into effect. That means that if the calendar date ends in an odd number, you are to park on the side of the street with odd-numbered addresses.
For example, on Jan. 1 you would park on the odd side of the street. But if the snow emergency continues into Jan. 2, you should move your vehicle at 8 a.m. to the even side.
"That is probably one of the biggest question we get," Saunders said. It is confusing for some people."
The snow emergency is required because it's difficult for plows to navigate snowy streets with vehicles lined on both sides.
How many people work on snow removal?
The city has 23 different routes for its 28 snow plows.
Roughly 30 to 60 people work on snow removal for the city in addition to roughly 150 contractors for a major snow event.
Contractors are needed to operate smaller trucks with plows attached that can navigate the residential streets that are difficult for larger plows to pass through.
"That's a lot of vehicles to be moving in between parked cars, so it's challenging," Saunders said. "There's a need for the contractors but there's also a massive expense associated with them."
The city purchased five new trucks last year, which were all given silly names such as Plowzilla and Darth Blader in a naming contest. It plans to replace some of its aging fleet with eight new trucks in the next two years.
What does it cost to clear the roads after snow?
This figure also varies depending on the size of the storm. It could range from $250,000 to $400,000 for one snow event, Saunders said.
"When we get 6, 7, 8 inches, we could go two rounds through and we're seeing invoices for half a million dollars easy," he said. "We try to control that because we understand as much of an inconvenience it is to deal with snow, also we have to control our budget."
The city spends roughly $2.5 million annually on contractors to plow roads, and this year's road salt contract allots for up to $1.86 million to buy the commodity.
In all, Saunders said it's not uncommon for a total annual bill including city labor to run $4-$5 million.
"It's one of our priciest operations that we run at the city," Saunders said.
How much salt does the city go through each year?
The city goes through an average of about 12,000 to 14,000 tons of salt each winter.
Each truck holds about 12 tons of salt and is also equipped with tanks containing beet juice. The beet juice solution is poured on the salt as its flung off the spinner to lower the freezing point.
"Salt, sodium chloride alone will only melt down to about 14 degrees. Anything below that you need friction or you need some kind of additive," said Mitch Leatherby, the city's street and transportation superintendent. "In this case the sugars of the beet juice is what lowers that freeze point."
The city plans to build a supplemental salt facility at City Yards on South Central Avenue that would allow it to store an additional 4,000 to 5,000 tons of salt. That way, it can stock up more salt when prices are favorable and avoid some of the unexpected spikes in cost.
"That way we can ensure that we go into a season with more than what we think we're going to use, so that we're not necessarily reliant on the supply chain," Leatherby said.
---
This article is by Kevin Haas. Email him at khaas@rockrivercurrent.com or follow him on Twitter at @KevinMHaas or Instagram @thekevinhaas.