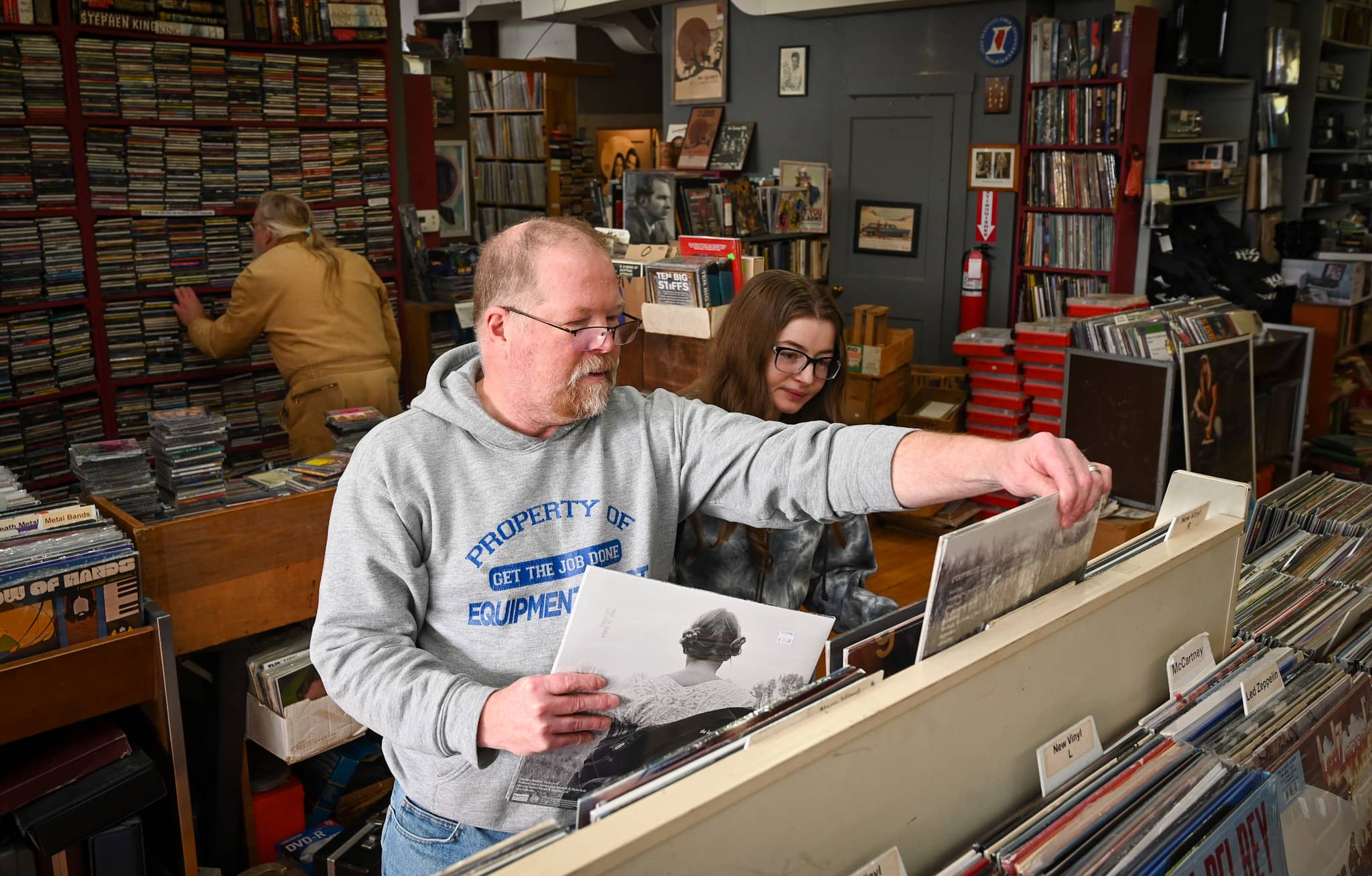 ROCKFORD — When Dave Pedersen opened Maze Books last summer, one of his earliest supporters came from another independent bookstore just 2 miles away.
Nick Naruz, whose family has run Toad Hall Books and Records since purchasing it from the estate of Larry and Bev Mason 17 years ago, showed up with stacks of books to donate to Pedersen's new business.
The gesture helped lay the foundation for the locally owned bookstores to see each other as partners rather than rivals. This weekend, they start a new chapter on that partnership. All five of the independently owned bookstores in the city are collaborating Saturday for the first Rockford Indie Bookstore Crawl.
"It's a special thing to have five stores that can all survive and thrive next to each other," Naruz said. "It's a unique thing that we have that is probably often overlooked."
Each of the stores — The Book Stall, Drewelow's House of Books, Katie's Cup, Maze Books and Toad Hall Books and Records — will offer discounts, giveaways and other specials.
Pedersen, for example, will add a couple titles to his shelves at Maze Books that he previously kept in his private collection.
"I'm going into the vault to grab some stuff that I've been reluctant to sell," Pedersen said without giving away the titles. "It's going to be some very nice, very interesting, esoteric titles."
The goal, Pedersen and Naruz said, is to provide an experience that gives people a reason to leave the house and peruse the shelves of the five stores. That experience is needed to compete with who Pedersen and Naruz see as the real rival for independent sellers: giant online retailers.
"Amazon can instantly send you whatever you want digitally; if you want a physical copy they can get it to you in a few days," Pedersen said. "We're competing with algorithms and artificial intelligence. So we have to provide an experience."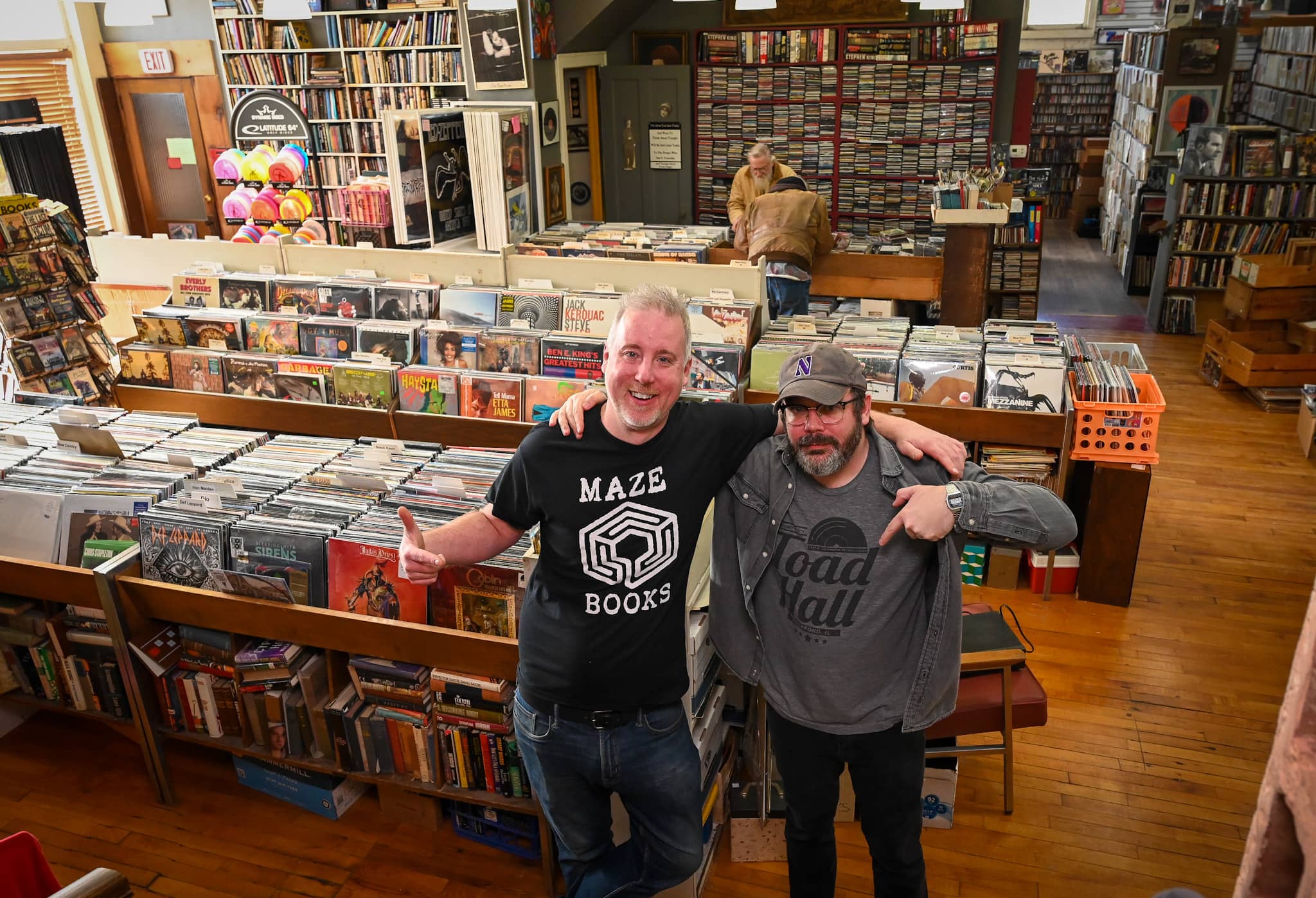 They expect to draw both local and visiting collectors who may search multiple stops for a rare title. Naruz compared it to wine tastings, where tourists may want to visit multiple wineries on a single trip.
"It's the same thing with bookstores," he said. "The more we have, the more people we're going to draw into our area."
Naruz and Pedersen said the five independent bookstores in town each have a different vibe and selection.
"A lot of areas really see this as competition, but Maze isn't taking money out of my pocket. I'm not taking money out of his pocket," Naruz said. "You know who's taking money out of both our pockets? Amazon, Walmart, the big boys. That is where the real competition is."
There will be a limited number of book crawl bookmarks given out, and artist Joe Tallman will have limited edition posters for sale. There are two grand prizes for customers who get their book crawl passport stamped by all five stores. The prize is worth $125: $25 to each store.
Pedersen said they hope to make the crawl an annual event. They'll evaluate what works this year and make improvements for the next one.
He said when people shop at the local bookstores, that money stays in the community, "it doesn't pay Jeff Bezos to go to space for no reason."
"This is not a sterile environment," Pedersen said. "These are physical, breathing locations in the community that when you buy something here — guess what — it goes back into the community."
---
Know before you go | Rockford Indie Bookstore Crawl
When: 11 a.m. to 6 p.m. Saturday, Feb. 25
Where: Five independent bookstores as follows:
The Book Stall, 1032 Crosby St., Rockford
Drewelow's House of Books, 2233 Charles St., suite C, Rockford
Katie's Cup, 502 Seventh St., Rockford
Maze Books, 117 S. Third St., Rockford
Toad Hall Books and Records, 2106 Broadway, Rockford
Admission: Free
About: Each store will have sales, raffles, and giveaways. Those who visit all five stores will have a chance to win a prize worth $25 at each of the five stores, a total value of $125 in merchandise.
---
This article is by Kevin Haas. Email him at khaas@rockrivercurrent.com or follow him on Twitter at @KevinMHaas or Instagram @thekevinhaas