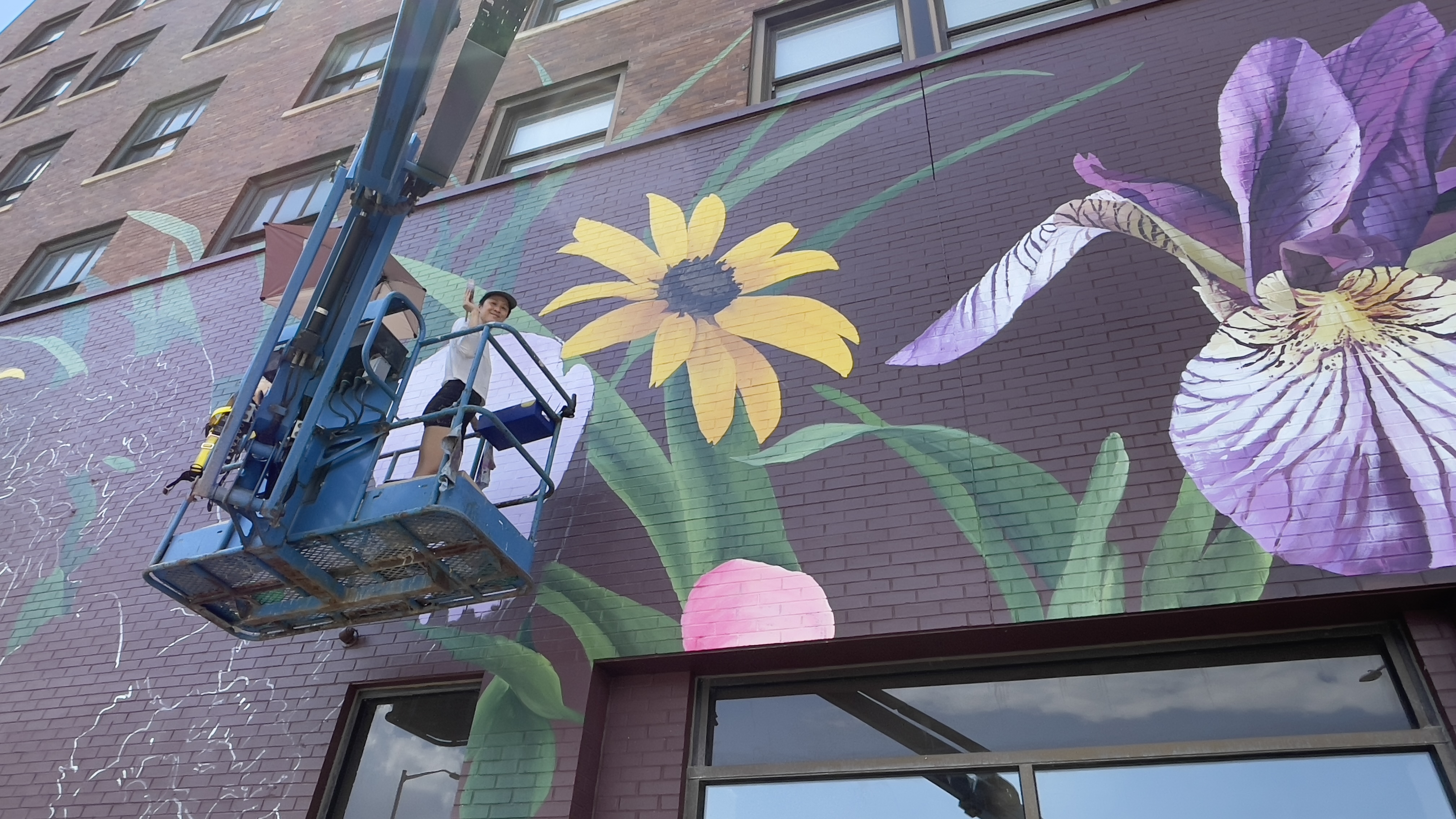 By Helen Karakoudas
Special to the Rock River Current
Get our mobile app
ROCKFORD — The public art initiative first known for bringing murals to downtown Rockford continues to grow, covering 11 more building walls in the region this summer and even mini-sizing with art covering 55 of the city's utility boxes.
"Thriving cities have thriving art scenes; you really can't have one without the other," Rockford Area Convention & Visitors Bureau President and CEO John Groh said, opening a news conference for the fourth year of CRE8IV: transformational Art. He and his staff have organized and curated the initiative since 2019.
While detailing the locations of nine large-scale mural projects on 11 walls — eight in Rockford and one in Rockton — Groh also announced the following additions to public art in Rockford this summer:
A partnership with the Rockford Area Arts Council and the city of Rockford to cover utility boxes in all 14 of the city's wards with mini murals.
A collaboration with the River District Association to transform the southwest corner of S. Church and W. State streets in downtown Rockford into an art alley, featuring a series of murals and new overhead lighting for this frequently used corridor to the BMO Center. An art alley party is slated for June 8.
A new addition to the rotating sculpture program will bring internationally known artist Matthias Neumann here June 6-11 to create a piece for the corner of E. State and N. Third streets. His work will coordinate with a series he has in Portugal and Italy.
"Costs are still coming in, but we anticipate total expenses around $160,000 for the nine projects," said Kristen Paul, vice president of destination development for the visitors bureau.
Half this year's muralists are new to Rockford; the others painted here last year or other years.
One of the returning muralists, Dustin Eckhardt of Rockford, will be working on two murals.
"I am very excited to have my own wall in Rockton, as well as having the opportunity to be included in the alley project in downtown with names like Jenny Mathews and Brett Whittaker. Two local artists I look up to very much," said Eckhardt, who painted the Prairie Street Pollinators mural at 5316 N. Second St. in his hometown of Loves Park last summer.
The pelican mural he will be doing in Rockton will be part of a pocket park project there.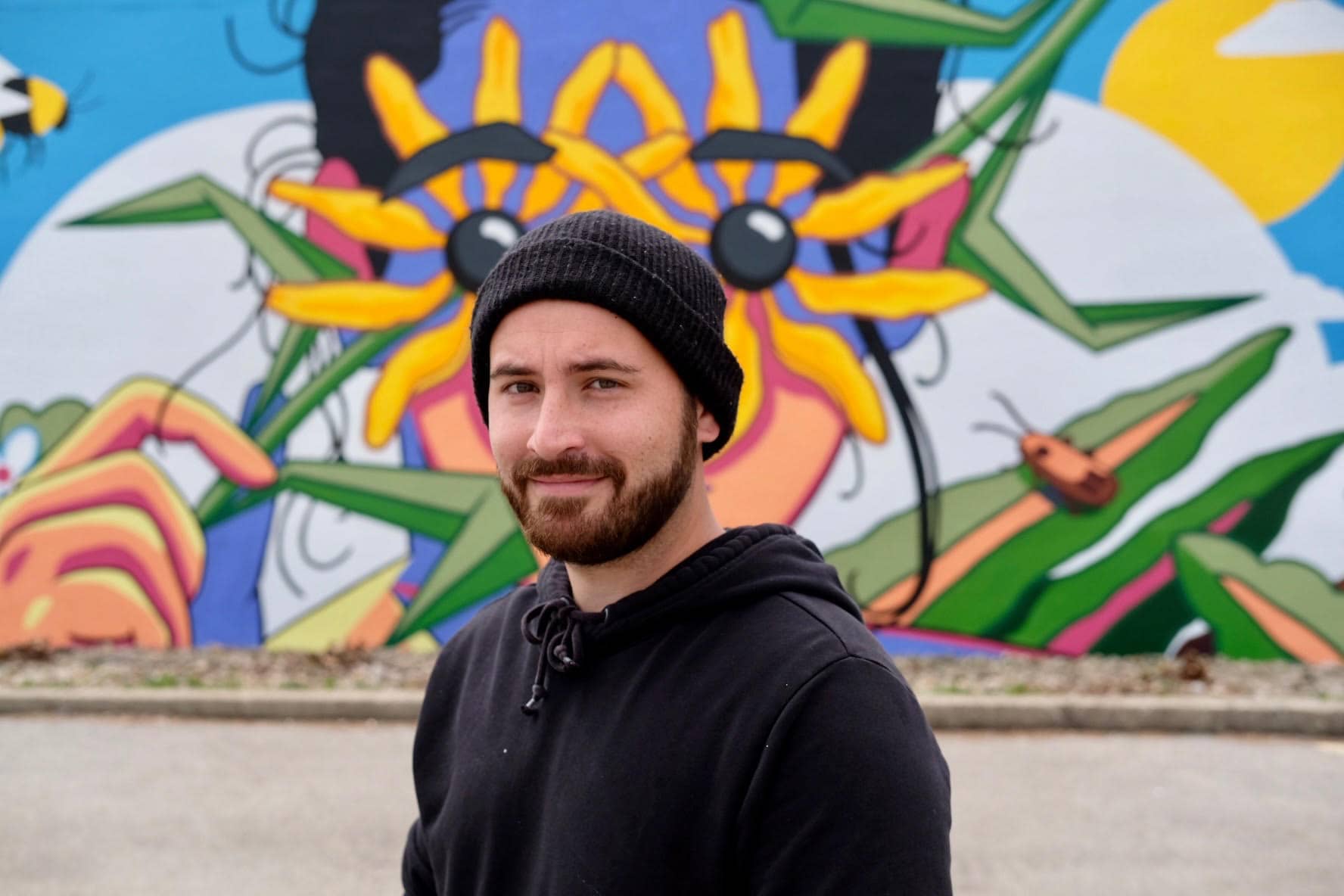 Although CRE8IV is scheduled for June 1-14, work on one of the large murals is already underway.
Detroit muralist Louise Jones, who creatively goes by the name Ouizi, is in her fourth day of painting on the east-facing wall of the Burnham Lofts building at 202 W. State St.
Unlike artists who learn of Rockford's CRE8IV murals on their own, Jones was pursued by Groh for several years after he discovered her museum-quality paintings of wildflowers on a building in Buffalo, New York. She is among a record 192 muralists who applied this year.
She and her assistant, Roxy Erickson, plan to paint in downtown Rockford until Saturday. Her respect for this visitors bureau's role in public art is mutual.
"Everything is very streamlined in Rockford. You have the way paved for artists to create freely here," said Jones, who has painted more than 100 murals and worked throughout the United States and as far as New Zealand.
That comment resonated with Groh's introduction of Richard Shuga, a visitors bureau board member
and head of the Painters District Council No. 30 Local 607, whose members prep the walls every year for the muralists.
"It's our means of strengthening the community," Shuga said.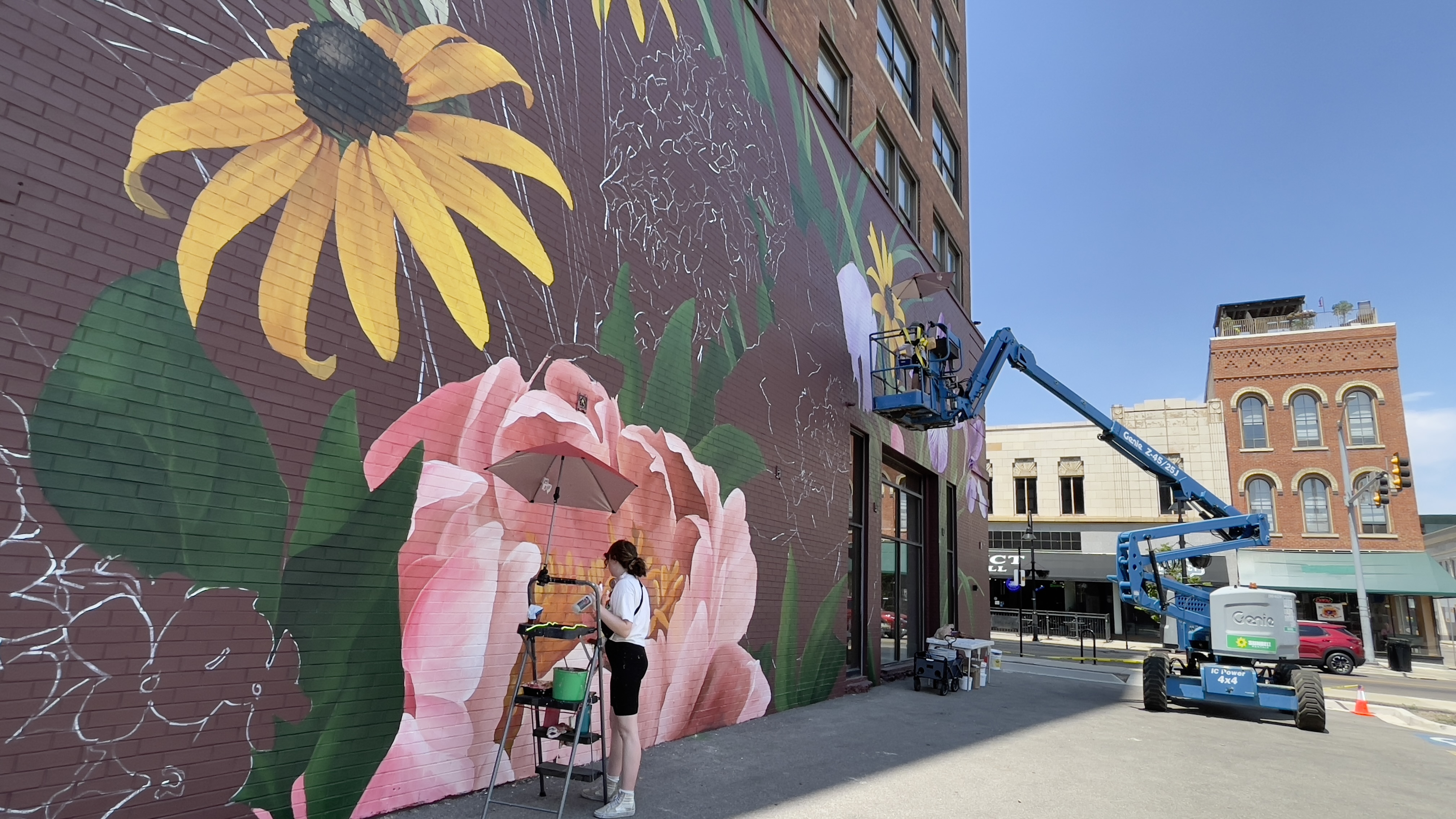 Among the dozens of people in attendance was Alderwoman Janessa Wilkins, a Democrat who represents Rockford's Seventh Ward. She was honest in telling the audience about not being a murals evangelist from the get-go.
"When murals were first brought to us as a council, I thought they could easily take a backseat to other things going on in the community. But I've come to see things differently," she said. "These murals have been able to create conversations in our community and expand our thoughts."
One conversation she's proud to start is with the mural up near Auburn High School, an inspirational one based on Auburn alumnus Fred VanVleet's iconic quote, "Bet on Yourself."
Wilkins said that as soon as she heard of a mural going there, she reached out to VanVleet's team and got permission for his words to be used.
"I got their blessing," she said.
In addition to florals and inspirational messages, one of the new murals will be in honor of veterans and active military members. It will be at the southwest quadrant of the Main and Auburn roundabout, on the wall of Rockford Billiard Café at 1436 N. Main near Veterans Memorial Circle. It's sponsored by Collins Aerospace, a year-after-year supporter of the CRE8IV initiative, and Winnebago County.
"Collins Aerospace is passionate about supporting our veterans and active service military. We work hard every day to keep them safe and protect them with our products and services," said Jennifer Swenson,  director of electric power systems quality at Collins Aerospace. "It is a pleasure to be able to share our gratitude to this amazing group by creating a work of art that celebrates their achievements and dedication."
The mini murals wrapping the utility boxes will be installed sometime in June, according to Mary McNamara Bernsten, president of the Rockford Area Arts Council. Designs are being submitted next week to the city, which is sharing the cost with the arts council and the visitors bureau.
Designs for the utility boxes include submissions from local and national artists. "They will reflect the values of the city of Rockford: equity, inclusion, belonging," Bernsten said.
"I love the infiltration of the arts into our neighborhoods," Alderwoman Gabrielle Torina, a Democrat who represent's Rockford's Fifth Ward, said about the utility-box spinoff of the CRE8IV initiative.
---
About this year's murals
Miracle Mile
1. Where: 4618 E. State St., Rockford
Artist: Jesse Melanson
Concept: A Goodwill Industries mission inspired mural about creating opportunities for individuals with barriers to enhance their lives
Sponsor: Goodwill Industries of Northern Illinois
The North End
2. Where: 1436 N. Main St., Rockford (near the North Main and Auburn streets roundabout)
Artist: AJ Davis
Concept: In honor of veterans and active military serving our nation in the armed forces
Sponsors: Collins Aerospace and Winnebago County
North Second St.
3. Where: 1125 N. Second St., Rockford
Artist: Anón – Jhonattan Arango
Concept: Florals with geometric design and tile-like appearance
Sponsors: Bill Doran & Company, Becky Morris, Wintrust Community Banks, The Harding Family Foundation
Auburn Street
4. Where: A retaining wall at 4802 Auburn St. (near Auburn High School) and 3117 Auburn St. (two guard rails on bridge over Kent Creek)
Artists: Anthony Lewellen
Concept: Bet on Yourself, positive inspiration
Sponsor: Kjellstrom Family Foundation
Downtown Rockford
5. Where: 810 E. State St., Rockford
Artists: OhYa Studio – Ray Mawst & Brian Kehoe
Concept: Inspirational/welcoming message
Sponsor: Rockford Area Convention & Visitors Bureau Board and RACVB Foundation Board Members
6. Where. 202 W. State St., Rockford
Artist: Ouizi – Louise Jones
Concept: Bold native floral and butterflies
Sponsors: Brubaker Family Foundation, Dean Alan Olson Foundation
Art Alley — downtown Rockford
7. Where: 308 W. State St., Rockford
Artist: Chase Melendez
Concept: Vibrant line work with local artist projects on adjacent wall
Sponsor: River District Association
8. Where: 316 W. State St., Rockford
Artists: Dustin Eckhardt, Brett Whitaker, Jenny Mathews
Concept: Individual small murals painted within the space confines of bricked in windows
Sponsor: River District Association
Rockton
9. Where: 122 S. Prairie St., Rockton (part of a new pocket park)
Artist: Dustin Eckhardt
Concept: A combination of pelicans and native flora done in a playful, fun manner
Sponsor: Village of Rockton
---
This article is by freelance journalist Helen Karakoudas. Email feedback to news@rockrivercurrent.com.