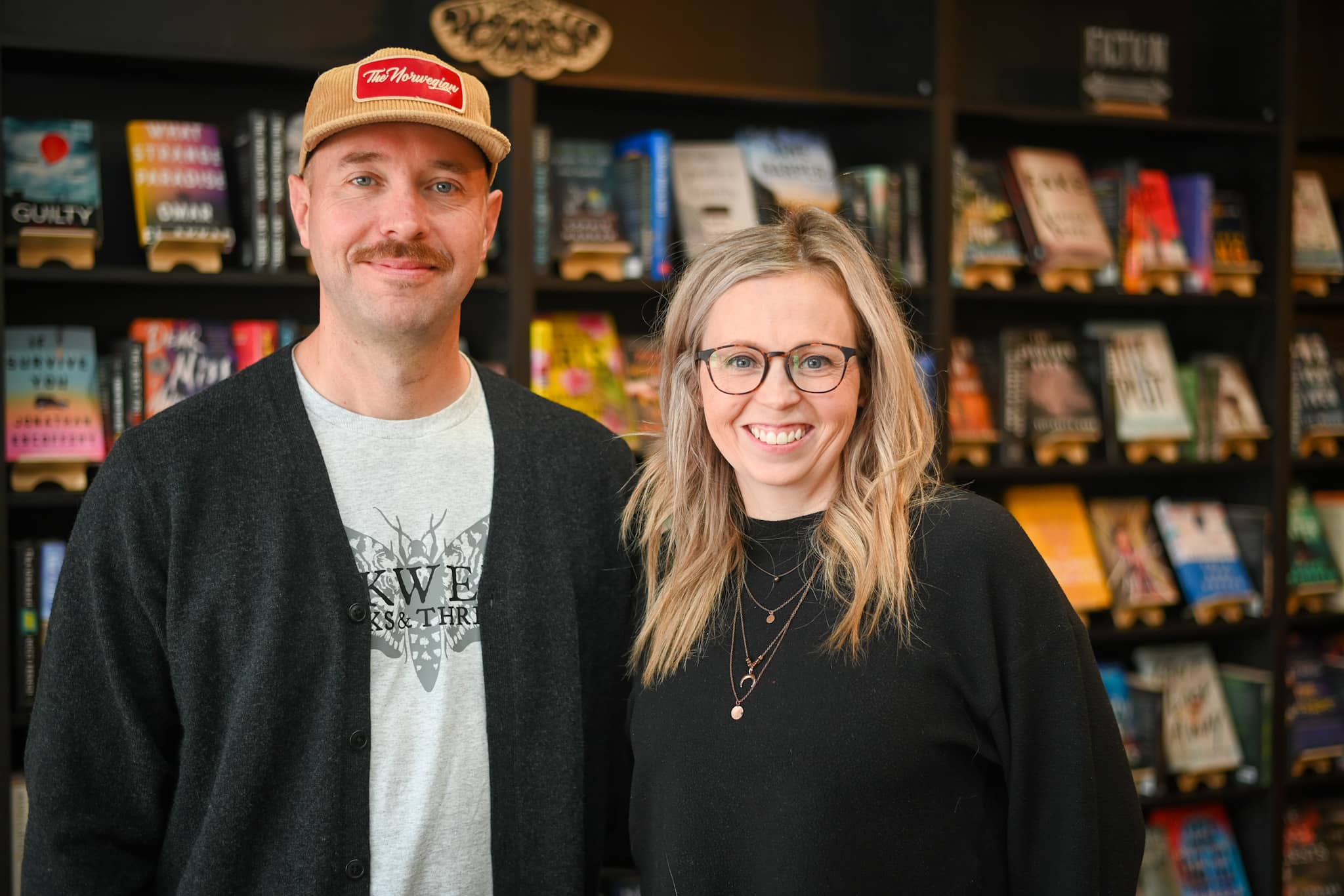 ROCKTON — The local bookshop is a must-visit destination for Tierra Polfiet any time she stops in a small town.
"That's the first place I go," Polfliet said.
Now, she and her husband, Darrell, are bringing that option to their hometown with their new business Inkwell Books & Threads, 106A W. Main St., in the village's downtown. The couple's new independent bookstore sells a variety of genres and also offers new and vintage clothing, gifts and records.
"I'm so excited. I've been wanting a bookstore close to downtown for awhile," said Angeline Tompkins, who was among the first customers to visit the shop after its grand opening on Friday.
Tompkins said there were few safe hangout spots for teens when she was a student at Hononegah High School about 15 years ago, but Inkwell is helping provide that option.
"This area is becoming more friendly for teens and young adults that want to have somewhere to go," Tompkins said. "The things that are starting to open up down here are going to be really good for the community overall because there's somewhere for people to go and have fun."
Inkwell is the first business venture for the Polfliets, who live in the downtown area with their three sons ages 14, 12 and 8.
They spent about three months renovating the former Butler's Emporium, including ripping up the former carpeting to leave the clear-coated aggregate floor. The walls are lined with bookshelves, clothing racks and a retro-style mural. It's filled with mid-century modern furniture, including space to play chess or for students to sit down with their laptop. The Polfiets picture an environment were someone might pick up a hot drink from Dee Dee's Main Street Coffee nearby and come relax in the bookshop.
"We just want it to be welcoming," Darrell Polfliet said. "We definitely wanted a space where people can congregate and either read or just hangout."
Darrell Polfliet largely focuses on curating the selection of new and vintage clothing while Tierra hand-picks the books. There are new and used titles including fiction, non-fiction, mystery, fantasy, young adult, tween, true crime, graphic novels and a kids section with a play area and educational games, among other options.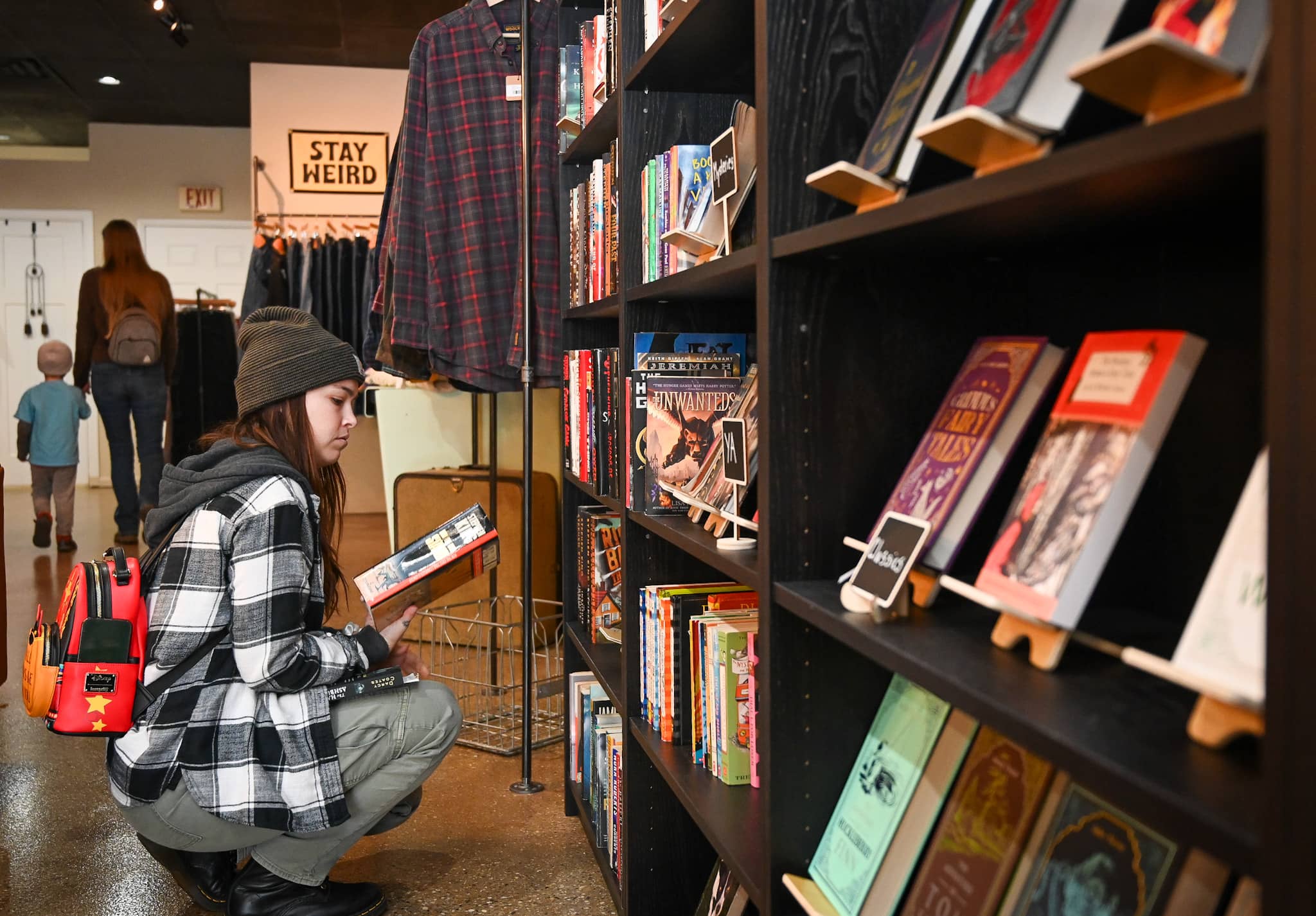 In the future, they plan to host book clubs and other small events. The first is a tarot reading Dec. 3 with Queen of Cups Tarot.
"A little bit of everything is the goal," Darrell Polfliet said.
He is a Roscoe native who also works as a construction specialist for Comcast. She is a Rockford native who previously worked as a project manager in a local machine shop. They've lived in downtown Rockton for about nine years.
Their business is one of two that opened in downtown on Friday. The other, Ric-Rac Embellishments & Gifts, is located across the street at 109 W. Main St. The Polfliets said they've had a lot of support from their surrounding local businesses such as Truly Treasured Gift n' Thrift, 112 W. Main St., Dee Dee's, 101 W. Main St., and Frosted Farmhouse, 112 Hawick St.
"Everybody knows the value of supporting local business now more than ever," Tierra Polfliet said. "There's a good mix of stuff downtown, but I think anything that's different just adds value to the overall experience."
---
About | Inkwell Books & Threads
Where: 106A W. Main St., Rockton
Hours: 3 p.m. to 7 p.m. Wednesday and Thursday; 10 a.m. to 7 p.m. Friday and Saturday; noon to 4 p.m. Sunday; closed Monday and Tuesday
Contact: 815-957-0105; owners@inkwellbooks.store
On the web: Find them on Facebook here; or on Instagram @_inkwell_books_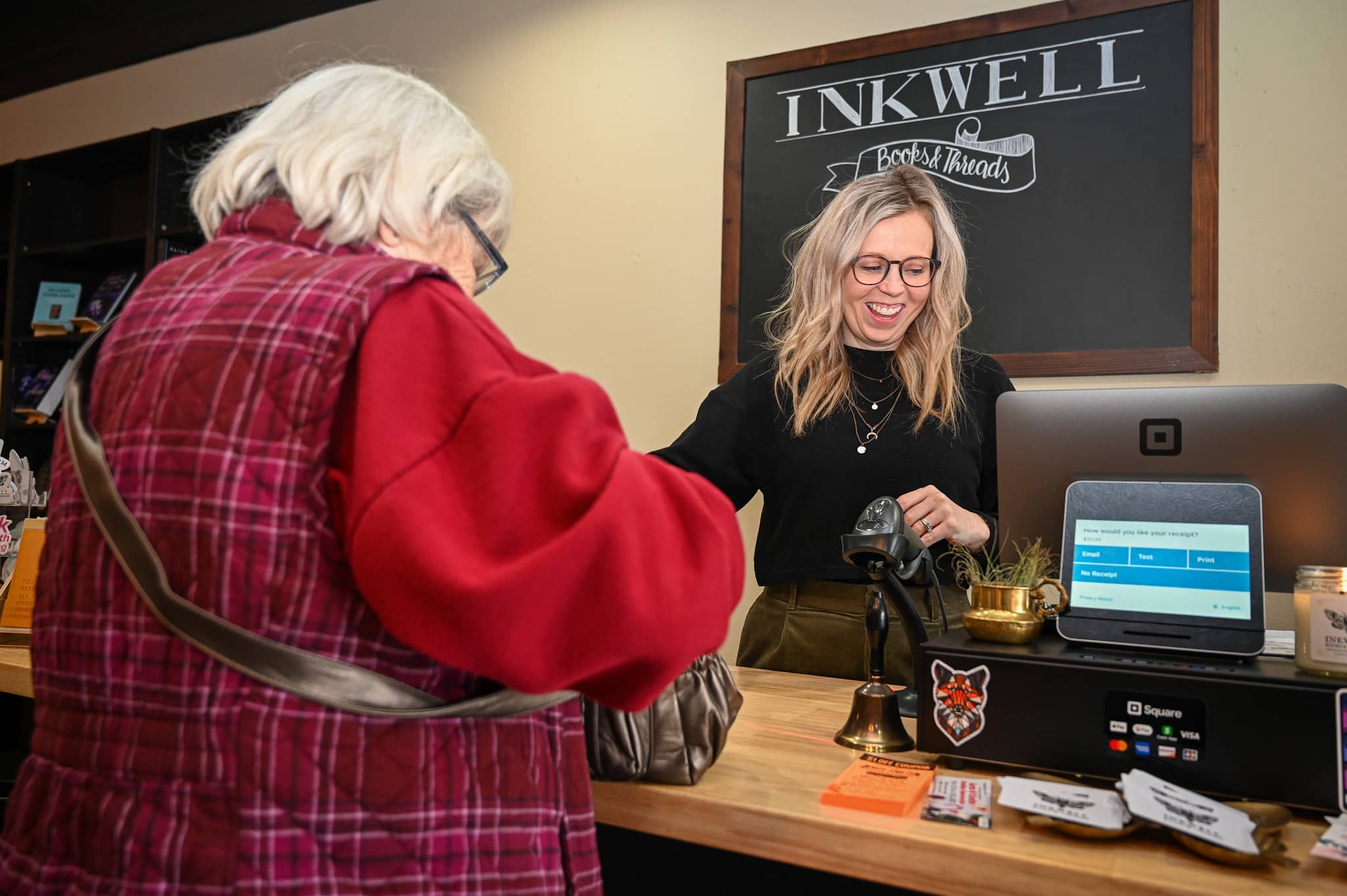 ---
This article is by Kevin Haas. Email him at khaas@rockrivercurrent.com or follow him on X at @KevinMHaas or Instagram @thekevinhaas and Threads @thekevinhaas