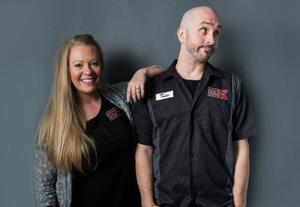 The Morning X: a funny – sometimes ridiculously silly, crazy, unhinged and childishly playful — local, informative morning show, featuring two over-caffeinated broadcasters who have a passion for what they do without taking themselves too seriously.
Sports, Comedy, News, Bloopers, Contests, Giveaways, Bad Impressions and Serious (?) Debates — you'll hear all this and more.
The Morning X may be a fairly new morning show, but if Lori and Kev sound like they've known each other forever (or maybe too long) it's because they have. They were first students at the Illinois Center for Broadcasting (now the Illinois Media School), and then they worked together running the student radio station there. That was in 2011.
Now, after growing their careers separately elsewhere, they are co-hosts on The Morning X, utilizing their bro-sis type relationship as the through-line for their dynamic on the air. They hope they don't sound like "that old married couple" everyone knows, but rather two young Americans giving each other crap at the bar.